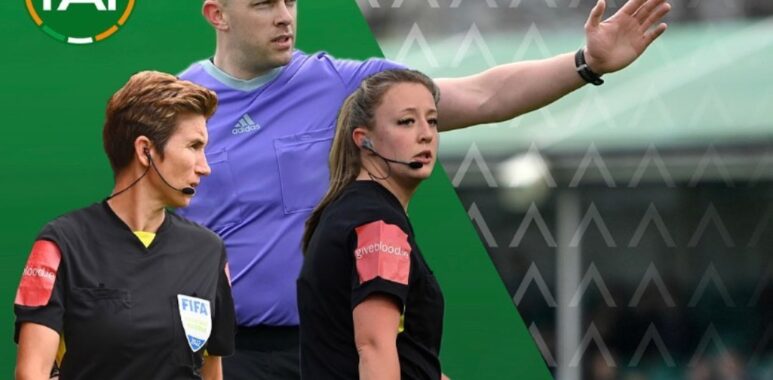 Free Referee Beginner Courses in Cork for National Referee Week 2023!
Refereeing is a complex but rewarding activity and whether your goal is to referee in the small sided games, grassroots football or to progress to higher levels we will provide supports to help you achieve your goal.
The first step to become a referee is to complete a Referee Beginners Course. National Referee Week is July 24-30th and the FAI have 3 Free courses running in Cork. It is a great opportunity if all three can be filled to help address the shortage around the city and county.
Cork Referee Beginners Course (@ Turner's Cross) 26th / 27th July 2023. Turners Cross is full but additional places at alternative venue near the city opening up next week.
If you have any questions please email [email protected]
The course is made up of three sections:
Part A 
This section of the course allows you to explore PDP adaptions, Laws 1-4, Laws 7-10 and Laws 13 -17 in your own time. The pass mark for each assessment is 50% and you will be required to attempt the questions again if you do not meet that requirement.
Part B 
Will consist of 6 hours of practical workshops (by Zoom or face to face depending on your course). These meetings will focus on the Laws 5, 6, 11 & 12, which are the more complex Laws. The workshops will also be used to explore the practical aspects of refereeing. Please note that you cannot attend the practical without having completed all the assessments from Part A of the course.
Part C 
After the workshops you will receive a link to complete the final course assessment. This is an open book exam, and you will have 48 hours to submit your answers.