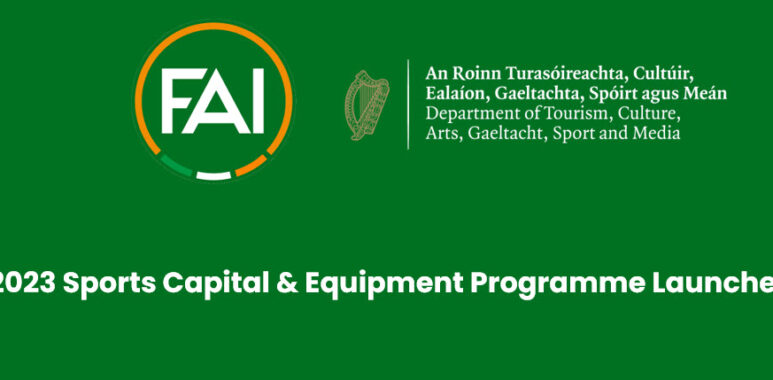 2023 Sports Capital & Equipment Programme
The Football Association of Ireland is delighted to support the announcement by Minister Thomas Byrne of the launch of the Sports Capital and Equipment Programme (SCEP) by the Department of Tourism, Culture, Arts Gaeltacht, Sport and Media.
Clubs who haven't applied for SCEP before will need to register on the Online Sports Capital Register (OSCAR) here: https://www.sportscapitalprogramme.ie/
The deadline for registration is 5pm on Friday, August 25, 2023.
While the majority of funding is to be allotted towards clubs who own their facilities, an important factor for our clubs in the CBL. is that equipment only grants are also available for up to €70,000 for clubs that do not own their own facilities, pitch etc
To further support Leagues, Clubs and Affiliates in the Sports Capital and Equipment Programme process, the FAI's Facility Development Department will be hosting an Educational Webinar series in the coming weeks to support clubs with their SCEP applications.
This Webinar Series will be a great resource for all potential applicants in how to go through the Sports Capital and Equipment Programme process.
Region:
Area
Date/Time
Teams Meeting Link
Region 4
Cork
27th Jul / 6pm
CLICK HERE
A detailed list of projects that the programme funds can be found in the "Guide to Making an Application" and includes:
natural grass sports pitches (including pitch drainage)
energy efficient floodlighting
artificial sports pitches and multi-use games areas
security fencing, ball stop netting and goal posts
building or refurbishment of dressing rooms, showers and toilets
building or refurbishment of sports halls and gyms
non-personal sports equipment
modifications to sports facilities to reduce energy consumption
any other capital projects that are clearly sporting in nature and that will increase participation in sport or improve performance