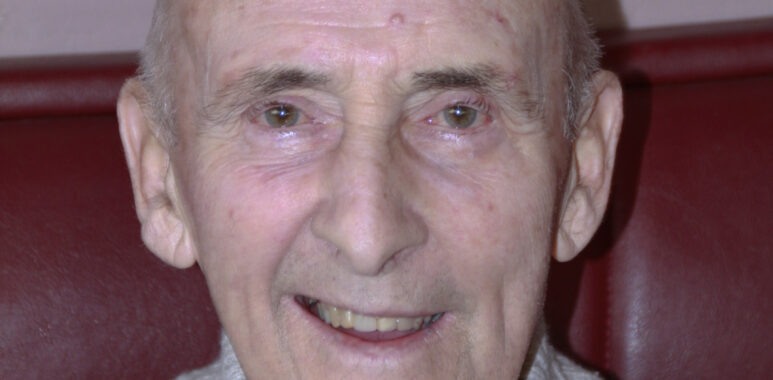 Legend Patsy was a true stalwart of the game!          
CORK SOCCER is mourning the passing of one of its genuine legends, the former Blackburn Rovers, Cork Hibernians and Aer Lingus commanding centre-back, Patsy Dorgan, writes Finbarr Buckley.
I had the pleasure of meeting him back in January 2016 when he  was home on an extended holiday break with his wife Kay from their Caribbean home of Trinidad, where they had resided for the previously sixteen years. He fondly reminisced on his playing days with the Airport team after completing a distinguished career with Cork Hibernians in the League of Ireland in the late fifties and early sixties.
We spoke first about his early career and how he came about signing for the top English Second Division team at the time, Blackburn Rovers in 1954.
"I was reared in Horgan's Buildings and started playing with Glasheen when we reached the FAI Minor Cup Final at Dalymount  Park where we beat a star studded Home Farm team 2-1. Five of the team including myself were later capped by Ireland against Liverpool County. Rovers' manager, the great Ireland captain, Jackie Carey was at the match and he asked afterwards whether Donal O'Leary and myself would we like to go to Ewood Pk. for a trial."
"We jumped at the opportunity but Donal didn't stay long and I began to make steady progress through the fourth and third team and into the reserves. I made my debut for the second string against Matt Busby's Manchester United at Old Trafford against many of the famed babes who would distinguish themselves later before the Munich Air Disaster claimed many of their lives a few years later. But, the urge to return to Cork still burnt brightly and I asked Mr. Carey could I go back."
"I started work at the Airport as a loader when it first opened in 1962 with Mick 'Pop' Glennon, who has since sadly passed away. I was player-manager at  Cobh Ramblers at the time after finishing up with Hibs and it wasn't long before the newly formed Aer Lingus team asked me to turn out for them after I helped out Cork Celtic when John Coughlan retired in 1966. We had great fun playing the top teams of the day like Postal Workers, Farmer's Union and of course the Dockers. One match in Marina Park, I'd say in the autumn of 1969, vividly stands out in my mind today. We were up against the Dockers, Doyles Stevedores as they were known, and they were always tough and hard. They had one player in particular who would take you out whenever he got a chance. I can recall chasing down a loose ball and the next thing finding myself flying through the air and ending up on my back-side. The next thing  my fellow centre-back Jerh Carroll ran over, caught the offender by the scruff of the neck and as ref Slyvie Georgor looked on, he faded away and never came near us for the rest of the game."
Aer Lingus were fortunate to avail of his noted aerial dominance and clean-cut displays well into the mid-seventies before he retired from the company after 32 years service and moved to Trinidad and remarried following the death of his wife Sadie in 1997. He was inducted into the All-Ireland Hall of Fame Online Gallery Inc. Historical Social Club (Cork) by Derry JF Doody and colleagues at a special night of nostalgia and song in his honour later on Saturday, March 5th at The Deanrock Function Room, Togher. He was feted by his adoring Cork public when he also received the Cork AUL Hall of Fame award at the Kiln in 1998.
An accomplished poet, it's fitting to let him sign off with how he felt on that magical night in which he vividly recounted in his collection, 'Reflection from Abroad'. The last two verses of 'A Football Reunion' went as follows.
"I gazed across a room of splendour, A tide of smiling faces. Never was there such a scene, Of manly, unashamed embraces.
To see that once sharp eye, now dimmed, The fleetness of foot, long gone.
Yet in the heart and mind of all, A hero, shone in every one. My thanks to those who made it so, A Task taken with foresight.
Being remembered was an honour, On that wonderful, nostalgic night"
Ar Dheis a raibh a anam.
Aer Lingus (CBL Second Division Champions v Marina Bakery, play-off Turner's Cross 9/5/1976):
L to R (Back): Rom Hyde, Patsy Dorgan (RIP), Noel Bradley, Owen McCarthy, Pat Harrington, Barry Murphy.
L to R (Front): Donal Crowley, Mick O'Mahony, Jim Kearney (capt.), Jerry Lane, Kevin Cannon (RIP), Liam Good