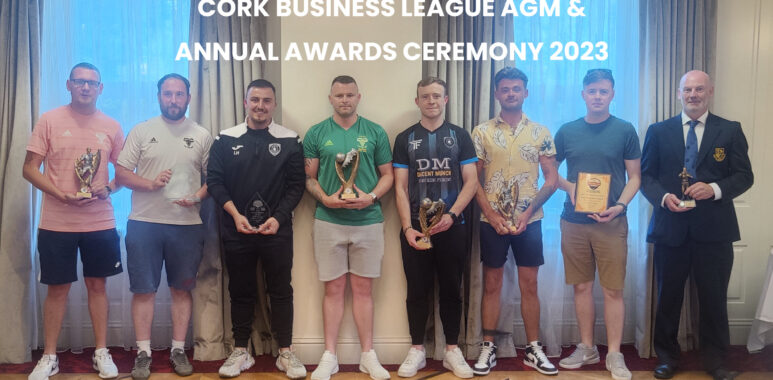 Cork Business League AGM & Annual Awards Ceremony 2023 Sponsored by JSK Eco Cleaning Solutions
Thank you to all clubs who attended this year's Cork Business League AGM in Rochestown Park Hotel.
We have a lot to look forward to over the next couple of seasons, where our committee is dedicated to keeping the CBL an attractive place to play football while also keeping that level of professionalism it has always had.
Treasurer Ray Anthony is stepping down after many years of service. Ray took over the position in troubled times for the league and settled the ship and brought us back to a secure financial position. For him we are grateful for the progress and commitment he has shown over the years. Therefore, over the summer months we are looking for expressions of interest to come on board as CBL Treasurer. We also have made three more positions available to filled to be filled as ordinary committee members for the following season. Please send all expressions of interest to Peter Travers via email to [email protected]. All new committee members are to be ratified at our Opening Delegate Meeting of the season on Tuesday 8th August 2023 in Turners Cross Stadium.
The CBL Management Committee for the 2023-24 season is as follows:
| | |
| --- | --- |
| Name | Position |
| Peter Harrington | Chairman |
| Peter Travers | Secretary |
| Ashley Todd | Fixtures Secretary |
| Anthony Golden | Disciplinary Secretary |
| Vacant Position | Treasurer |
| Joe Murphy | Registrar |
| Finbarr Buckley | Press Officer |
| Barry Sheehan | Committee Member |
| Ray Anthony | Committee Member |
| Vacant Position | Committee Member |
| Vacant Position | Committee Member |
| Vacant Position | Committee Member |
We also held our Annual Awards Ceremony after the AGM. Congratulations to all winners on a very successful season:
| | |
| --- | --- |
| Winner | Award |
| CBL Club of the Year | Doolans Cow Bar |
| CBL Premier Division Player of the Year | Craig Keegan (Doolans Cow Bar) |
| CBL First Division Player of the Year | Callan Dempsey (TELUS International) |
| CBL Premier Division Golden Boot | Jamie Murphy (Doolans Cow Bar) |
| CBL First Division Golden Boot | Scott McCarthy (Andy Sulls Hair) |
| CBL Referee of the Year | Denis Cronin |
| CBL Gordon O'Leary Fair Play Award | SURO Cars |
| CBL Clean Sweep Award | Liam Horgan (Doolans Cow Bar & Andy Sulls Hair) |