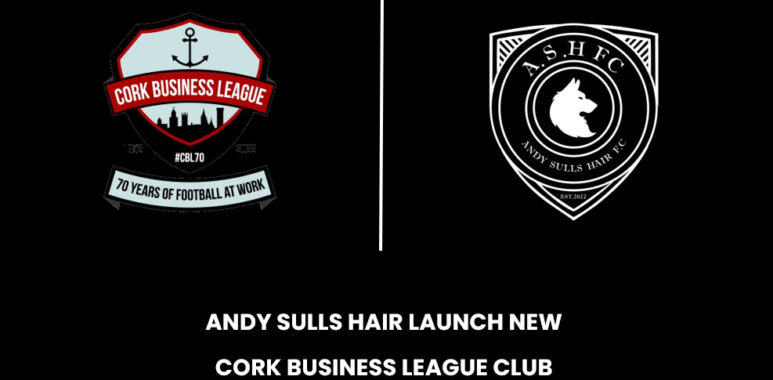 Andy Sulls Hair Launch New Cork Business League Club!
Andrew O'Sullivan the owner of Andy Sulls Hair Barbershop, started the team to bring his group of clients and friends together and have some fun and create something special
Speaking to CBL Secretary Peter Travers, Andy was in great form. "I have wanted to join the CBL for sometime as I was drawn to the community it has built so as soon as the opportunity arose I was in. A.S.H FC is a close group of lads who have been waiting to come together and win some silverware we are here now so watch this space we are buzzing for the season ahead with the CBL who have already welcomed us with open arms".
Manager Jessie Ryan is an experienced player who the team are delighted to have on board. He had this to say to CorkBusinessLeague.ie exclusively this evening. "We try to run this team well and everyone plays for each other and the team. They trust each other and what we are trying to do this season We are definitely looking to create a name for ourselves our first season and be the team to beat."
Andy Sulls Hair FC have brought in players from all over Cork, one name standing out being Scott McCarthy, Munster Senior League "baller", previously with College Corinthians & Mayfield United. He is a close friend of Andy's, who couldn't resist bringing his skills and experience to the team.
Both Corey Ryan (ex-Mayfield United) and Alan O'Regan (ex-Rockmount) have also recently been playing top level football, who will no doubt make the CBL News Room headlines this season.
Of course Andy has had to do some persuading to get a couple of lads to join, so free haircuts for goal scorers and Man of the Match has been committed for the season.