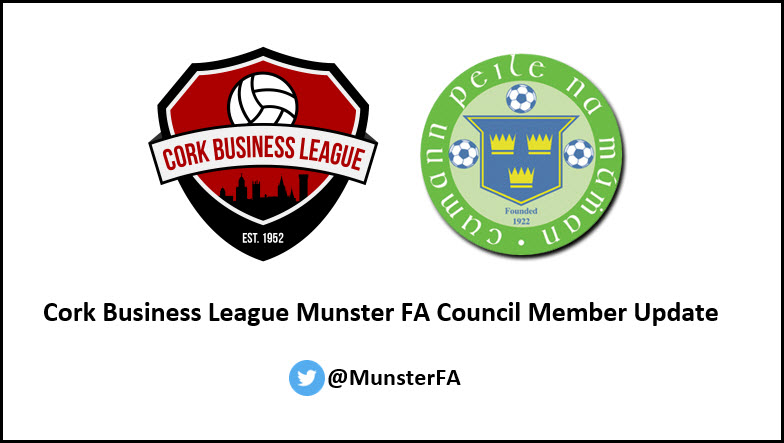 ⚽ Cork Business League Munster FA Council Member Update ⚽
Today, the Cork Business League long-term Munster Football Association Council Member Peter Harrington steps down from his role on the MFA after 28 years.
Peter Harrington, CBL Chairman, has represented the CBL on all aspects of football in Ireland for nearly three decades and today has passed the responsibility onto Peter Travers, CBL Secretary.
Happy to announce that I became a @MunsterFA Council Member recently.

Looking forward to getting to know representatives from all leagues across Munster and seeing what's in store for football in the province going forward ??#MunsterSoccer pic.twitter.com/wXeqC4lqlF

— Peter Travers (@peter_travers) December 2, 2020
Peter Harrington's time on the Munster FA began at the start of the 1992 / 1993 season where he joined the council as an independent member, as the CBL was represented by Jackie O'Driscoll until the 2001 / 2002 season when Harrington became the league's official representative.
Since then, Peter Harrington was voted Chairman of the MFA for two seasons starting with the 2004 / 2005 season, following a term as Vice Chairman from 2002 to 2004. During his time as Chairman, he was presented with a Long Service Recognition Award in 2004 for his efforts and commitment to the CBL, the MFA and the FAI over the years. His commanding voice and distinctive ability to control a room led him to serve on various sub-committees of the MFA until recently.
Referees Committee
Protest and Appeals Committee
Grounds Committee (Chairman, 2014 – 2020)
Disciplinary Committee (Chairman, 2000 – 2020)
Executive Committee
Finance Committee
Peter also was an influential member of many committees for the wider FAI Junior and Senior Councils since the 2001 / 2002 season and is a well-known character up in FAI HQ in Abbotstown.
The Cork Business League would like to thank Peter Harrington for his devotion to amateur soccer in Cork & Munster over the years and wish Peter Travers the best of luck in his new role as an MFA Council Member.