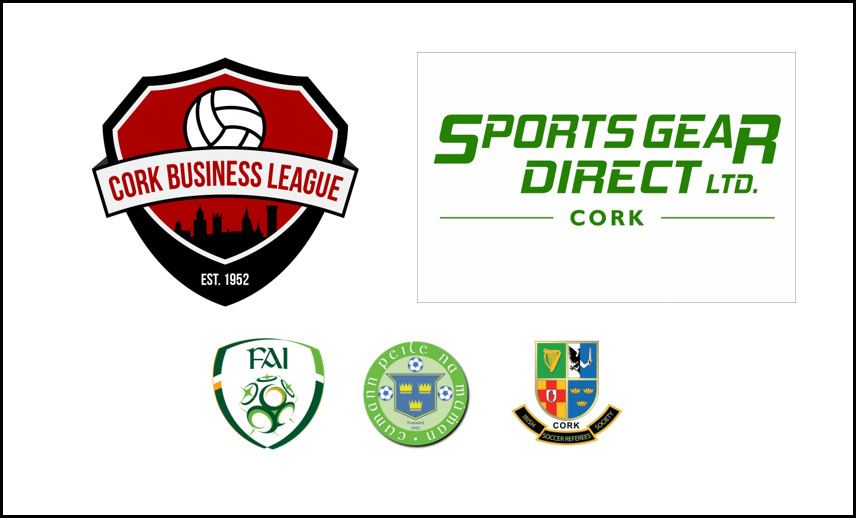 Cups
Fixture Updates
History
League
News
⚽ 2020 – Football Put on Hold in a Year Like No Other! ⚽ CBL Seasons in Review
As 2021 begins with the COVID pandemic still forcing a cessation to all football on the field activities, who would have thought this time twelve months ago that not one, but two seasons would be impacted, writes Finbarr Buckley.
Season 2019/20 began with such promise on Friday, August 30th at Ballea Park, Carrigaline when OBS set up a weekend of goals by crushing SCS Crookstown United 5-1 in the opening match of the CBL Shield competition. Early goals from Arainn McGrath and Shane Creech caught their opponents cold and after Niall O'Brien and former Rochestown Park Hotel shield winner Lee Maher added two more before half-time, the visitor's fate looked sealed. OBS's James O'Mullane and McGrath exchanged second-half goals to give the winners a foothold in Group B. In the same group on Sunday afternoon at Mayfield Community School, 2017 winners and finalists for the last two years, Doolan's Cow, needed penalties to overcome a gritty Abtran after a one-one draw. Other high scores from the opening weekend of action included Dell EMC's 7-1 demolition of Martin Harvey Solicitors in Group A, Stephen Duane and Kevin O'Connor both scoring two apiece. Holder's Satellite Taxis' 5-4 penalty shoot-out win over UCC United after a 2-2 draw in Group D was followed by newcomers Colso Celtic's six-nil win over The Weigh Inn Dripsey. Other results on opening day included Planet Entertainment's 2-0 win over Voxpro in Group A.
Planet made it two wins out of two in match round 2, beating Dell 2-1 to top Group A on the same weekend Cork Hospitals opened their account with a 2-1 win over Voxpro, Chris Fitzgerald and Dave Sinnott on target for the winners. Doolan's moved onto five points courtesy of a 5-3 win over OBS in Group B while another new entrant CPL hit Healy's for six in the only tie played in Group C. Ian Harrington checked in with an impressive hat-trick with current CBL fixture secretary Ashley Todd and Rory Browne contributing handsomely to the win. The Weigh Inn fell heavily to UCC at The Regional Park in Group D to get back in contention but surprise package Colso Celtic went into their last match in the group on top after Alex Cummins stroke the only goal against County Council for their second win.
The highlights of match-three included victories for Marlboro Trust (5-1 v OBS), Janssen (4-1 v CPL) and a five-goal winning margin for UCC over Co. Council and a seven-goal win for Satellite, both in the same group. Colso had a shock in store for twice finalists UCC when they met at Casement Park in their third group match a week later on Sunday, Sept. 22nd. It looked like United had one foot in the last four when they went two up in the first-half through Eric Montgomery and Ali Ahmidat. However, after Ryan Towler pulled one back for the hosts, Andy O'Donovan took the tie to penalties from where the hosts took the crucial two points on offer in a 4-2 shoot-out win. Doolan's got into their stride with a three-nil win over Marlboro Trust while Janssen continued their impressive progress with a second win, this time over PepsiCo, Aidan 'Minty' Murphy scoring twice, one a penalty along with Pat Falvey. Abtran bounced back from their shoot-out defeat to Doolan's on opening to register a second win, this time, one-nil over OBS, the outstanding William Corcoran with the decisive goal.
October opened with Doolan's making the long trip to Bandon where they faced West Cork League outfit Castlelack in the second round of the New Balance FAI Junior Cup. After Kevin Finn put the hosts in front in the 15th minute, Doolan's went on the rampage to score six without reply through James Cotter (3), new signing Jamie Murphy (2) and Stephen McCarthy. In the same competition, OBS lost out 4-1 to MJL opponents UCC and Fermoy had too much for Marlboro Trust. In the shield, Martin Harvey's registered their first win, 2-0 over Voxpro with Planet good value for their five-goal win over Cork Hospitals, their fourth in the group, enough to see them through to the knockout stages. CPL also hit five against PepsiCo and The Weigh Inn came away with a much-needed win over Co. Council, 4-2, in their last group match, Killian Kelleher (2), Michael Reeb and Tony Nolan among the goals for the winners.
In the final round of group matches, Abtran, 4-3 shoot-out winners over Marlboro Trust after a ten-goal thriller and Doolan's over Crookstown made it out of group B while Dell's 4-2 win over VoxPro guaranteed them a safe passage out of group A. Janssen took control of group C by accounting for Healy's and in group D the top two, holders Satellite and Colso, already qualified, met on Sunday, October 6th at Deerpark Secondary School. The hosts, back at full stretch, took the points with a 5-1 win while in the other match in the group UCC ended their campaign with a two-nil win over OBS.
Doolan's turned their attentions to the Munster Junior Cup and incredibly came from 4-1 down with ten minutes remaining to topple Park Utd. 5-4 at Brigown Pk. In the same competition, Satellite were unlucky to go out 2-1 to St. Mary's while Colso went down by the same score-line to Carrigaline Utd. in the FAI Junior Cup. In the Sports Gear Direct First Division, Abtran, Planet and The Weigh Inn won on the opening weekend along with Crookstown who rounded up their shield campaign with a morale-boosting 4-2 win over Marlboro Trust at Mayfield Community School.
Marlboro Trust celebrated thirty years in football with a hugely successful unction at the Imperial Hotel on Friday, October 11th. CBL secretary Peter Travers made a presentation to long-serving manager Aidan Kelleher and CBL Press Officer Finbarr Buckley commended the team on their achievements and excellent conduct throughout their tenure in the league. A week later Doolan's Cow made further headway in the FAI Junior Cup by conquering AUL Premier A opposition Glen Celtic 3-2 and in the Munster Junior Cup Colso succumbed to a 7-2 defeat to Avondale Utd. On the same weekend in the Premier Division, there were wins for Satellite Taxis and Co. Council along with CPL and Pepsico in the First Division. Planet and Janssen shared the spoils in a one-one draw, Jamie 'Big'Burns putting Janssen ahead before Joe Cullagh equalized.
In a year of celebration, Co. Council had reason to look forward to a momentous season, their 40th in the league. On the weekend of November 2nd / 3rd, three of the four shield quarter-finals were played and resulted in wins for Abtran over Dell (1-0), Janssen over Colso (7-2) and Satellite over CPL (4-2 on penalties after a thrilling 3-3 draw). In a historic meeting, Doolan's and UCC locked horns in the fourth round of the FAI Junior Cup at Mayfield Community School. Doolan's emerged 4-1 winners at the finish, going four up through James Cotter (2), Aaron Hennessy and Jamie Murphy with Eric Montgomery netting for the visitors with five minutes remaining. Planet and Abtran confirmed their bright start in the league with a four and a three-goal win over Martin Harvey's and Cork Hospitals respectfully while in the same division Colso hit a depleted CPL for eight, Alex Cummins the lead marksman with three of the total. In the Premier, Healy's were pegged back twice by Co. Council before player-manager Shane Healy popped with a later winner from the penalty-spot. Promoted Crookstown and OBS met for the first time in the top flight leaving home boss Tim Irwin beaming after his charges came out on top courtesy of a David O'Halloran hat-trick and another from Aidan Deasy. Satellite and Marlboro shared the spoils following a 3-3 draw in their first meeting in the league.
Planet enhanced their growing credentials by scoring five against PepsiCo while Abtran kept pace with another eye-catching 4-1 win over Dell EMC. Martin Harvey's accounted for The Weigh Inn, 3-2 along with CPL, five-nil winners over Cork Hospitals. Long time rivals Co. Council and Marlboro played out a one-one draw in the premier. Doolan's switched their attention to the Munster Junior Cup and impressively put Everton to the sword 6-1 in the second round. There was no joy for OBS and UCC in the same competition after they lost to Drinagh Rangers and Carrigaline Utd respectively.
Doolan's again took centre stage again in the last weekend in November by successfully navigating their way to the last four of the MFA League Champions Trophy competition following their 5-2 win over East Cork/West Waterford champions Lismore at Mayfield Community School. In the Premier there were wins for OBS and UCC Utd. and in the first, Voxpro got the better of Martin Harvey's 3-2 and PepsiCo and The Weigh Inn played out a one-one draw.
In the first week in December UCC and Satellite, two of the pre-season title hopefuls had to settle for a point apiece after a goalless along with Crookstown and Healy's whose contest finished level at 1-1 at the end of ninety minutes. Marlboro Trust were the only winners in the top division, winning for the first time after three outings to consign promoted OBS to a third defeat. Planet lost for the first time to Colso 4-3 in league one to hand the initiative to Abtran who had William Corcoran to thank again for supplying in the 3-2 win over Janssen. Voxpro and Cork Hospitals had welcomed wins over The Weigh Inn and Martin Harvey's.
A week later, OBS saw off fancied Satellite 3-2, Trust outscored Healy's 6-3 and the two Uniteds, Crookstown and UCC shared a 2-2 draw. In the first Janssen kept in touch with the leaders by comprehensively beating Martin Harvey's with PersiCo and CPL securing wins over VoxPro and Dell EMC. Two of the early season title challengers Colso and Abtran met at Casement PK. and had to settle for a 2-2 draw at the end of the ninety. Doolan's incredible run in the junior cup competitions continued with a 2-1 victory over Leeds at Leeds Pk. in the third round of the Munster Junior, Jamie Murphy and Tony O'Reilly with the goals.
In the week before Christmas, four matches were played in the second tier and brought wins for Planet, PepsiCo, Colso and Janssen to set up an intriguing second half to the season in the New Year with no fewer than four teams in with a decent shout of winning the division for the first time.
Doolan's kicked out the January programme with another superb win, this time in the fifth round of the FAI Junior Cup when they knocked Dublin outfit Valeview Shankill 3-2 in the open draw. Little then was anybody to know what would transpire just two months later with so much to look forward to at the end of the season. On the same weekend, the top two of the 1st Division met at Murphy's Farm and ended with Planet doing enough to see off rivals Abtran 4-3. PepsiCo, Dell EMC and CPL began January with wins along with The Weigh Inn who stunned high flying Colso 3-1. Elsewhere in the premier Marlboro Trust carried on from where they left off before Christmas by defeating Council 5-3 with Satellite keeping in touch with the leaders by taking full points from the visit of Crookstown to The Farm.
There was to be no respite for Doolan's who, a week later, faced Mayo outfit Westport Utd. at Mayfield Community in the sixth round of the FAI Junior. Goals from Tony O'Reilly and Aaron Hennessy stunned the visitors inside the opening half-hour but a spirited comeback tied up the contest by the 53rd minute before a last gasp winner by Peter Corcoran ended Doolan's' fairytale run. Doolan's eventually got to play their delayed shield quarter-final against Planet a week later and romped to a comfortable six-nil win. Abtran got back to winning ways in the first while Colso lost further ground, losing for a second consecutive match, this time to improving Janssen. Marlboro Trust stretched their unbeaten run with a 2-2 draw with Crookstown.
Doolan's switched to the Munster Junior to face Limerick Desmond League opposition Glin Rovers and needed a late James Cotter strike to progress to the last sixteen. Crookstown went back to the top of the premier after a one-nil win over 2018 champions UCC Utd. at the Farm and Planet stayed on top of the first after a three-nil win over VoxPro.
The shield semi-finals were played on the weekend of February 1/2nd and resulted with holders Satellite defeating Abtran 3-2 and Doolan's overcoming  Janssen 6-1 to set a third successive final between the two rivals. In the first round of the Mooney Cup first division, Planet knocked out premier opponents OBS 2-1 while Colso and VoxPro saw off Martin Harvey's and The Weigh Inn.
As the weather deteriorated in mid-February and matches were postponed, a win for Abtran in the Mooney Cup over Colso, 3-0, and for Cork Hospitals in the league over Martin Harvey's, 3-2, were the only two fixtures to get the green light. After Doolan's lost to AUL neighbours Village Utd. 4-3 in the Munster Junior in a snowstorm at Mayfield Utd. Pk., an objection reversed the outcome and allowed Doolan's to progress to the last eight for the first time. In the last weekend in February, there were wins for VoxPro, Janssen and Doolan's in the Mooney Cup along with UCC in the league over Marlboro Trust.
In what would prove to be the last action before the strict Covid 19 Level three restrictions brought an end to all junior football, Marlboro Trust knocked Doolan's out of the cup, 3-2, on a Friday only for the northsiders to bounce back in the league on the Sunday and draw 3-3 with UCC at the Farm as they attempted to play catch up in the league. A win for Crookstown in the premier and Janssen and Planet in the first would leave the table unchanged as leagues around the country decided to end their season prematurely and look toward to a resumption before the scheduled end to the 2019/20 season.
---
However, the twelve-week lockdown put a finish to the season and it was decided to plan for 2020/ 21 season once the green light was given. At a well-intended AGM at Rochestown Park Hotel on August 11th, the committee was returned in block with the welcome addition of Anthony Golden to tackle disciplinary. The end of season awards were presented to Doolan's Cow (Team Merit Award), Kevin O'Sullivan (Marlboro Trust – Premier Division Most Impressive Player), Eoghan O'Sullivan (Abtran – First Division Most Impressive Player), Darren O'Sullivan (Referee of the Year).
A relaxation in restrictions allowed for the continuation of the Munster Junior Cup competition, now at the quarter-final stage, to proceed on Sunday, August 6th. Once again, Doolan's went into the fray for a historic home tie against Waterford District League kingpins Waterford Crystal. With hand sanitation now a feature at official matches and a large following in attendance outside the pitch perimeter, the teams produced a thriller. After going two down, the first a contentious penalty, Doolan's courageously drew level through Tony O'Reilly and Jamie Murphy only for the visitors to display their experience in the competition and see out the tie 4-2 at the finish. CBL panel referee Grahame Duffy and his assistants Darren O'Sullivan and Yves Kriwan excellently contributed once again to what was a classic cup tie.
Despite losing Planet and Colso, the new season kicked-off on schedule on the weekend of August 28/29/30th with four new teams in Jason O'Neill Electrical, Jay Bazz, District 11 and Harp Celtic. Wins in the shield for Telus, formally VoxPro, Janssen on penalties, Dell EMC, Doolan's Cow, Jason O'Neill, Co. Council, Martin Harvey's, Jay Bazz and Harp Celtic got the opening day off to a flyer and by the end of September five teams fought through to the knockout stage with Martin Harvey's having to get the better of Jason O'Neill Electrical to face UCC Utd. in the last four.
A week later UCC needed penalties after a 2-2 draw to seal a third final appearance where they awaited the winners of the finalists of the past four seasons, Doolan's Cow and surprise package from the first division, Cork Hospitals. In a semi which flattered the winners, Doolan's emerges victorious ay Mayfield Sports Complex on Sunday, October 4th. In a dramatic week which followed, football again lost out to the re-introduction of restrictions, not before UCC were thrown out of the competition due to a successful objection and Martin Harvey's re-instated. The league campaign barely got out of the traps with only eight matches played in the premier and nine in the first. For the record, Doolan's with two wins led the Premier and Harp Celtic and Jay Bazz, also with two wins, were joint top in the first.
And so, two seasons look to have been casualties of lockdowns with the green light to return still to be announced. But, the hope of a successful return lingers in the hearts and minds of all involved and someday football will be back to be enjoyed better than ever before.
Stay up-to-date with the Cork Business League on social media: