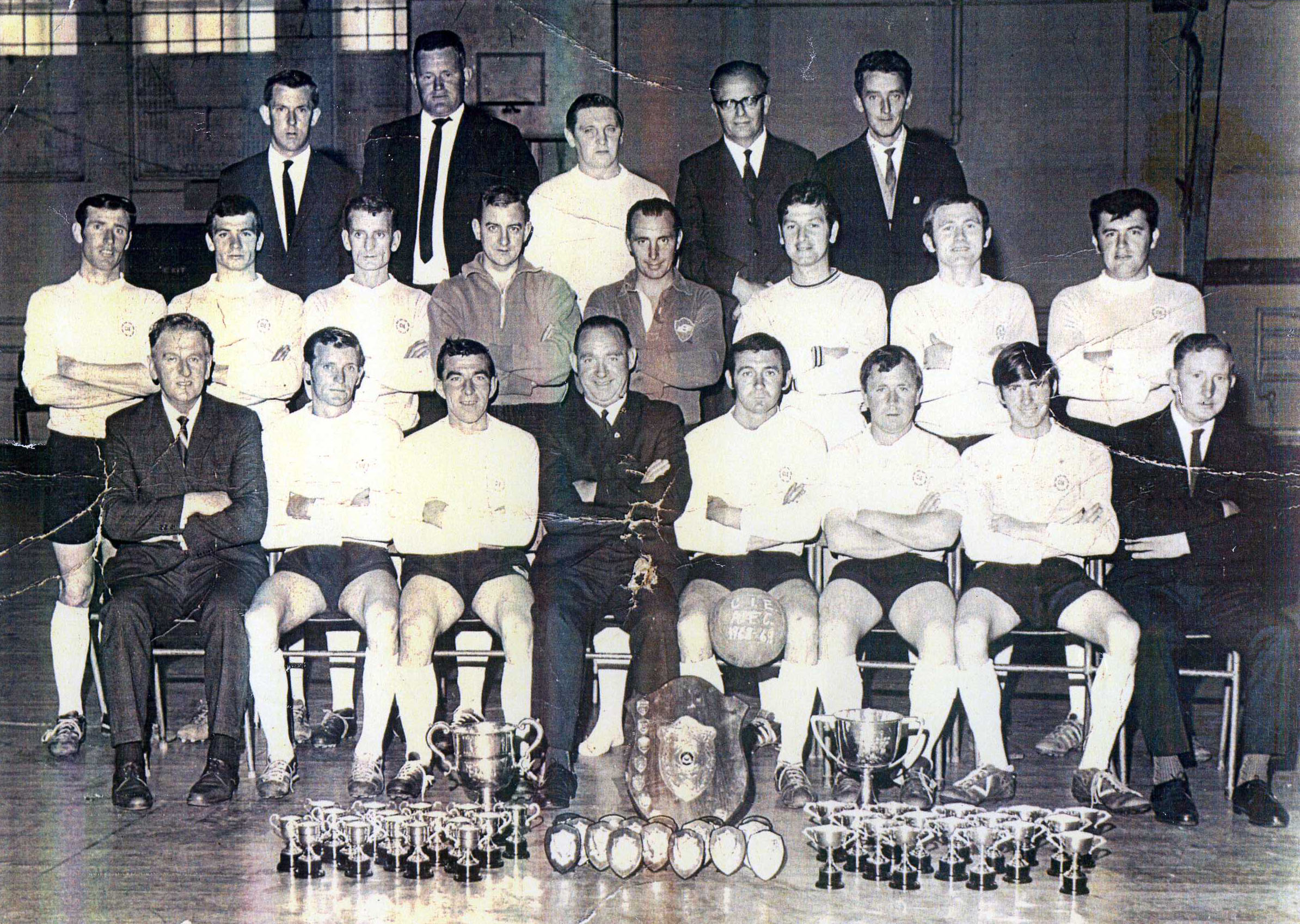 CBL Ten of the Best! Part 1
  Finbarr Buckley
 CIE (First CBL Treble Winners 50 years ago in 1968/89)
L to R (Back): Frank Gleeson, Mick Corcory, Stevie Murphy, Mr Timmons,  John O'Sullivan.
L to R (Middle): Patsy McCormack, Noel Kelleher, Denis Sheehan, John, O'Driscoll, Donie O'Leary, Niall O'Keeffe, Henry O'Connor, Dommie Murphy.
L to R (Front): Christy Beakey, Thomas Hawkins, Paddy O'Donoghue, Jackie Carroll (manager & CBL committee), Thomas Murphy, Jerry Sheehan, Paddy Busteed.
---
IN nearly 70 years of football at work, a talking point of former players invariably leads to memorable matches of the past, writes Finbarr Buckley. While attempting to put together ten of the best from seven decades of action, the task is virtually impossible. But for various reasons we've narrowed the field down to 10! Five in Part 1 and five in Part 1. The first instalment is as follows:
Game 1
CBL X1 2 – 0  Munster Senior League U-23  X1  , 8th June 1982 @ Mardyke Arena
A brace by the tournament's top scorer Pat Downey in the final ten minutes sealed a memorable hat-trick of victories over the Cork AUL, Youth League & MSL U-23's in the Wembley Invitational Tournament at the Mardyke. Following a scoreless first-half in which the CBL always looked the more dangerous side going forward, Downey displayed his scoring prowess with two opportunist goals which garnered for him the most promising player award at the finish. With keeper Gregson & centre-backs Speight and Kelleher outstanding at the back, Downey exploded into action by first sending a daisy-cutter on the immaculate surface beyond the reach of UCC's Kieran Buckley. Minutes later he darted between defenders Murphy & O'Keeffe to find the net much to the delight of the watching league management of Mick Mooney, Jackie Carroll and Jackie O'Driscoll.
CBL X1: Gregson; Cannon, Browne; Kelleher, Speight (c); Searls, O'Leary, Feehan, Atkins; Downey, O'Keeffe.  Subs not used: Quirke, Hartnett, O'Donoghue, Owens.
MSL U-23 X1: Buckley; Drummond, O'Shea; Murphy, O'Keeffe;  O'Neill, Neiland (c) ( M.  Murphy ), Mulcahy; Lyons, Long, Collins. Subs not used: M. Lyons, O'Donovan, McAnnany.
Ref: Eamonn Fitzgerald.
Game 2
Roches Stores 1 – 1 Postal Workers (AET, Roches won 4-3 on pens.), Byrne Cup Final, 18th May 1986 @ Pfizer Park
Roches Stores first trophy success after ten years denied the Workers a hat-trick of domestic trophies in a never to be forgotten day for the Patrick Street team. Anthony O'Reilly sent Kevin Callanan through for the opener on the half-hour only for a John McGrath to equalize from the penalty spot in the 79th minute. Noel McCarthy's winning kick in the shoot-out brought scenes of unbridled joy for the winners.
Roches Stores:  O'Callaghan: F. Buckley, J. Buckley ( Lynam ); O'Brien,  N. Cummins ( O'Regan ); McCarthy, Callanan, Cullinane; Owens ( c ), O'Reilly, J. Cummins.
Postal Workers: Archer: Brackett, O'Callaghan; O'Donovan, O'Leary; Hartnett, Maher, McGrath ( c ); Hurley, Keane ( Clifford ), Reid.
Ref: Peter O'Sullivan.
Game 3
CBL 4 – 2 Cork AUL, Oscar Traynor Trophy 1st Round, 11th Nov. 1967,  @ Turner's Cross Stadium
When the draw for the opening round pitted the CBL against the previous season's winners, Cork AUL, very few gave the underdogs a chance. However, the eventual winners availed of whatever slice of luck came their way & with caution thrown to the wind, jumped into a two-goal lead by half-time. On 36 minutes, Denis Coleman's free-kick was prodded in off a post by Barry Terry. Minutes later, Patsy McCormick swung over a high cross for the lean figure of Joe Drennan to get up between defender Long & keeper Peglar to head into the unguarded net. Noel Hawkins pulled one back for the AUL before Terry added his second in the 62nd minute very much against the run of play. Liam Hawkins put one between the teams again in a pulsating finish only for Mick O'Mahony to bring the curtain down on what has proved to be the representative team's most famous victory.
CBL: Noonan: O'Connor, D. O'Mahony; Dorgan, Coleman (c); McCormick, Walsh, Joyce; Terry, M. O'Mahony, Drennan.
Cork AUL: Peglar: O'Leary, Long; F. Buckley, Canty; P. Buckley, Murphy, N.Hawkins; L. Hawkins  (c), Coughlan, Crinnion.
Ref. Slyvie Greogor.
Game 4
Bohemians 4 – 1 CIE Athletic. MJC Quarter- Final, 6th April 6th 1969,
Despite losing to 1968 Cork AUL  division two league and shield winners Bohemians winners, Athletic went further in the competition than any other team before till Doolan's Cow this season courtesy of wins over St. Christopher's (2-1), Botanic (4-2) and  Castleview (2-1). While Dommie Murphy netted the visitors only goal, Athletic finished the domestic campaign of a high by becoming the first team to win the coveted treble of league, cup and shield.
Bohemians: Lehane: Coleman, Ryan; O'Brien ( c ), Kelleher; Meehan, Busteed, Brew, O'Donovan; Gunning, Ahern.
CIE Athletic: O'Driscoll: Sheehan, O'Keeffe; Kelleher, O'Connor; O'Leary, Hawkins, McCormack; D. Murphy, O'Donoghue, T. Murphy ( c ).
Ref. Bobby Duggan.
Game 5
Cork Examiner 1 – 0 Byrnes,  CBL Cup Final, 7th May 1981
When Kevin Hayes headed in Pat O'Callaghan's free-kick in the 43rd minute to win Examiner's first of four cup successes, little did he imagine that the victory would lead to unprecedented success over the next ten years, culminating in the history-making double double league & cup triumphs of 1991 & 1992.
Cork Examiner: Bevan: Clifford (c), Aherne; O'Mahony ( Broderick ), O'Connell; Smith, O'Callaghan, Hawkes; Hayes, Dorgan, Cronin.
Byrnes: J. Coleman: Sheehan, Franklin, Murphy, Speight (c); Feehan, Nagle, Walsh ( Ahern ); O'Sullivan, Cremin, T. Coleman.
Ref. Sammy Spillane.