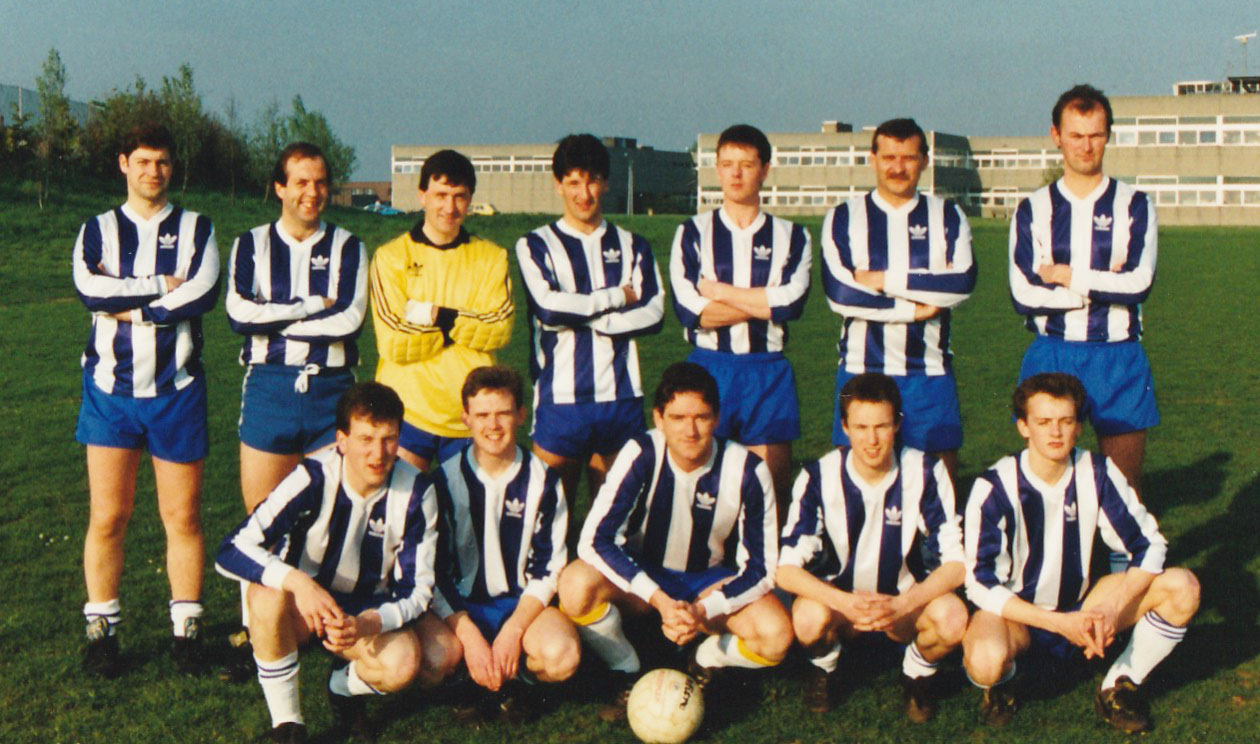 ⚽Those Were the Years: CBL This Weekend 30 Years Ago – Part 2 ⚽
??Finbarr Buckley
? AIB, who inflicted a heavy defeat on McSweeney's Bacon in their AIB Mick Mooney Cup second round tie at Killeady on Sunday, March 4th 1990: 
L to R (Back): Kieran Ashcroft, Tom McAuliffe, Tony Sheehan, Liam Healy, Mick Beecher, Mick O'Driscoll, Niall Donegan. 
L to R (Front): Derry Scanlon, Sean O'Callaghan, Tadhg Murphy (capt.), Liam Shine, Leo Whelan,
Next weekend, thirty years ago, there was an action-packed fixture list of league and cup matches at a point in the season, 1989/90, when the three divisions were so evenly poised that only five points separated the top five in each division. In Pfizer division one, old rivals Youghal Yarns and CIE Athletic met at Killacloyne on Sunday, March 4th and served up the proverbial classic with the hosts roaring back from 3-1 down with ten minutes remaining with goals from Denis Crowley and Cyril O'Mahony. Earlier, a Pat Downey double and a third from Brian McSweeney looked to have secured all three points for the visitors after  Crowley had reduced the deficit at two-nil. Referee Kevin Coughlan was deservedly praised by both teams for his handling of the weekend's top fixture.  Other matches in the top flight resulted with leaders Roches Stores losing ground following a one-one draw with basement club True Temper. The returning John Brohan opened the scoring for Temper before Noel McCarthy crossed for Tim Cullinane to equalize at Hillington Pk. Cork Examiner needed a Paul Howley penalty in the 72nd minute and a third from Jim Nodwell to end Bank of Ireland's challenge at Midleton while champions Postal Workers were held by ESB and Aer Lingus won two-nil away at Pfizers.
In division two, Liebert defeated Irish Steel 2-1 in the tight confines of St. Anne's Pk. John Hayes, who turned out for Co. Council in recent seasons, gave Liebert at 20th minute and after Dermot Devlin levelled on the hour, John O'Neill pounced for the visitors in the 75th minute. The highlight of Concurrant Computers' 4-2 win over SHB was Adrian O'Leary's spectacular penalty save twenty minutes from time.
Ridge Tools and WF Rational increased the pressure on leaders Naval Services in division three with wins over Concurrant United and Sifco respectfully. Ridge raced into a two-nil first-half lead with goals from Teddy Buckley and Paddy O'Brien before Charlie Kidney added a third midway through the second 45. Rational's John O'Grady netted a hat-trick in his side's 6-0 win while Hickeys dropped a valuable in the 2-2 draw with Postal United at Topps Park.