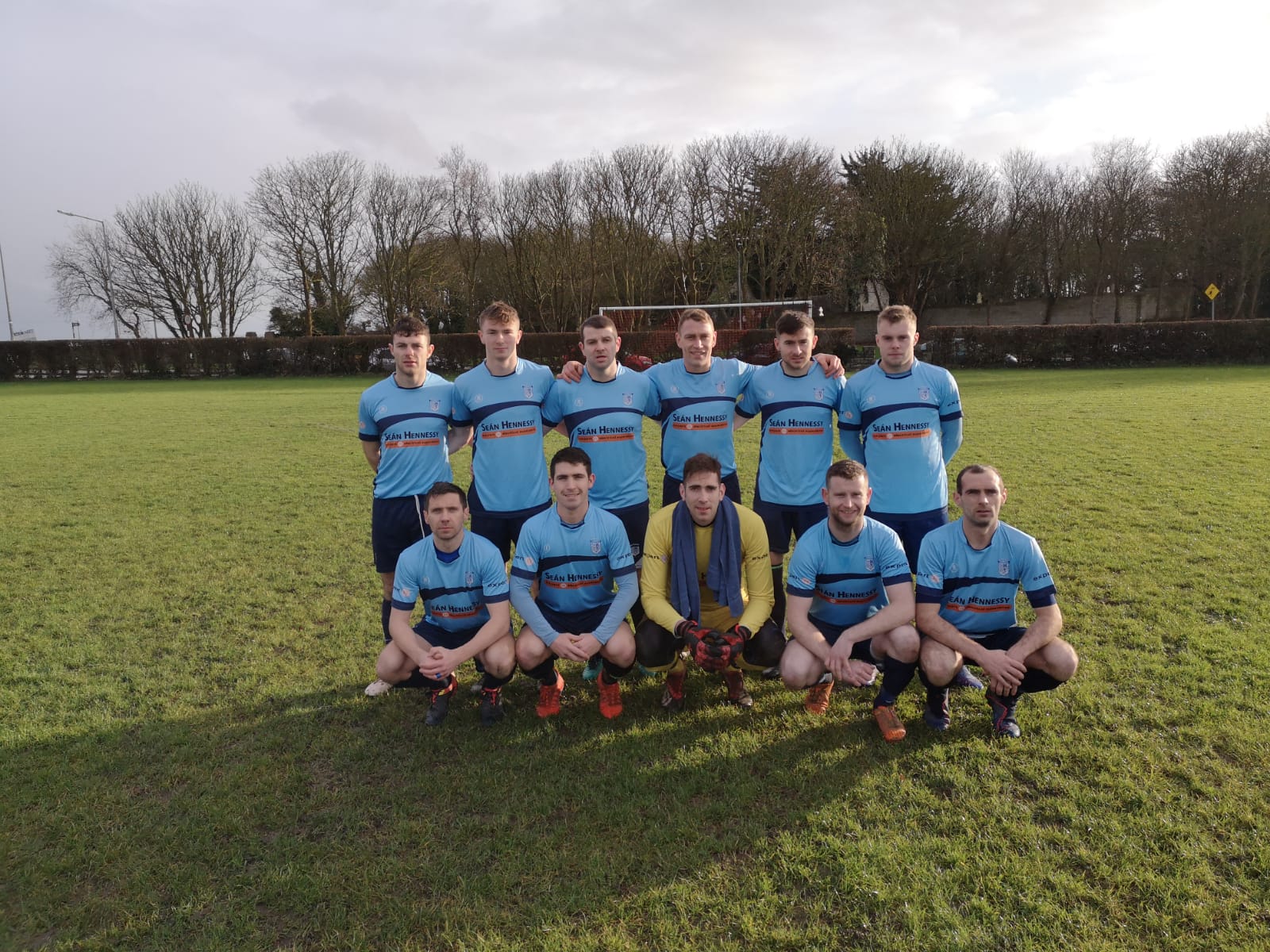 Keanes Jewellers MFA League Champions Trophy Semi Final – Get to Know the Teams: Rathkeale AFC & Doolans Cow Bar FC!
Finbarr Buckley (CBL) & Alan Doyle (Rathkeale AFC)
Rathkeale AFC
Doolans Cow Bar FC (Cork Business League)
Doolan's Cow were formed in 2005 by Eamonn and Ciarán Murphy and entered the Cork Business & Shipping League in 2005/06 under the name of Island Tavern. The club won the O'Driscoll Premier Cup in 2008/09 beating Fermoy Nissan MCM in the final at Turner's Cross. A name change to its present one of Doolan's Cow brought a change in fortune and a first Mooney Cup Final appearance in 2012/13 where EMC ran out winners. The league and cup double was achieved in 2015/16 with the club's most memorable and successful season to date coming in 2016/17 with the acquisition of all four domestic trophies, equalling Youghal Yarns' feat of 1992/93.
The club won the championship for a third time last season and are on course to make it through to a fourth consecutive shield final. Denis O'Sullivan, Wayne Kavanagh and Robert Graham currently manage the team who play their home matches at Mayfield Community School (All-Weather).
Doolan's have enjoyed a successful run in both the junior cup competitions this season, getting to the sixth round of the Umbro FAI Junior Cup and the fifth round of the Munster Junior Cup, both for the first time in the club's history. In the FAI Junior, Doolan's knocked out Castlelack (6-1), Glen Celtic (3-2), UCC United (4-1), Valeview Shankill (3-2), before exiting to Mayo Premier League champions Westport United (3-2) at Mayfield Community School. Park United from Mitchelstown were first surrender in the Munster Junior (5-4) at Brigown before wins over Everton (6-1) and Limerick Desmond League opponents, Glin Rovers (1-0) set up the all-Cork derby with Cork AUL kingpins Village United for a place in the last eight at Mayfield Pk. On an atrocious day for football, Doolan's trailed 3-1 at half-time only to bring the tie to extra-time with a brace from Tony O'Reilly. The home side added a fourth from the penalty-spot in extra-time to progress.
Doolan's turned over East Cork/West Waterford champions Lismore on their way to the semi-final of this season's MFA League Champions Trophy with Jamie Murphy and Aaron Hennessy both scoring twice along with Stephen McCarthy in a 5-2 win at Mayfield Community School.
Rathkeale AFC (Limerick Desmond League)
Rathkeale AFC a soccer club located in Co Limerick. It is affiliated to the Limerick Desmond League. The Club was founded in 1961 and our colours are Sky Blue and Navy. In the early years, the Rathkeale Club played their matches at Ballywilliam, Wilton Hill and Courtmatrix. In 1976 the Club moved to their current facilities in Holycross, Rathkeale. The move to Holycross now meant that soccer had its own home in Rathkeale and subsequently the Club's fortunes took a turn for the better. The role of Shannon Meats was most important here and were a most generous benefactor to the Club. The Junior Structure of the club comprises of two teams which compete in the Premier and Division 1. Our Underage system competes from Under 6 up to Under 16 in both boys and girls
The Club's pitch has undergone a large redevelopment in recent years. Today we have an excellent playing surface, Home & Away dressing rooms and a stand. Like all clubs, we are extremely proud and appreciative of all the work that goes on behind the scenes from Underage/Junior Team Management & players to Pitch Maintenance, Local Sponsors and to our Supporters/Members. The club would like to acknowledge all of those people right up from 1961 to the present day.
Our 1st Desmond League was won in 1976/77. Since then the club has gone onto win the Desmond League a total of 11 times including 3 on the trot in the early 90's. We have also won the league in 2 out of the last 3 seasons. 1st Desmond cup came in 1979 and we had to wait till 1992 to win another. Since then, the cup has been won in 1995, 1998, 2010, and most recently in 2018
Rathkeale are managed by Alan Doyle this been his 4th season as manager. In the past 3 seasons, we have won 2 league titles along with a desmond cup and league cup double in 17/18. The team would like to give a special mention to our main sponsor of the A Team Sean Hennessy and his continued support down the years and also to O'Sullivan Bar and Giltenanes Pharmacy who have sponsored our match days tracksuits and tshirts and also for their continued support.
?

Exclusive coverage provided by Full Time Productions with highlights available from Sunday 1st March @ 6pm

?