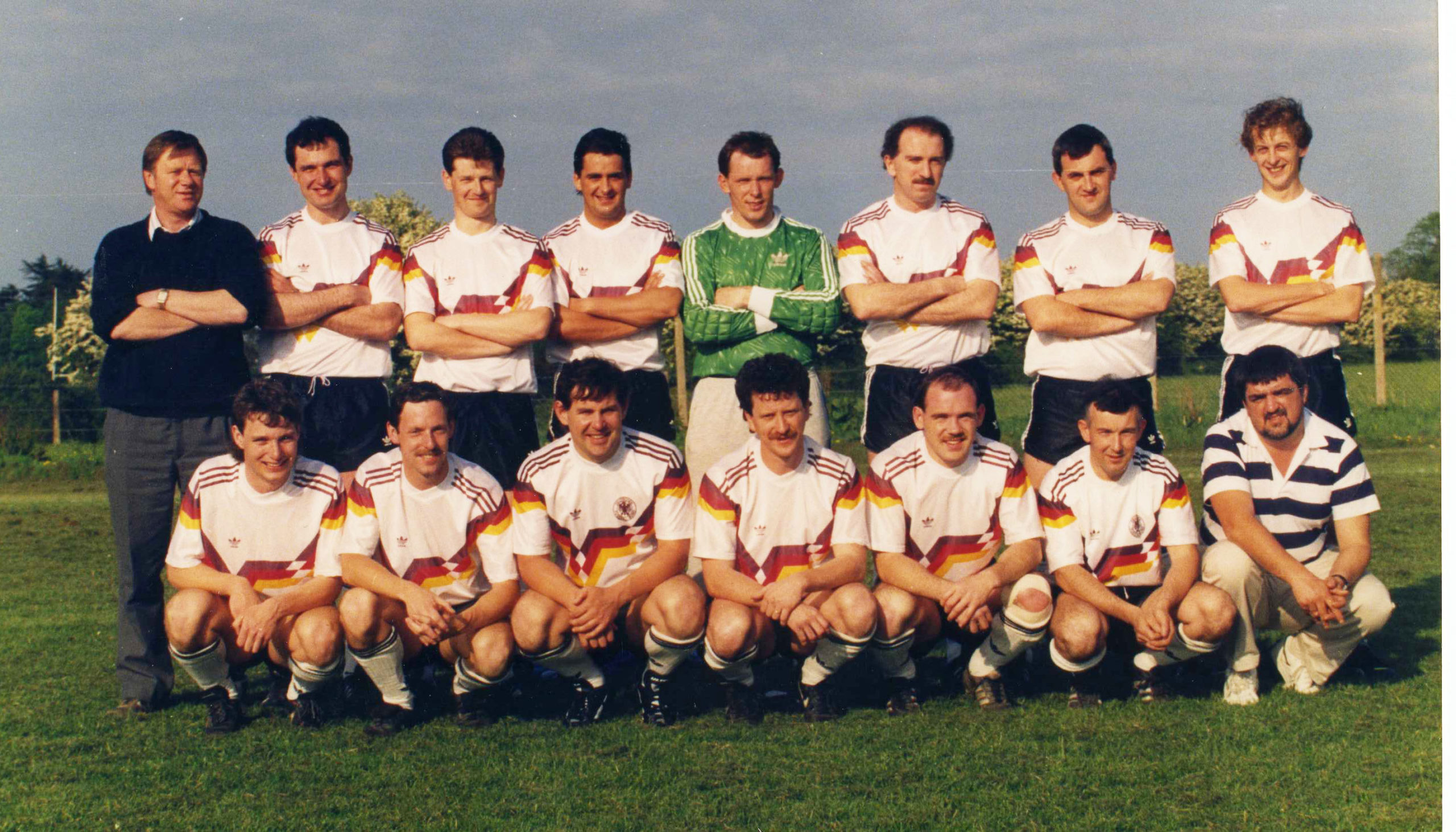 CBL Great Teams of the Past | Part 1: Our Lady's Hospital United FC
Our Lady's were the knock-out kings of the Eighties!
?? Finbarr Buckley
? Our Lady's Hospital United (1990/91 AIB Cup semi-finalists v Cork Examiner L 1-3)
L to R (Back): Peter Harrington, Eamonn Twohig, Brian Henry, Mick Murphy, Don O'Donoghue, Charlie Daly, Denis Murphy, Padraig Cremin.
L to R (Front): Richard Clifford, Philip O'Connor, Denis Cremin, Paudie O'Brien, Anthony McAuliffe, Con Lynch, John Leonard.
Our Lady's Hospital United spent fourteen seasons in the league under the stewardship of John Leonard and assisted by former Cork Business League Honorary Secretary and current Honorary Chairman Peter Harrington, writes Finbarr Buckley.  Without making a worthwhile impression in the league due in the main to the dominance of the team of the decade, Postal Workers, the hospital team left an indelible mark, especially in cup competition.
United burst on to the scene in emphatic style in their first season, 1981/82, by winning the shield at the first attempt. As a third division side, they overcame first division king-pins CIE Athletic on penalties in the semi-final of the Bank of Ireland Shield following a one-one draw. They went on to cause a huge upset in the final three weeks later by defeating Postal 3-1 with goals from Jer Leahy (2 ) and the late Declan O'Riordan. Even Postal's penalty ace John McGrath couldn't beat keeper Benjy Keohane when given the opportunity to reduce arrears midways through the second-half. The season ended on a high with promotion as division champions. The Shanakiel based team continued to impress by reaching the semi-final of the AIB Cup and the final of the Byrne Cup, only to lose narrowly to Youghal Yarns and Postal United respectfully.
The following season, (1982/83), the Hospital again made it to a consecutive shield final, when goals from Denis McElligott and Joe O'Halloran ended Allied Irish Banks' brave run to the semi-final. However, Postal made amends for the previous year's defeat, winning one-nil in a tense final at Hickey Park. The pair met for a third time the following season, once again in the shield final, and it was Our Lady's who edged home by the slenderest of margins, again one-nil.
The duo were to lock horns three seasons later in the final of the prestigious blue ribbon event of the league's calendar, the AIB Cup at Pfizer Park. A Declan O'Riordan inspired Our Lady's showed no nerves on the big day and indeed outfoxed the champions-elect to lift the cup after a dramatic penalty shoot-out.
Two seasons later Our Lady's were back in the final which was held at Turner's Cross for only the second time. Their opponents were Cork Examiner, winners in '81 & '86 and still smarting from the previous season's defeat to treble winners, Postal Workers.T he road to the final began back on January 22nd  1989  at St. Anne's Park. John O'Grady's goal was all that separated the teams at the end of 90 minutes. Naval Dockyard acquitted themselves well in round two on Saturday, March 3rd to give their higher division opponents a real fright. Sean Connolly netted for the Hospital after ten minutes only for Dan Lafin to equalize minutes later. Connolly eventually put daylight between the teams well into the second half with his second which finally got the better of a Willie Mullane inspired Dockyard.
Arch-rivals Postal arrived at St. Anne's on Saturday, April 8th  to battle for a place in the semi-final. The march was a personal triumph for central-defender and captain John O'Grady, who helped keep free-scoring Workers strikers Pat Lester & John Reid score-less for 90 minutes. The game's defining moment came four minutes into extra-time. A long clearance from defence caused the Postal rearguard to hesitate and Philip O'Connor chipped to the net to give O'Grady, who was about to move to Australia, the perfect going-away present. The semi-final at the ESB Grounds. on Sunday, April 23rd with title contenders CIE Athletic. was also decided by one goal. In the 55th minute Richard Clifford pounced in a crowded goalmouth to score and the Hospital's defence stood firm to the final whistle to make it to a second and what would prove to be a last final appearance.
Extreme heat and a rock-hard surface greeted the players of Our Lady's and Cork Examiner at Turner's Cross on Sunday, May 7th. Referee Barry Kearney and his assistants Derry Barrett (RIP) & Mick Foley led out captains Philip O'Connor & Keith Anthony ( the star of RTE's Operation Transformation ) to the applause of a sizeable attendance. Favourites, Examiner became bogged down in midfield as Our Lady's adopted a man-marking strategy, As a result, chances were few and far between and extra-time failed to separate the teams. The replay at the Farm on Saturday, June 13th was decided by a solitary goal, scored from the penalty spot after ten minutes of the second-half by Tony McAuliffe.
Our Lady's Hospital Ut: Sean Culloty: Philip O'Connor (capt.), Padraig Cremin; Con Lynch, Jimmy O'Halloran; Denis Murphy, Sean Cronin, Paudie O'Brien; Tony McAuliffe, Richard Clifford, Charlie Daly.
Cork Examiner: Denis McCarthy: Pat Broderick, Kieran Falvey; Charlie O'Mahony, Jim Nodwell; Dave Cronin, Keith Anthony ( capt.), Paul Howley, Don Bevan, Michael O'Mahony ( John Foley, Sean Murphy.
Referee: Barry Kearney.
Click on each photo below to enlarge and download ?