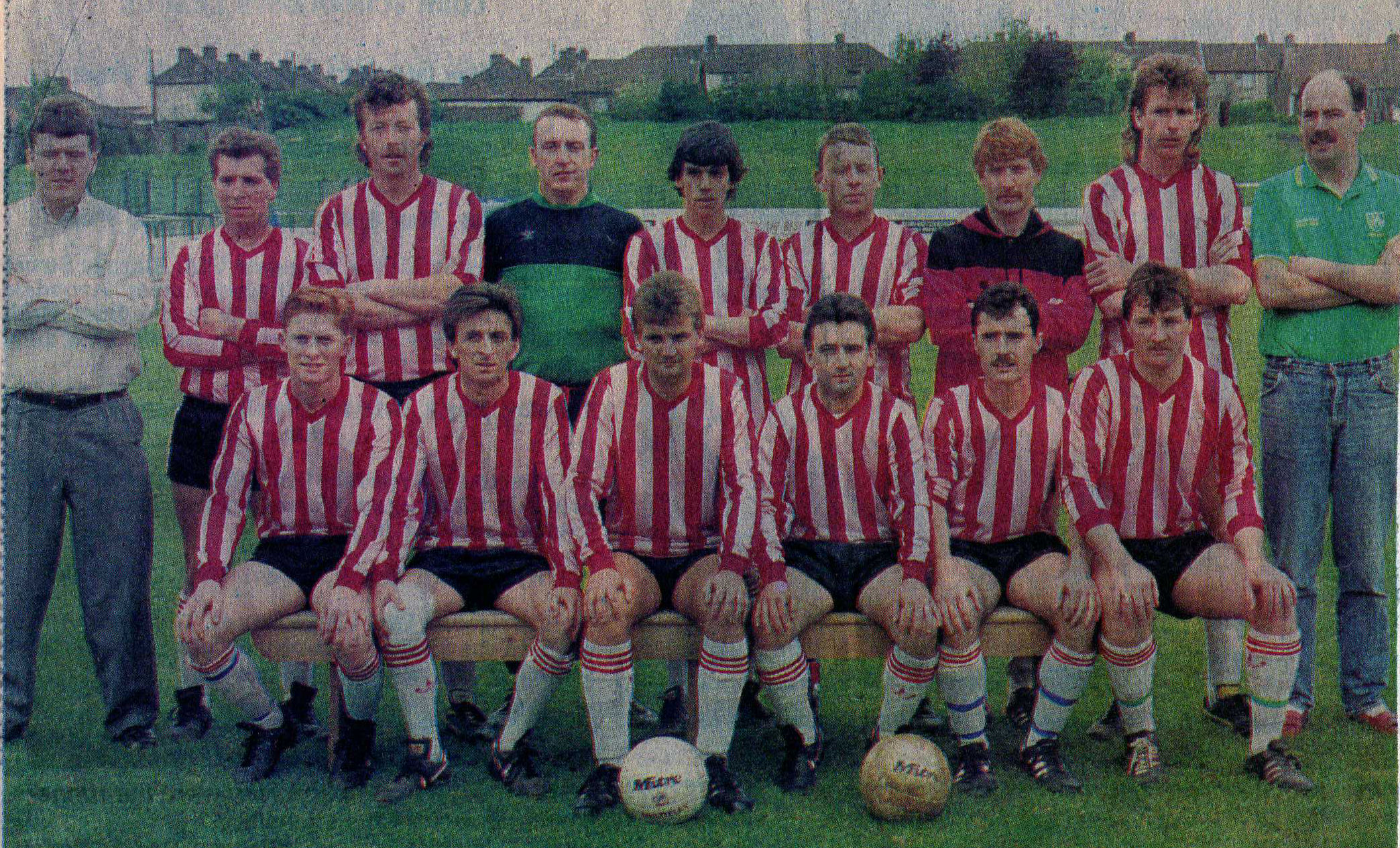 ⚽Those Were the Years: CBL This Weekend 30 Years Ago – Part 1 ⚽
??Finbarr Buckley
? Liebert (Bank of Ireland & AIB Cup Finalists  1989/90):
L to R (Back): Jack McCarthy (manager), Peter Conway, Jimmy Mealy 'Hoddle', Derek Barnes, John Hayes, John O'Sullivan, Joe Murphy, John Doyle (assist. manager).
L to R (Front) : John O'Neill, Tony Hayes, John O'Donovan (capt.), Jerry Cooney, Pat Barrett, Sean Hanafin.
Last weekend's Cork Business League Shield semi-finals were a timely reminder of what happened at the same stage of the competition thirty years ago in season 1989/90. Both matches took place at Pfizer Pk. on Sunday, October 29th 1989 with holders Liebert and division three surprise package Ridge Tools first into combat in the morning kick-off. Liebert dominated the opening 45 but only had the 35th minute Tony Hayes goal to show for their efforts at half-time.
Ridge came more into the contest after the break and would have drawn level but for some excellent goalkeeping by Derek Barns and defensive play by Jerry Cooney. However, a second Hayes goal ten minutes from time sealed Liebert's passage to a second consecutive final.
Two big hitters, Aer Lingus and CIE Athletic met in the afternoon tie and fought out a scoreless opening half before Peter Connolly's diving header broke the deadlock in CIE's favour. With seconds remaining Roland Hegarty drove in a blistering free-kick to take the tie to extra-time and then penalties which Aer Lingus won 5-4. For the record, Aer Lingus went on to win the final for the first time before going on to claim three more titles