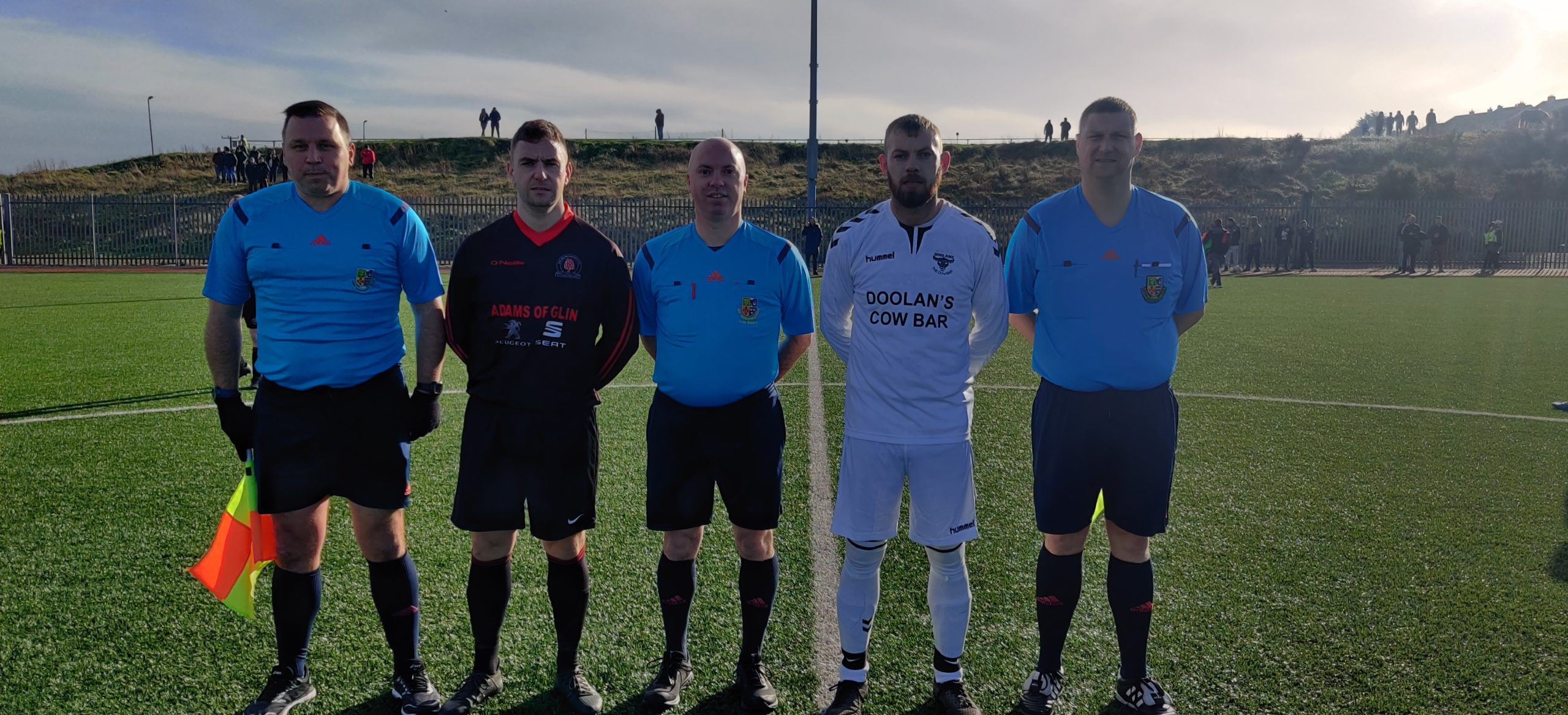 ? CBL Weekend Round-Up: Cow put Rovers out to Pasture in Cup Thriller!
? Finbarr Buckley
? Peter Travers
Munster Junior Cup – Fourth Round
Doolan's Cow 1 – 0 Glin Rovers
DOOLAN'S COW advanced to the last sixteen for the first time in the club's short history following their nail-biting win over Limerick Desmond League opponents Glin Rovers at Mayfield Pk. last Sunday afternoon, writes Finbarr Buckley.
The host's reward is a plump local derby tie against Cork AUL Premier A kingpins Village Utd. who overcame St. John Bosco's A in their all-Cork tie on the Saturday. Doolan's went close early on but almost fell behind in the 35th minute when Martin McSweeney's shot came back off the crossbar. The intensity died in the second 45 as both teams were guilty of wasting possession  and with both teams reduced to ten following second yellow card offences by Doolan's' Sean O'Sullivan and Glin's Gary Kelly, the final quarter made for a nervy finish. With less than two minutes remaining, Jamie Murphy broke clear to release James Cotter who duly finished from close range to keep his club's  fairytale run alive. Keith McCarthy, Tony O'Reilly and Craig Keegan were outstanding for Doolan's.
Sports Gear Direct Premier Division
OBS 2 – 2  Healy O'Connor Solicitors
Last season's First Division runners-up, OBS, missed the opportunity to move to within a point of leaders Marlboro Trust by being held to a 2-2 draw for the second time in a week. The hosts went in front from their first meaningful chance after twenty minutes. Anthony O'Reilly won a free-kick out wide which allowed Jack Cotter to swing the ball to the far post for Nyall O'Brien to head the opener. Yasyn Essahel capitalized on a mix-up at the back to equalize before finishing neatly from Shane Healy's pass in the bottom corner for the lead for the visitors in the 55th minute. Sub Donal Coakley was quickest to react with ten minutes remaining to level after Lee Maher's shot was charged down for the grateful Coakley to pounce for 2-2. Despite both teams going all out to find a winner, neither proved successful as a share of the spoils was all that could be achieved at the finish. O'Reilly, O'Brien and the departing Cotter shone for the home side with Steve Dwyer, Mark O'Sullivan, Joady Sinnott and Patrick Ahern all impressive for the Solicitors.
UCC United 0 – 1 SCS Crookstown United
Promoted Crookstown put a huge dent in UCC's title aspirations by coming out on top by the slenderest of margins at The Farm last Sunday morning. Liam Wall's 4th-minute goal separated the teams at the finish but for some wayward finishing, Tim Irwin's visitors could have been out of sight at half-time. Colm Crowley, Kevin Barrett and centre-back Liam O'Sullivan all went close for Crookstown who stretched their lead at the top to two points with a match in hand over second-placed Marlboro Trust.
Sports Gear Direct First Division
Colso Celtic 7 – 2  Cork Hospitals
Colso Celtic got their title challenge back on track with a comfortable win over bottom of the table Cork Hospitals at Mayfield Community School. Alex Cummins helped himself to a hat-trick with Ryan Towler and Ger McCann contributing two each to the winner's total on the night. Cummins, McCann, Jack McCarthy and Alan Horgan were lively throughout for Celtic. Sean Gonnigle and Mike Brady netted for the visitors.
VoxPro 0 – 3 Planet Entertainment (Cork)
Planet responded to their shield quarter-final exit to Doolan's Cow in the best possible fashion by going joint top with leaders Abtran following last Saturday afternoon's three-nil win over an out of sorts VoxPro. The visitors went at their opponents from the off and went in front in the 5th minute through Stephen 'Giggles' Crowley who volleyed in James Morris's cross at the back post. Pierce O'Keeffe doubled the lead on the hour when he headed in Charlie Murphy's corner leaving Gary McCarthy to wrap up the points from a long range free-kick. Murphy, Eoghan Ryan and Sam Lyne were influential throughout for the winners.        
Dell EMC 3 – 2 Martin Harvey Solicitors
Dell EMC notched up back-to-back victories for the first time this season by coming from behind to outscore Martin Harvey Solicitors with five minutes remaining. EMC's top scorer Sean Holmes opened the scoring after twenty minutes from the penalty spot after he was taken down himself. After Conor Dalton equalized from a free-kick, Adam O'Sullivan fired the visitors into the lead before half-time. The home team piled on the pressure in the second 45 with Mark Foley going closest to levelling with a shot off the crossbar. With time running out Holmes turned in Brian Walsh's cross at the near post for two-two. At this stage, the visitor's had lost keeper Shane Downey to injury and had used their subs and couldn't prevent Steve Dwane setting up Holmes to complete his hat-trick with his ninth of the campaign in the 91st minute. Walsh and Andy Healy were worthy foils for the irresistible Holmes who on this form could spark a revival in Dell which could revive the glory days of the past.
CPL 1 – 2 PepsiCo
PepsiCo came out on top in a best of three-goal encounter to get back  in the promotion race with the experienced Brian Gunning getting both goals for the visitors. Chris Brant replied from the penalty-spot for CPL after been upended in the area himself.                                   
 Janssen 1 – 0  Abtran
Janssen stunned leaders Abtran to join their opponents in a three-way tie at the top following a one-nil win at Mayfield Pk. Alan Murphy grabbed the early winner in a hectic encounter to gain revenge for the early season 3-2 defeat in the team's first contest back on November 30th