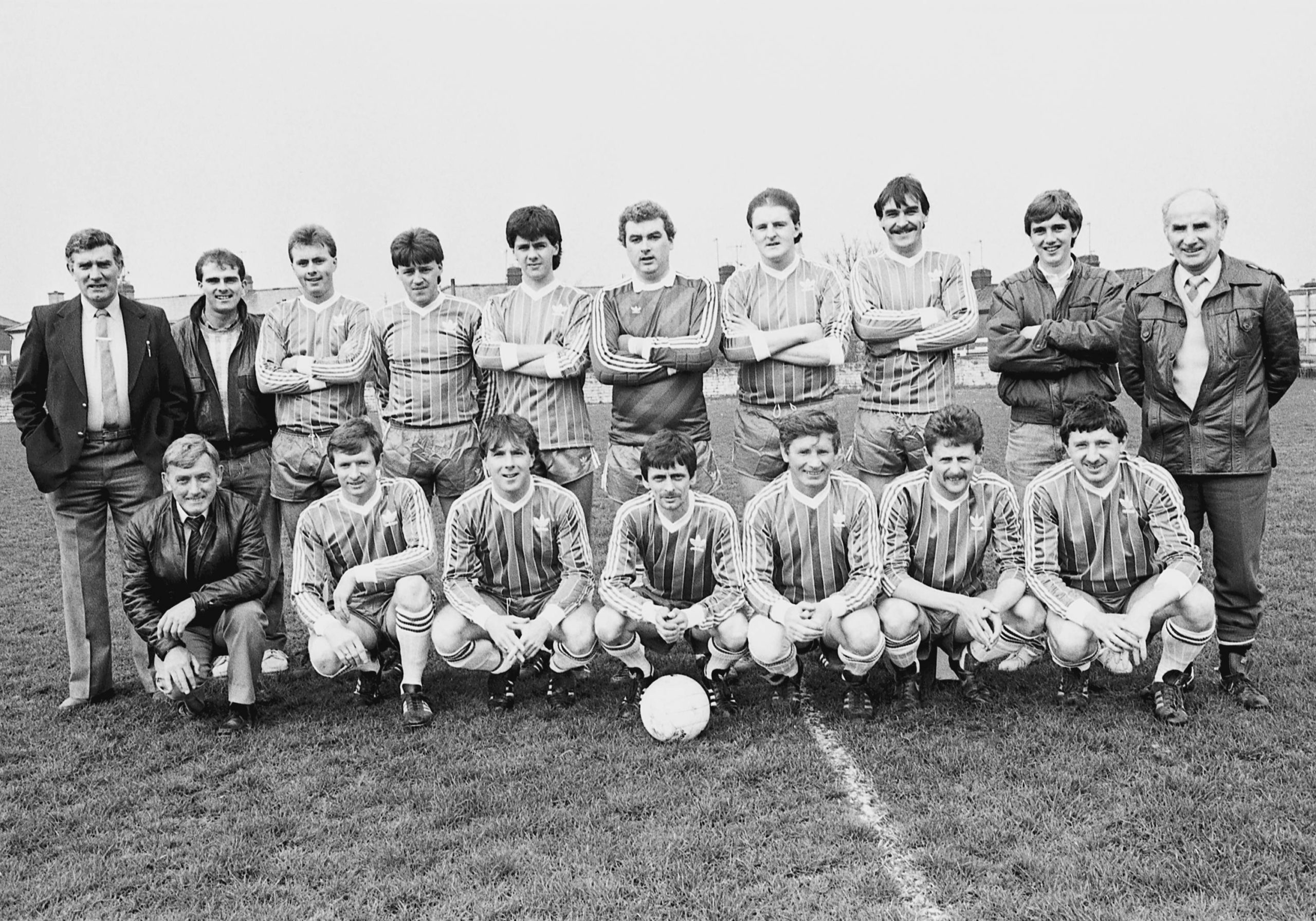 ⚽Those Were the Years: CBL This Weekend 34 Years Ago ⚽
??Finbarr Buckley
?Cork Examiner, who defeated champions Aer Lingus 3-2 at Alsaa Pk., 34 years ago on Sunday, February 2nd 1986:
L to R (Back): Michael John Courtney (committee) (RIP), Pat Broderick, Keith Anthony, John Foley, Kieran Falvey, Denis McCarthy, Dave Cronin (RIP), Don Bevan, Peter O'Callaghan, Jim Kelleher (committee).
L to R (Front): Frank Linehan (manager), Der O'Mahony, Frank Drummond, Dave Ahern (capt.) (RIP), Charlie O'Mahony (RIP), Jim Courtney, Pat Hawkes (RIP)
This week's flashback goes back 34 years ago to the weekend of February 1/2nd 1986 when a packed programme of 13 cup and league fixtures were down for decision, writes Finbarr Buckley
Among the highlights were, in the cup, two first-round replays saw Postal United with goals from Fergal O'Connor and Paul Murphy edge out True Temper 2-1. Co. Council accounted for Musgraves 3-1, courtesy of goals from Ger Power, Mick Hanley and Sean Cooke. In the first division, champions Aer Lingus trailed two-nil to first-half goals from Cork Examiner's John Foley and Pat Hawkes only to draw level through Noel Bradley and Liam Good. After Kieran Falvey slammed in a third for Examiner, there was still time for Don Bevan to save a penalty from Bradley who collided with the post and knocked himself out in his attempt to score from the rebound.
Andy Maher and Denis O'Leary were on target for Postal Workers against Bank of Ireland at The Farm, the hosts replied through Danny O'Leary and Billy Moriarty. However, John Reid notched the winner for the Workers with three minutes remaining.
The highlights of the second division were Roches Stores 5-1 demolition of WF Rational 5-1 and later champions' Byrnes surprise 4-0 trouncing of Pfizers. Don Sheehan (2), Laurence Owens, Kevin Calnan and Jim Cummins were on target for Roches while goals from Johnny Crowley (2), Denis O'Sullivan and Harry Speight kept Byrnes in the title race. Gerry Desmond put City Hall one up against Youghal Yarns who fought back through a Willie Griffin double to lead 2-1 with ten minutes remaining. However, the Hall scooped the points with late goals from Kieran Cremin and Steve Murphy. SHB surprised leaders Perkin Elmer 2-1 in division three, Mick O'Driscoll and Ken Owens among the goals while Hickeys impressed in defeating Government Services 2-1. Kieran Hayes and Martin O'Sullivan netted for the winners and Denis Leonard for the losers.