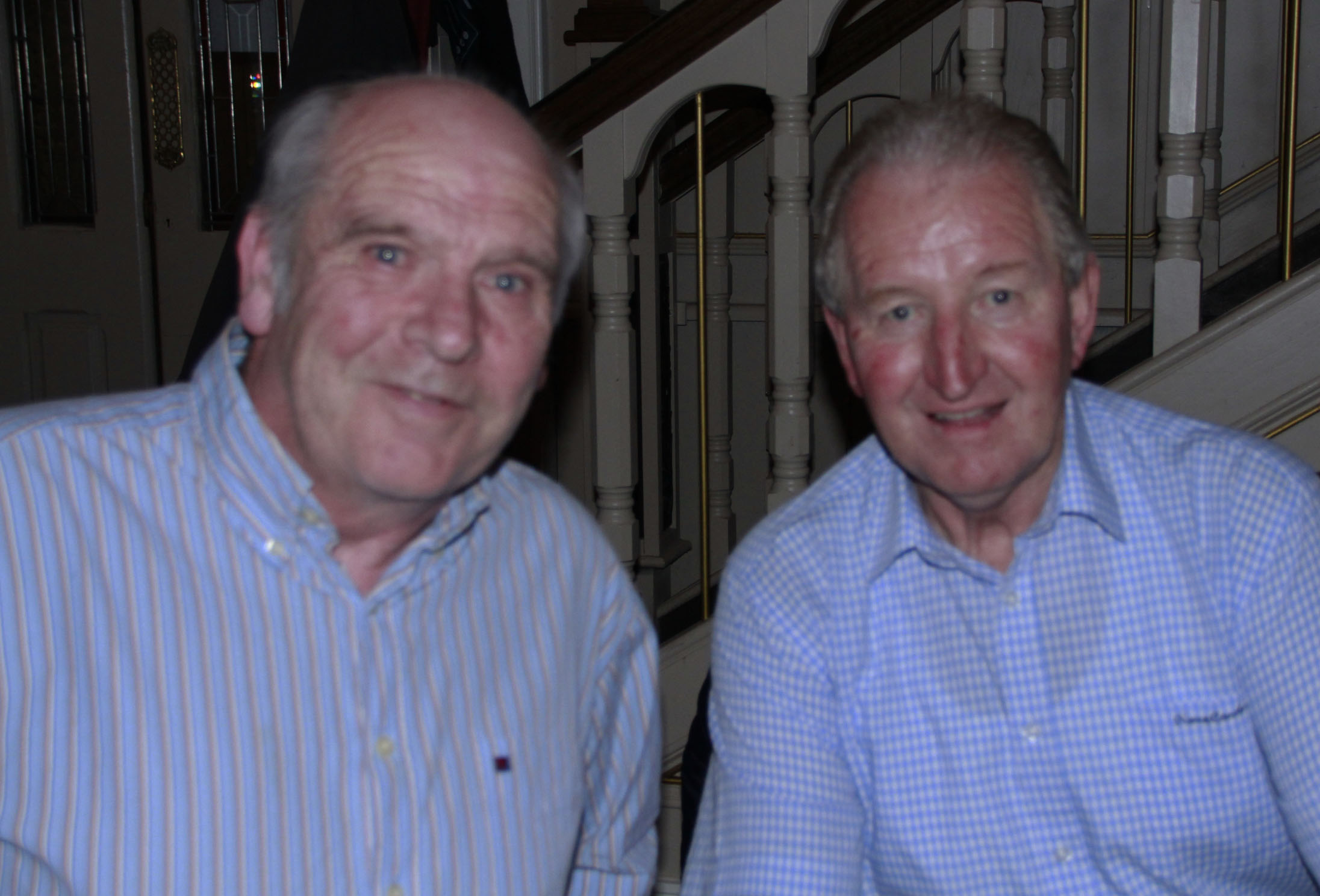 ? CBL Weekend Round-Up: Hennessy's Late Winner Sends Cow into Last Thirty-Two!
??Finbarr Buckley
?  The late Tom 'Bomber' Archer, left,  pictured with his good friend and former team-mate Pat Lester at the Postal Workers' 50 year re-union celebration at the Imperial Hotel on May 19th 2017. Tom was part of the Postal team who won ten league championships between 1978 and 1989
New Balance FAI Junior Cup – Fifth Round
Doolan's Cow 3 – 2 Valeview Shankill
DOOLAN'S COW'S remarkable run in both junior cup competitions continued last Sunday afternoon with a nail-biting 3-2 win over Dublin opponents Valeview Shankill in their New Balance FAI Junior Cup fifth round tie at Mayfield Community School, writes Finbarr Buckley.
A sloppy headed back-pass led to Shankill's opener early on but Doolan's recovered to get back on level terms through Tony O'Reilly who slotted home a rebound from a Jamie Murphy shot. Murphy put Doolan's in front for the first time in the 25th  minute only for Shankill's Paulie Walsh to set up  a grandstand second 45 with an equalizer from the penalty-spot on the stroke of half-time. Both teams pressed for a winner but it was Aaron Hennessy who lobbed the keeper for  the decisive third in the 75th  minute to send Doolan's into the last thirty-two  for the first time in the club's history along with sole AUL representatives Glenthorn Celtic 'A' where they'll face Mayo District League outfit and 2005 winners Westport United at home next Sunday.
Sports Gear Direct First Division
Planet Entertainment (Cork) 4 – 3 Abtran
The top two met on a heavy surface at Murphy's Farm last Saturday afternoon with Planet shading the goal fest by the odd goal in seven. Gary McCarthy fired in a 3rd  minute penalty after Joe Cullagh was taken down to give the hosts the lead only for Danny O'Brien to crash in the equalizer off the underside of the crossbar five minutes later. Rob Mugabe powered in a header from a McCarthy free-kick to gave Planet the advantage again in the 23rd minute before Joe Cullagh netted from a corner five minutes into the second 45 to stretch the lead to 3-1. Despite being reduced to ten following a sending off, sub Rob Twomey set up Chris Coughlan who reduced the deficit only for James Morrissey to put two goals between the teams again. Coughlan added a third for the visitors, who after having another played dismissed, played out the last twenty-five minutes with nine men and went close to grabbing a share of the spoils through Coughlan, William Corcoran and Shane Bowles.
Martin Harvey Solicitors 1 – 2 Pepsico
PepsiCo got the New Year off to a flyer by going top for the first time in their best of three goal encounter with Martin Harvey's at Mayfield Community School last Friday night. Shane Hennessy opened the scoring for the visitors only for Adam O'Sullivan to equalize for the hosts. Fionn O'Dea popped up with the winner after PepsiCo survived a late flourish in which Stephen Colgan, Adam O'Leary and Darragh Healy shone for the Solicitors.
Dell EMC 2 – 1 Cork Hospitals
Dell EMC arrested a wretched run of five successive losses to pick up their first points of the campaign following a 2-1 win over Cork Hospitals. After Rory McCarthy gave the visitors a half-time lead, Sean Holmes slotted home to make it one-one in the 65th minute. Hospitals' keeper John O'Neill made an incredible save from Paul O'Hea's half volley ten minutes later but could do nothing to prevent Pat Wesolowski snapping up the winner from a corner with five minutes remaining. Steve Dwane and Matthew Tiffany gave impressive displays for the winners.
CPL 4 – 3 VoxPro
CPL moved level with VoxPro after securing their fourth of the campaign. The hosts led 4-1 with ten minutes remaining courtesy of goals from Chris Brant (2), Ian Harrington and Kieran Carroll only for VoxPro to rally with goals from Kevin Ronzon and Jason O'Sullivan. Niall Connolly had earlier scored in the first-half for the visitors.
The Weigh Inn 3 – 1 Colso Celtic
The Weigh Inn had a shock in store for unbeaten Colso to deservedly win 3-1 in the team's first ever league meeting. An own goal gave the visitors an ideal start but within minutes the hosts got back on level terms with an own goal of their own and went on to seal all three points with a brace from Daniel O'Driscoll who excelled in an impressive  team performance.
Sports Gear Direct Premier Division
Marlboro Trust 5 – 3 Co. Council
The rivalry in the league between these teams goes back almost twenty-eight years to November 10th 1992 when they met in a division three fixture at Killeady which ended in a one-one draw. Last Saturday afternoon's tussle at Mayfield Community School didn't disappoint with Trust's Kevin O'Sullivan and David McCarthy both scoring twice and Council's Robert Susek contributing a  spectacular hat-trick. Daniel del Blanco was also on target for the winners who occupy top spot overnight with Crookstown United in with a chance to overtake the four time winners should they beat Satellite Taxis on the Sunday morning.
Satellite Taxis 3 – 1 SCS Crookstown Utd
Satellite edged out Crookstown in an entertaining contest to move up to joint second  with first-half goals from Breff McCarthy and an own goal, followed by a third in the second from captain Shane Dorgan. Lloyd Asling had earlier pulled one back for the visitors a two-nil. Greg Browne, Emmett O'Neill and keeper Cian Hammond impressed for the hosts with Colm Crowley, Dave O'Halloran and Charles Kenneally the pick of Crookstown's eleven on the day.
FOOT-NOTE : The older Business League community was saddened by the recent passing of former Postal Workers' goalkeeper Tom 'Bomber' Archer after a long illness. Tom won every honour in the game and was an integral part of the team which dominated the eighties, winning the championship ten years out of eleven between 1978 and 1989. Condolences are extended to his wife Annette, family and friends and also to UCC United player and secretary Rónan Ó'Dubhghaill whose wife Bríd passed away over the holiday period. Ar Dheis Dé go raibh a n-anaim.