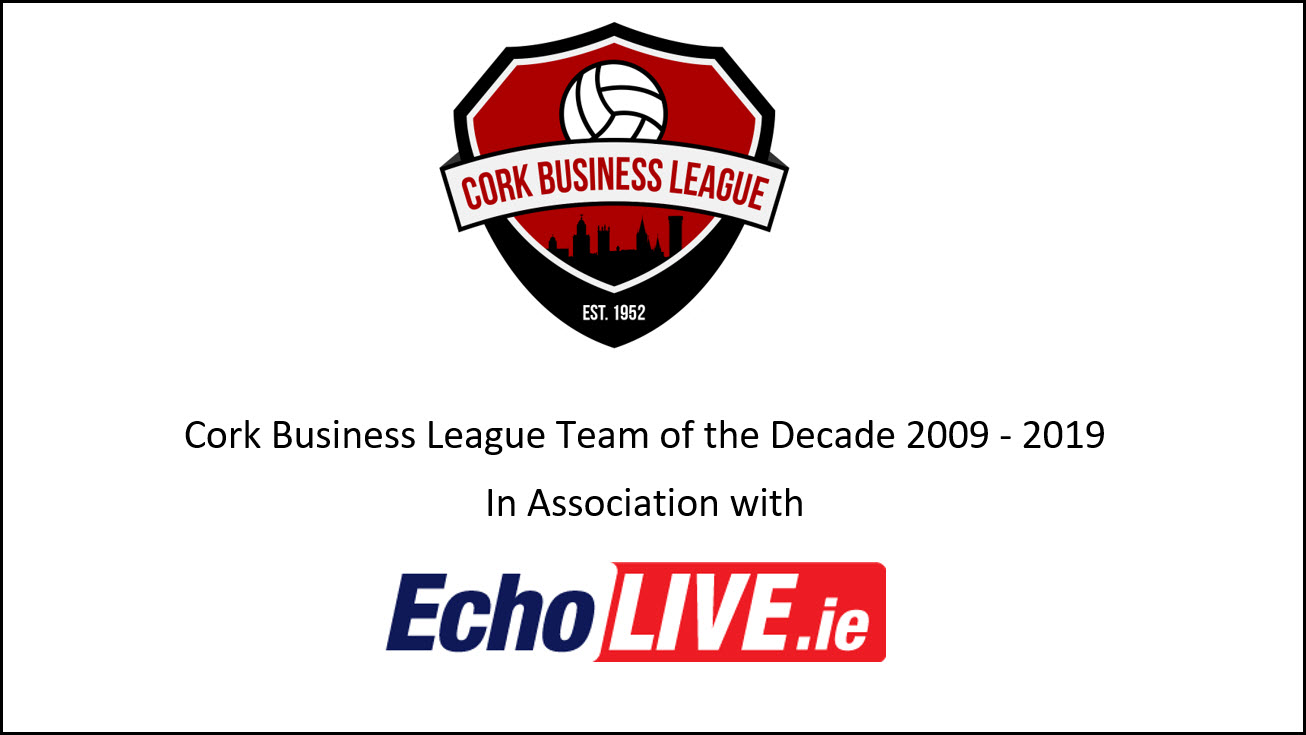 ?CBL Team of the Decade 2009 – 2019 (In Association With EchoLive.ie)?
This team who would do the Business in any decade!
✍? Finbarr Buckley
? 5 minute read
AS the Cork Business League enters its eighth decade in 2020, never in its illustrious history has the last ten years produced as many new trophy winners achieved with an array of talent that would do justice to any era in the past. Therefore, selecting a team of the past decade has never been more difficult but using the criteria of achievement, consistency and skill to pick an eleven worthy of selection should certainly fuel the debate even further when it comes to who gets it and who loses out.
The choice as goalkeeper goes to Satellite Taxis' Cian Hammond who fended off stiff opposition from outstanding candidates like Paudie Morris (Marlboro Trust), Brian Burke (UCC United ), Mickey Heitmann (MiDaza Rebels), Ian Casey (EMC), James Murphy (Doolan's Cow), Eric Higgins (Abtran) and Aaron Spriggs (Quinlan's Bar). Cian has been central to his team's four cup triumphs over the past five years producing many top-quality saves none more crucial than in the penalty shoot-out Mooney Cup victory over ALPHA SüD in 2018.
The full-back berths belong to Diarmuid Kenneally (Quinlan's Bar) and Michael Meighan (Cork Airport/EMC) who combined defensive stability with attacking flair. Both looked comfortable on the left or right and were solid in the air under pressure. But other players to have been in the running included Alan Monaher (Doolan's Cow), Mark Mullaney (Tile King), Tom Herdman (Dell EMC), Damien O'Sullivan (Planet Entertainment), Joe Normyle (Abtran/UCC United) and Andy Fitzpatrick (Marlboro Trust).
Long-serving UCC United captain Cathal Doherty, the first JSK Eco Cleaning Solutions player-of-the-year winner in 2017, and Kevin Murphy (Quinlan's Bar) fill in the central defensive positions. Others to be considered include John Murphy, currently with Abtran but prominent in Bru Centra's league and cup campaign of 2008/09, Mark O'Donnell (Marlboro Trust) and Brian Darcy (EMC).
Darren Geraghty (Doolan's Cow) captains the team from the centre of the park as he had done so effectively with his club in their double and quadruple winning seasons of 2016 and 2017. He's accompanied on the right in a 4-3-3 formation by Marlboro Trust's Tom Frawley and by Tile King's Keith O'Riordan. Geraghty's gritty tackling and ball-winning retention make him an ideal leader. This is complemented by Frawley's experience of over twenty years in the league with MCM and later Marlboro Trust having won every honour in a glittering career to date. O'Riordan's astute passing, evident in his schoolboy days with Avondale United, was a feature of Tile King's play in their successful double title triumphs of 2011 and 2012.
Many other candidates like Richie Wallace (Anglers Sports Lounge/MiDaza Rebels), Arainn McGrath (MiDaza Rebels/OBS), Arek Szklarczyk and Gregorz Sienicki  (Cork Eagles), Decky White (Deady Security), Danny O'Donoghue (Quinlan's Bar), David "Spooky" McCarthy and Jason Coughlan (both Marlboro Trust), Aaron Hennessy (Doolan's Cow), Paul Aherne (Abtran)  and  John Harris (Satellite Taxis) also vied for inclusion and would surely grace any dedicated eleven if selected.
The trio selected to lead from the front have been continuously among the goals whenever they played and two, Tony O'Reilly of Doolan's Cow and UCC United's Eric Montgomery, continue to do so this season. O'Reilly was the premier division's top scorer on two occasions and along with his strike partner James Cotter, the two have claimed the majority of Doolan's goals since their partnership flourished in 2015. Montgomery came to prominence with Marlboro Trust and recently with UCC United. He began the decade by winning the treble and scoring one of the decisive penalties in the 2010 Mooney Cup Final shoot-out. Markus Gustavvson, in his brief sojourn with Aesseal, shone brightly and would be the ideal provider for O'Reilly and Montgomery.
The following are worthy of consideration and could so easily have occupied the striker's roles in the team: Joe Monaghan (Marlboro Trust),Michael Sadik (Tanner Celtic),  Gearóid Collins (Tile King/CPL), Stuart Howard (Cork Airport/EMC), Tomasz Bajkowski (Cork Eagles), Aaron O'Sullivan  (Abtran/MiDaza Rebels/Satellite Taxis, UCC United ), Ciarán Taylor (Lakelands Celtic), Eric O'Donovan (EMC),Francis O'Callaghan (Healy O'Connor Solicitors), Breffni McCarthy and  Shane Hennessy (Satellite Taxis), James Cotter (Doolan's Cow), Shane Bowles (Abtran) and Damien O'Mahony ( Mi Daza Rebels and Quinlan's Bar).
Cork Business League Team of the Decade:
Cian Hammond (Satellite Taxis)
Diarmuid Kenneally (Quinlan's Bar), Cathal Doherty (UCC United), Kevin Murphy (Quinlan's Bar), Michael Meighan (Cork Airport/EMC);
Darren Geraghty (Doolan's Cow) (capt.), Tom Frawley (Marlboro Trust), Keith O'Riordan (Tile King)
Tony O'Reilly (Doolan's Cow), Eric Montgomery (Marlboro Trust), Markus Gustavvson (Aesseal).
First appeared in The Echo print edition on Monday 30th December 2019
Click on each photo to enlarge (Credit: Finbarr Buckley, Nicky Mulcahy & Facebook ?)