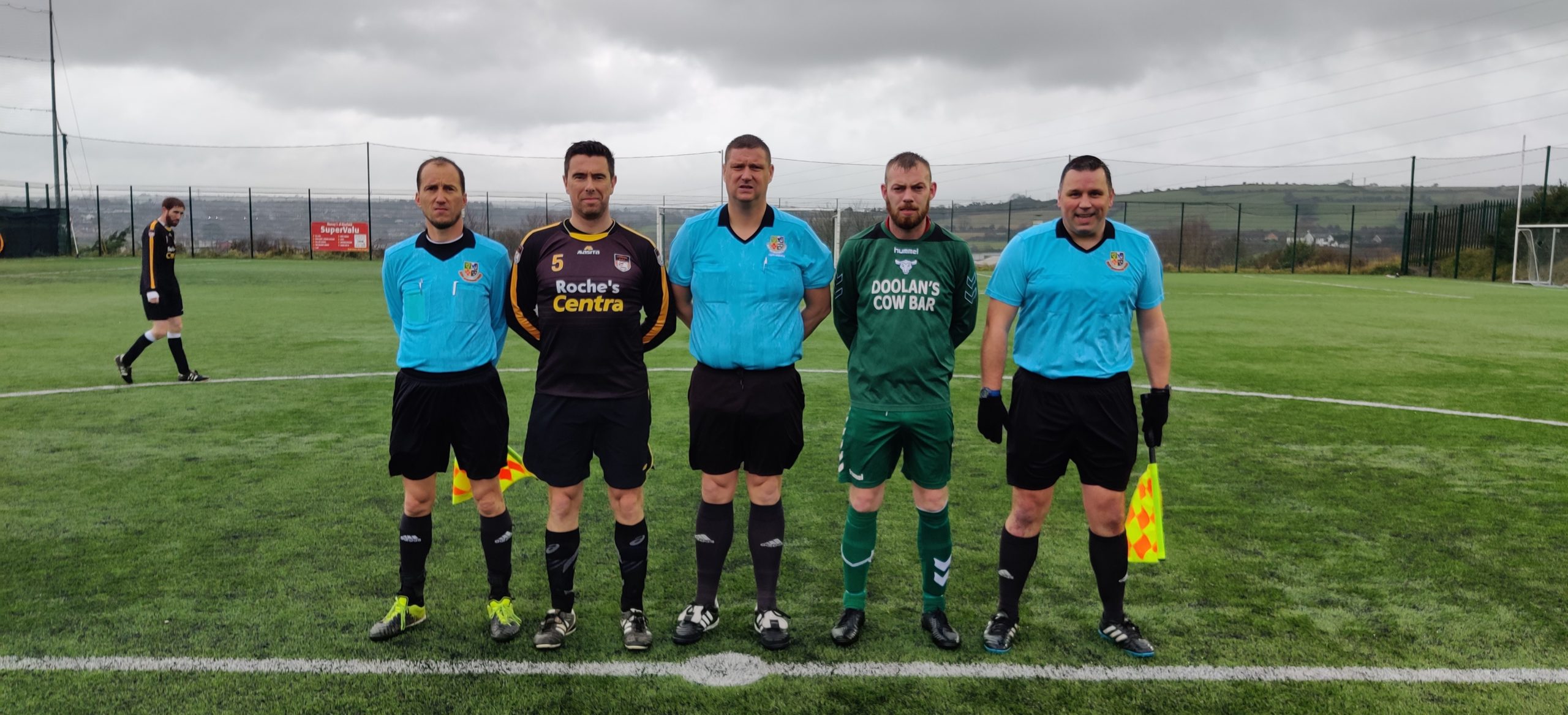 ? CBL Weekend Round-Up: No Missed-Steaks for Doolans Against Lismore!
? Finbarr Buckley
? Yves Kriwan (Assistant Referee), Kieran Hayes (Lismore Captain), Darren O'Sullivan (Referee), Tony O'Reilly (Doolan's Cow Captain) and Brendan Dowling (Assistant Referee) before last Sunday afternoon's MFA League Champions Trophy quarter-final at Mayfield Community School (Credit: Cork Business League)
MFA League Champions Trophy
Doolan's Cow 5 – 2 Lismore
Doolan's Cow's stunning run of recent form continues to catch eye following their 5-2 win over East Cork/West Waterford champions Lismore in their MFA League Champions Trophy tie quarter-final tie at Mayfield Community School last Sunday afternoon, writes Finbarr Buckley.
Jamie Murphy got Doolan's off to a flying start when he converted Aaron Hennessy's cross in the 5th minute. The visitors responded with Aaron Whelan and Waterford hurler Maurice Shanahan going close before Murphy and Stephen McCarthy extended the host's lead with goals in the 25th and 27th minutes respectfully. Hennessy rounded off a superb half for Doolan's with a well-struck fourth in the 43rd minute. Lismore threw everything at the hosts in the second 45 and were rewarded when David Smith pulled one back in the 65th and followed with a blistering second from Ben Shanahan Quinn with two minutes remaining. However, Hennessy netted directly from the kick-off to seal Doolan's' passage to the semi-final for the first time. Captain Tony O'Reilly, Keith McCarthy and Stephen Wall Heffernan were influential for the winners with centre-back Johnny Healy and striker Maurice Shanahan outstanding for the visitors in a sporting contest played in difficult overhead conditions.
https://www.facebook.com/1102617276430299/photos/a.1391489207543103/3478257918866211/?type=3&theater
https://www.facebook.com/lismore.afc/posts/2508319992597085
Sports Gear Direct Premier Division
OBS 2  – 1 County Council
OBS came from behind to pick up their first points against seasoned campaigners Co. Council in the Friday night fixture at Ballea Pk. In an even opening quarter, Council went in front against the run of play through Fergus O'Connor who got in the end of a free-kick. After Nyall O'Brien hit the post from a cracking first-time shot, O'Brien combined with Colm O'Brien to set Shane Creech in for the equalizer with twenty minutes remaining. OBS's industrious play was finally rewarded with the winner in injury- time, sub Dara Woodman, on his debut, firing in a free-kick from fully twenty-five yards. The consistent O'Briens, Creech and defender Steve Corbett excelled for the winners.
UCC United 4 – 1 Healy O'Connor Solicitors
2018 champions UCC United joined Crookstown United at the top on six points from two played after coming from behind to topple Healy's at The Farm. A quick counter attacked lead to Yasyn Essahel giving the visitors an early lead only for UCC to quickly back on level terms through Mo El Shouky who availed of a shooting opportunity after a visitor's defender was closed down on the edge of the area. A long clearance from defence led to Eric Montgomery doing what he does best, getting in behind the back-four to square for Ali Ahmidat to make it 2-1 before half-time. A spectacular volley from Montgomery from Vadym  Horobets' cross  was the highlight of a scrappy second-half with Montgomery grabbing his second from another finish into the bottom corner. Montgomery, Joe Normoyle and Brice Pinel impressed for the winners.
Sports Gear Direct First Division
Martin Harvey Solicitors 2 – 3 VoxPro
VoxPro, who struggled at the wrong end of the table last season and took eight matches to get to nine points , made it three wins out of three to move up to third following a best of five goal win over Martin Harvey's. Donal Lyons opened the scoring for the home team before the visitor's replied with goals from Finton Cadogan and Anthony Haines. Niall Reardon levelled up matters again with the decisive winning goal coming five minutes from time from Reece Hogan who bravely headed in after the keeper made an initial save. Reardon, Adam O'Leary and Gary McDivett shone for hosts.
https://www.facebook.com/permalink.php?story_fbid=3066532553374012&id=1089485911078696
https://www.facebook.com/permalink.php?story_fbid=152395629475879&id=105973200784789
PepsiCo 1 – 1 The Weigh Inn Dripsey
Dripsey's loss to Martin Harvey Solicitors the week before was the catalyst for an improved performance against high scoring PepsiCo. The visitors went about their business from the off with the back-five of keeper Mark Donovan, Daniel O'Driscoll, Dean O'Sullivan, Frank Field and Joe Murphy commanding throughout aided by Killian Kelleher and James Linehan in the middle and Paddy Murphy and Finbarr O'Callaghan upfront. Following a scoreless opening 45, Joe Muphy powered a header to the back of the net on sixty-five minutes only for Dave Hennessy to secure a valuable point for the hosts with three minutes remaining.
https://www.facebook.com/dripsey.celtic/posts/156594498907086