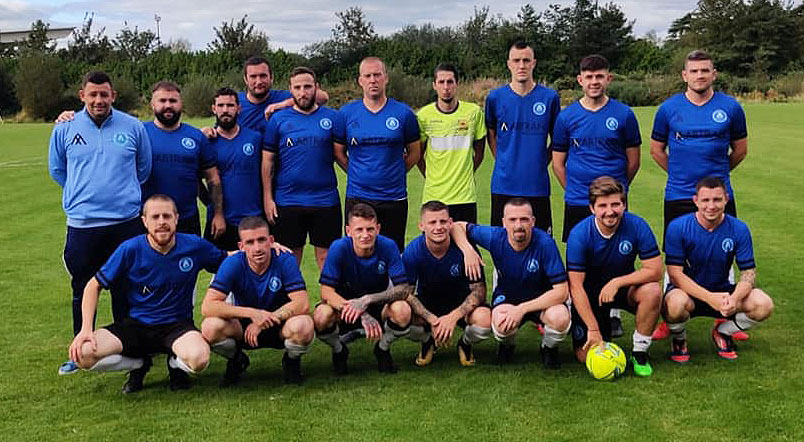 Cow Raise the Stakes to Reach Quota! Cork Business League Weekend Round-Up!
✍?Finbarr Buckley
? Abtran who won all four matches to top Group B of this season's  Sports Gear Direct Shield
Munster Junior Cup – First Round
Park Utd. 4 – 5 Doolan's Cow
DOOLAN'S COW staged a remarkable recovery from 4-1 down with ten  minutes remaining to win in added time against MJL First Division opponents Park Utd. In a gripping Munster Junior Cup first round tie at Brigown Pk. last Sunday morning, writes Finbarr Buckley.
James Cotter opened the scoring for the visitors in the 20th minute with a tidy finish before Paul Masterson levelled twenty minutes later and his brother Shane gave United the lead for the first time five minutes into the second half. Further goals from Paul (Masterson) and Dinny O'Dea  looked to have ended Doolan's interest in the competition  but Wayne Kavanagh's charges were far from finished and a classy header from Stephen Wall Heffernan in the 80th minute inspired a comeback which yielded goals from  Stephen McCarthy and Cotter (pen.) by the 89th minute  before Cotter found the back of the net again deep into injury time from another penalty after Aaron Hennessy was upended in the area. Liam Horgan, Craig Keegan and Keith McCarthy were the driving forces behind another impressive win for the visitors.
Down 4-1 with 10 mins to go ?

No problem say @DoolansCowFC

Comeback to win 5-4 ??#CorkSoccer #BusinessLeague #MunsterJuniorCup@ballsdotie @CavershamUnited @MixerPodcast @BigRedBench @AmbassadorCork https://t.co/sLoJGJXktA

— Cork Business League (@CorkBusinessLge) October 13, 2019
St. Mary's 2 –  1 Satellite Taxis
Both teams served up a cracking cup tie under lights at Mary's Pk. before the Munster Junior League Division 2A promotion-chasing home team emerged victorious despite a period of domination for the visitors who had opportunities to take the tie to extra-time. Shane Dorgan opened the scoring for Satellite but a well-taken goal finished off by John Paul O'Sullivan made it 1-1 at the break. The visitors upped the tempo in the second-half by were undone when Luke Thompson scored from a corner leaving the visitors to go all out for an equalizer which failed to materialize. Satellite wish to thanks their hosts for their hospitality and excellent floodlit facilities.
https://www.facebook.com/permalink.php?story_fbid=2451346838488036&id=1639598816329513
New Balance FAI Junior Cup – Second Round
Colso Celtic 1 – 2 Carrigaline Utd.
Colso lost out in a best of three-goal tie in their re-arranged fixture with Carrigaline Utd. at Casement Pk. Chris  Wall netted for Celtic in between  Conor Lyden (5mins.) and Lyden, again, from a penalty on fifty-five minutes,  getting the goals for the visitors who advance as a result. Wall, Tom Corcoran and Mark Dalton caught the eye for the home side in the club's first venture in junior cup competition. Mark Linehan, Frank Byrne and Dylan Quinn were prominent for the visitors.
https://www.facebook.com/colsocelticfc/posts/707970946383225
Sports Gear Direct First Division
Abtran 3 – 0 CPL
Unbeaten Abtran won three-nil win in their opening league fixture against CPL at Mayfield Community School but had to endure a nervy opening 45 after the visitors forced a succession of corners from which nothing accrued. Michael O'Connor, with a shot from outside the area, and Eoghan O'Sullivan netted twice in the first 45 with Chris Coughlan wrapping up the points with a well taken back flick from William Corcoran's corner. Along with O'Sullivan and Corcoran, full-back Daniel O'Brien impressed for the winners.
https://www.facebook.com/AbtranFootball/posts/435241060447048
Dell EMC 2 – 3 Planet Entertainment (Cork)
Mark Foley played in Sean Holmes for the lead for Dell early on before James Morrissey headed in Gary McCarthy's quickly taken free-kick for the equalizer within minutes of the kick-off.  The visitor's impressive recent form in the shield came to the fore in the second-half with Emmett Kennedy putting the finishing touches to a surging run from big Joe Cullagh with Cullagh himself going on to tag on a third. With two minutes remaining, Holmes converted a penalty after being taken down himself to make it 3-2 but despite the trojan efforts of veteran Kieran Murphy and Paul O'Hea to drive their charges on in search of a third, the visitors claimed their first points on the road.      
https://www.facebook.com/planetcorkfc/posts/964265023959535
Cork Hospitals 1 – 2 The Weigh Inn Dripsey
The Weigh Inn, after a rocky start in the shield, made it two wins on the trot courtesy of a 2-1 away win over Cork Hospitals. Jack O'Connor gave the visitors a great start with his 10th-minute opener but Joe Loftus got Hospitals back on level terms before the half was out.  Conor Casey, no relation to Jack, was on hand to apply the second for the visitors on the hour to secure a first win. Loftus and Sean Kent were impressive for the hosts.
https://www.facebook.com/photo.php?fbid=147756516457551&set=a.126493538583849
Janssen 2 – 3 Pepsico
With both teams in the league for the first time this season, last Sunday morning's fixture was the second time the teams met after Janssen put three past their opponents earlier in the shield competition. Janssen looked to be on their way to emulating that feat again after Alan Murphy and Paul Doherty put them two up. However, Darren O'Connor reduced the deficit before half-time and went on to score twice more to secure a first win for the Little Island-based company.
Sports Gear Direct Shield- Group B
Marlboro Trust 2 – 4 SCS Crookstown Utd.
The first meeting between the clubs may not have the significance it might normally have as both were out of contention but the win for Tim Irwin's Crookstown could not have come at a better time following recent heavy defeats in the competition. Daniel del Blanco put Trust one up at half-time only for Liam Wall to miss a penalty early in the second 45 for the visitors. However, Wall amply made up by scoring twice in quick succession to give the visitors the lead for the first time. After Marc Cabanas tied up the contest at 2-2 for Trust who experimented on the night, Colm Crowley edged Crookstown ahead again with Wall going on to complete his first hat-trick for a morale-boosting win for the West Cork outfit. Wall, Declan Ambrose and David O'Halloran shone for the away team.