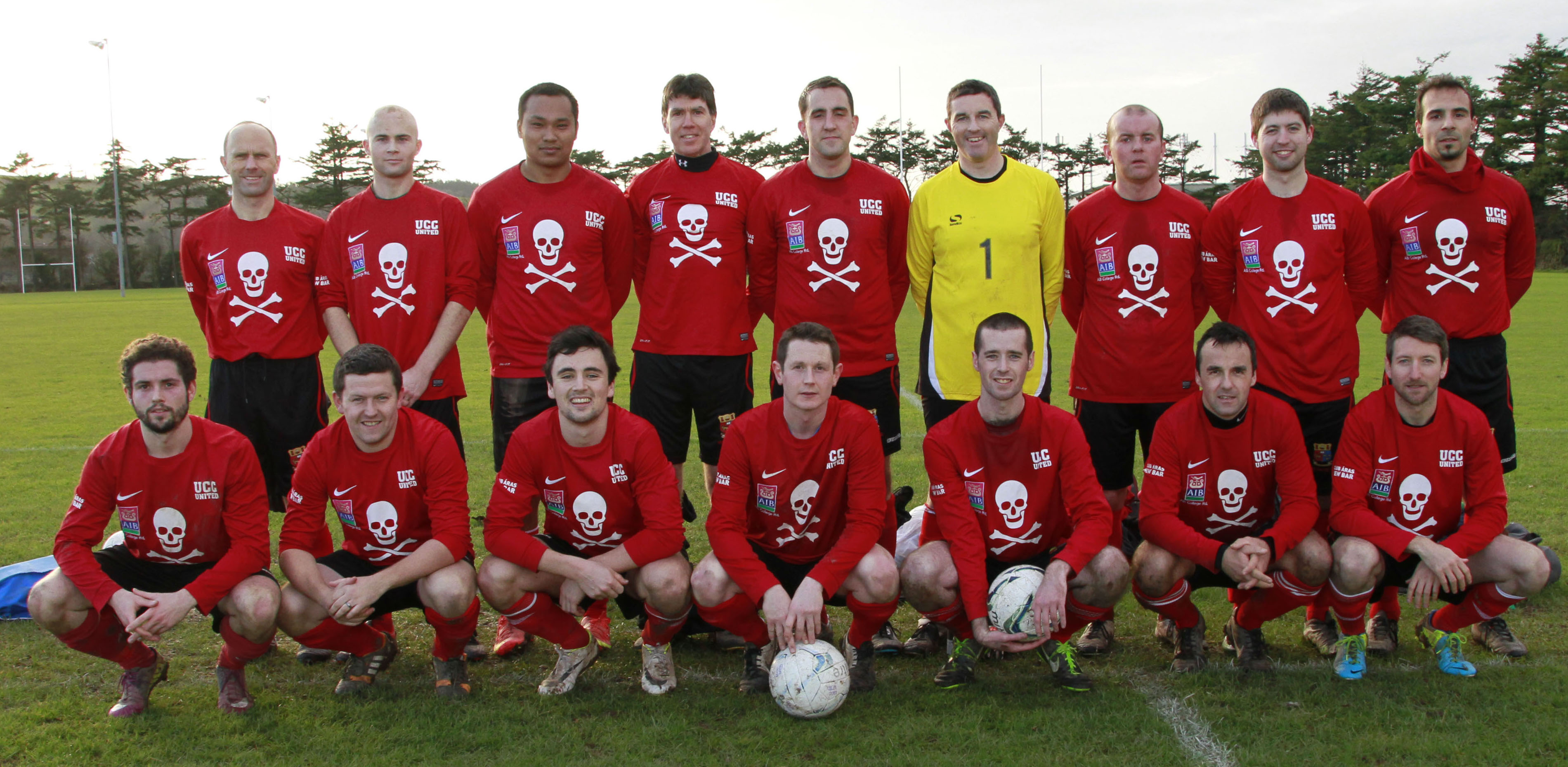 Cork Business League Special Report | Those Were The Days – This Weekend in 2014
✍? & ? Finbarr Buckley
? UCC Utd. who defeated St. Mary's 2-1 at The Farm in the Munster Junior Cup First Round on Sunday, October 19th 2014
L to R (Back): Boyd Ludlow, Brian Barrett, Shyam Malla Thakuri, Ronan O' Dubhghaill, Con Murphy, Aodh Quinlivan, Danny Mohally, Peter Travers (current CBL Hon. Secretary), Walter Messina.
L to R (Front): Shane Hegarty, Philip Brett, Ruari Robertson, John Devaney, Cathal Doherty (capt.), Barry O'Hanlon, Aidan McGuinness
The weekend of October 18th /19th 2014 was a red-letter one for CBL teams competing in Munster Junior Cup competition as four of the five competing teams made it through to the next round. Doolan's Cow were first into the fray to record a 4-2 win over Leeside at Mayfield Community School where James Cotter and Tony O'Reilly both scored twice.
UCC Utd. edged out St. Mary's 2-1 at The Farm courtesy of Barry O'Hanlon and an own goal. EMC led two-nil against CIT at EMC Pk., Stuart Howard with the goals, before an injury to the visitor's Brian Lawlor resulted in referee Alan O'Connell wisely blowing up after sixty-five minutes to avail of medical intervention.
Cork Eagles PFC put Avondale Utd. to the sword at Avondale Pk., winning 4-0 with Matej Ludvik (2), Tomezk Bajkowski and current Co. Council striker Grzegorz Sienicki all on target for the visitors.
The novel first meeting of Mi Daza Rebels and The Sextant Bar in the competition went the Rebels' way, four-nil, as goals from Darren Hosford (2), Damien O'Mahony and Paddy McSweeney proved too much for the home team.
Elsewhere, five years ago, Co. Council had a 3-0 win over MTech and Marlboro Trust defeated Abtran one-nil in the premier, while in the first division,  second-in-the-table Aesseal put five past 20/20 Glazing, leaders Satellite Taxis accounted for Quinlan's Bar 3-1, The Blackrock Inn hit Southwestern FC for six, Hillbilly's drew 0-0 with Fusion Fitness and Richard Kenneally's Leisure World turned over VoxPro 3-2, Patrick Coleman, Neil McCarthy and Andrew Carey scoring for the winners.