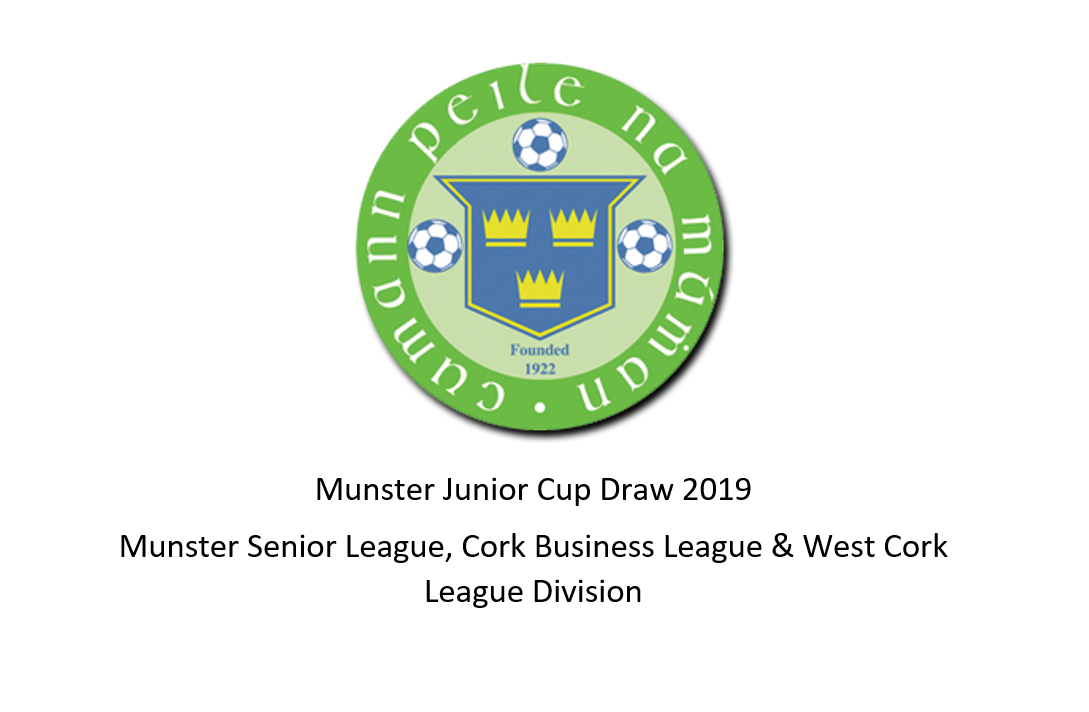 Munster Junior Cup Draw 2019 | Munster Senior League, Cork Business League & West Cork League Division
The draw for the 1st, 2nd & 3rd Round of the 2019 Munster Junior Cup was made yesterday in Turner's Cross Stadium.
Please see below the rounds for the Munster Junior Cup competition for the 2019-2020 season.
1st Round Draw
Leeside
v
Passage United
Castlelack
v
Wilton United
Lakewood Ath
v
Youghal United
Bandon AFC
v
Everton
Kilreen Celtic
v
Drinagh Rgs
Douglas Hall
v
Carrigaline Utd "A"
Cobh Wanderers
v
Corinthians Academicals
Carrigaline Utd "B"
v
Ballinhassig
College Corinthians
v
Riverstown FC
Crosshaven
v
Everton Utd
Avondale United
v
Colso Celtic
Leeds AFC
v
Ringmahon Rangers "B"
Mizen FC
v
Clonakilty Town FC
UCC United
v
Kilbrittain Rvs
St Marys
v
Satellite Taxis FC
Park Utd
v
Doolans Cow FC
Passage AFC
v
Dunmanway Town
Glasheen
v
Avondale United "A"
Rockmount
v
Fermoy
Mayfield United
v
Carrigtwohill Utd
Midleton
v
Ringmahon Rangers
2nd Round Draw
Glasheen or Avondale Utd "A"
v
Midleton or Ringmahon Rgs
Leeds AFC or Ringmahon Rgs "B"
v
Leeside or Passage Utd
Lakewood Ath or Youghal Utd
v
Mizen FC or Clonakilty Town
Carrigaline Utd "B" or Ballinhassig
v
College Corinthians or Riverstown
Blarney United
v
Cobh Wanderers or Corinthians Academicals
O'Brien Scaffolding
v
Kilreen Celtic or Drinagh Rgs
Castleack or Wilton Utd
v
Mayfield United or Carrigtwohill Utd
Passage AFC or Dunmanway Town
v
St Marys or Satellite Taxis FC
Park Utd or Doolans Cow
v
Bandon AFC or Everton
Crosshaven or Everton Utd
v
Douglas Hall or Carrigaline Utd "A"
Avondale United or Colso Celtic
v
Rockmount or Fermoy
Carrigaline Utd
v
UCC United or Kilbrittain Rvs
3rd Round Draw
E v F
J v D
G v A
H v C
L v K
B v I
Preliminary Round games to be played on or before 21st / 22nd September 2019.
1st Round games to be played on or before 12th / 13th October 2019.
2nd Round games to be played on or before 16th / 17th November 2019.
3rd Round games to be played on or before 7th / 8th December 2019.
4th Round games (open round) to be played on or before 25th / 26th January 2020.
All games are to be played on or before the allocated date for each particular round of the competition.
All games must finish on the day i.e. if a draw after 90 minutes then 10 minutes each way extra time.
If still a draw then the game is decided on penalties.