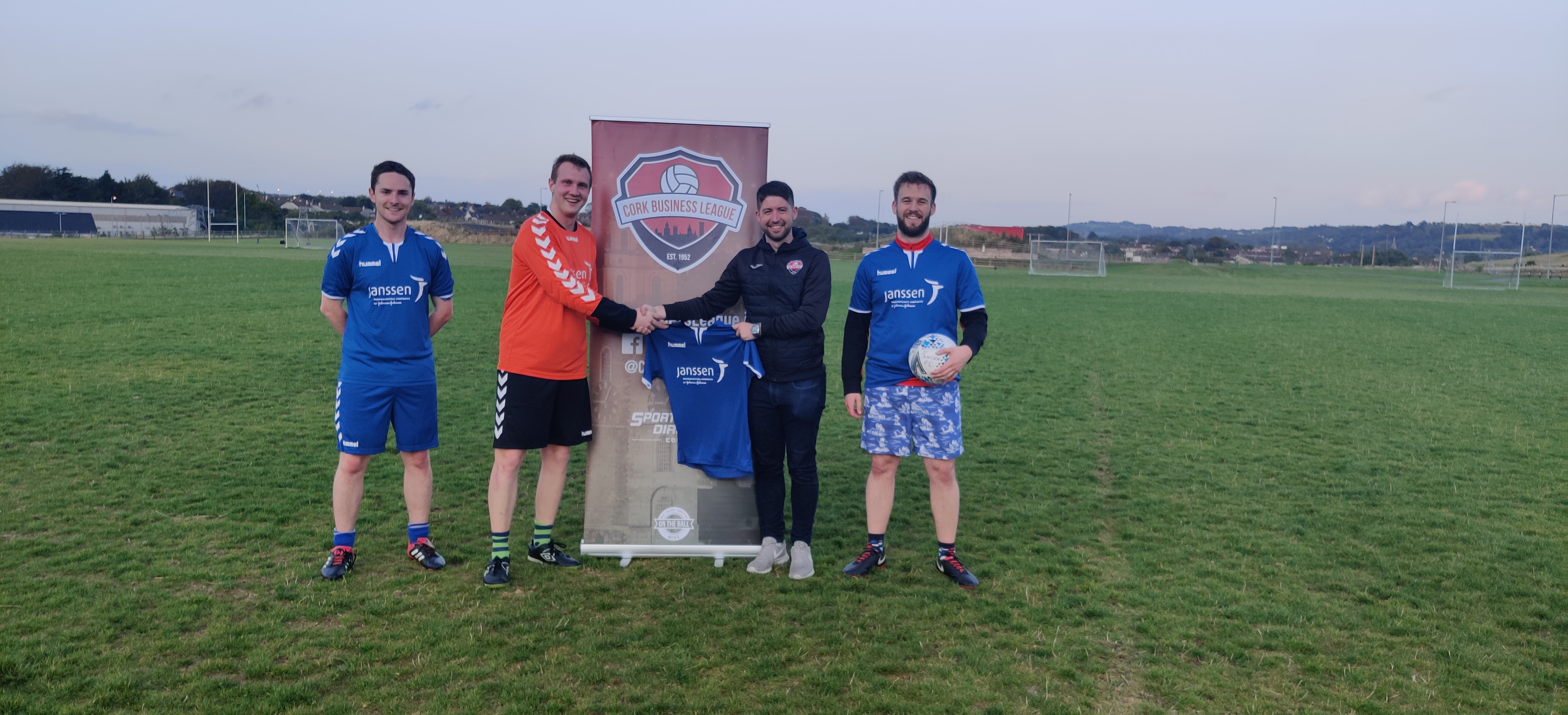 Janssen Launch New Cork Business League Team for 2019/2020 Season
Today, Wednesday September 4th 2019, saw the biopharmaceutical manufacturing corporation Janssen, launch their Cork Business League (CBL) team.
Janssen FC was set up by Michael Stack, Barry Cantillon and Patrick Wiley. The aim of the club is to provide all employees  & contractors in Janssen with an opportunity to take part in an adult 11-a-side football league, by registering with the Cork Business League.
However, the company is no stranger to the CBL or the "Shipping League" as it is know historically. They first entered the league in 1991, and exited just over 10 year ago, in 2008. Their only honour is finishing runners up to Rochestown Park Hotel in 2007 in the First Division. As you can see from the gallery below, we have dug through our archives to un-earth some photos. The squad photos with black and white stripes &  the green jerseys are from the 1998 / 99 season. Blue was the choice of colour for the club in 2004/05 season.
Janssen chose to re-join the Sports Gear Direct Cork Business League to provide all employees and contractors of the company with an opportunity to partake in an 11-a-side league. The club feels that this is an excellent opportunity for interested workers to get involved in a competitive and rapidly growing League. The club and the league will also help promote health, well-being and team spirit amongst it's members.
Club Secretary Patrick Wiley said "It's a great opportunity for the company to gain exposure around the Cork and Munster area. We feel the CBL has massive potential to make Cork companies grow."
Janssen Sciences Ireland is a state-of-the-art biopharmaceutical manufacturing facility based in Ringaskiddy, Co. Cork. Innovative cancer therapies and medicines for immune-related diseases are manufactured at the facility. Established in 2005 the site initially manufactured 2 commercial products, today 5 commercial products (Simponi, Stelara, Sylvant, Darzalex and Tremfya) are manufactured on site. Janssen Sciences currently employs approx. 500 people. Janssen currently has a new €300m Fed Batch plant expansion project under construction in Ringaskiddy (BioCork2 project). Once complete, staff numbers on site are set to reach 700/750.
The club hopes to provide it's members with a chance to meet and get to know colleagues from within and outside their department in a non-workplace setting. The club will also aim promote health, team spirit, and well-being for it's members. The club is looking forward to competing in it's first CBL season in 2019/20.
Click on each photo below to enlarge ?