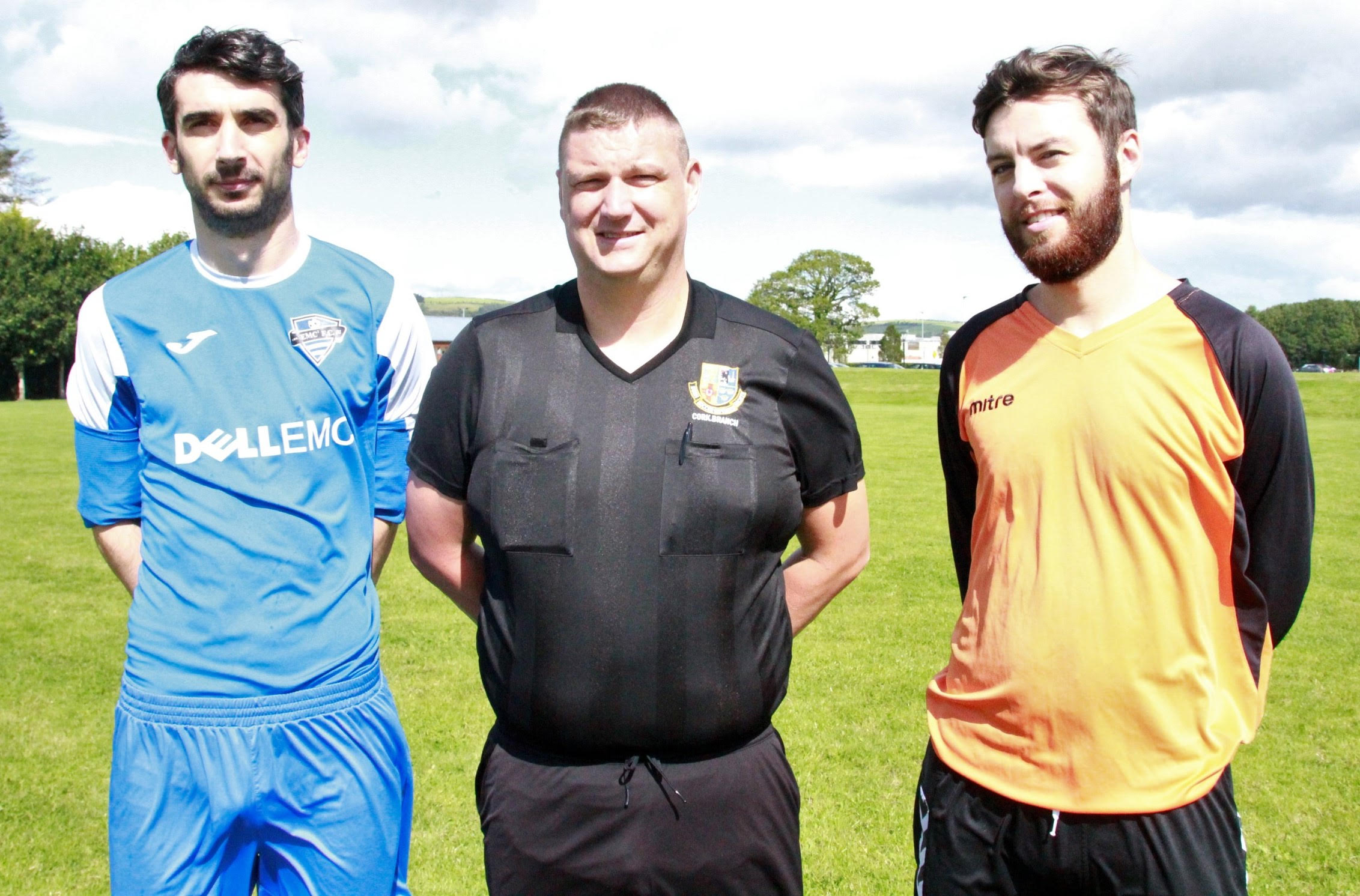 ? CBL Weekend Round-Up! Taxis drive on for three in-a-row!
? & ? Finbarr Buckley
? Rival captains, JP Serres (Dell EMC), left, and Ryan O'Brien (Martin Harvey Solicitors) pictured with referee Darren O'Sullivan before last Saturday afternoon's Cork Business League Shield Group A encounter at EMC Pk.
HOLDERS Satellite Taxis made a winning start to the defence of the trophy they won for the last two seasons by coming from behind to win in a shoot-out against UCC Utd. at The Farm last Sunday morning, writes Finbarr Buckley.
CBL Shield – Group D
UCC Utd. 2 – 2 Satellite Taxis 2 (Satellite won 5-4 on pens.)
Both teams made light of the humid conditions to go at each other with pace and the deadlock was finally broken by Shane Hennessy who latched onto Kevin O'Connor's attempted shot to turn quickly and finish in the bottom corner. Goals from United's Mo El Shouky and Eric Montgomery turned the match on its head after the break only for Hennessy to level following fine approach work out left by Red Geaney. In the resultant shoot-out, Satellite's keeper Cian Hammond, not for the first time, came to his team's rescue by stopping two and paving the way for Ross Healy to score the decisive fifth and winning spot-kick.
The Weigh Inn Dripsey 0  – 6 Colso Celtic
The first meeting between the two new clubs went Colso's way in a contest which didn't reflect the final score line. Although the Weigh Inn found themselves two down to first-half goals from Alex Cummins and Sean Lawson, they enjoyed a lion's share of possession in the second-half. However, the bounce of the ball didn't go their way and James Corcoran's charges tagged on further goals from Cummins (3) and Jason Whooley to make a winning start to competitive football. Daniel O'Driscoll, Paddy Murphy and Cillian Kelleher were impressive for the visitors.
CBL Shield Group A
Dell EMC 7 – 1 Martin Harvey Solicitors
Dell EMC opened their campaign with a comprehensive win over debutants Martin Harvey Solicitors at Dell EMC Pk. Stephen Duane and Kevin O'Connor put the hosts two up early on before Adam Sheehan pulled one back for the visitors. Duane and O'Connor added further goals along with Kieran Murphy, James Walsh and Ken O'Connor to get the 2010 and 2014 finalists off to a flying start.
Planet Entertainment (Cork) 2 – 0  Voxpro
After a goalless opening 45, Planet capitalized on defensive errors to join Dell EMC on full points. Pierce O'Keeffe netted twice for the winners, the first from the penalty-spot after he was taken down himself. O'Keeffe, Gary McCarthy, Lee Cooney and Sam Lyne shone for the winners.
CBL Shield – Group B
OBS 5  – 1 South Coast Sales Crookstown Utd
OBS had a surprise in store for last season's First Division league and cup winners Crookstown Utd. when the teams met in last Friday night's opening fixture at Ballea Pk, Carrigaline under lights. The hosts caught their opponents cold by going two up inside the opening fifteen minutes through Arainn McGrath and Shane Creech who combined with Colm O'Brien to finish in style. Nyall O'Brien and Lee Maher (pen.) extended the lead before half-time to leave the visitors with a mountain to climb. A fine move involving David O'Halloran and the two O'Sullivan's, Martin and Liam, led to James O'Mullane reducing the deficit with ten minutes remaining. However, the joy was short lived for Tim Irwin's charges as McGrath added his second and his side's fifth before the final whistle. Creech, Jack Cotter and goalkeeper Phil Brennan were impressive for the winners throughout.
Doolan's Cow 1 – 1 Abtran (Abtran won 5-4 on pens.)
Winners in 2017 and finalists for the last two years, Doolan's Cow were pipped on penalties by a resurgent Abtran who had inspirational keeper Jordan O'Connor to thank for keeping them in the game in the second-half. James Cotter curled a shot from the edge of the area into the top right-hand corner to give the hosts a 25th minute lead. As Doolan's turned the screw in search of a second, O'Connor and fine defensive covering by Michael O'Connor and John Murphy denied the home side time and again before William Corcoran, who was lively all through, equalized with a spectacular bicycle-kick inside the area in the 85th minute. O'Connor saved from James Murphy and James O'Shea in the shoot-out to set up a morale boosting 5-4 win for the visitors. O'Shea, Cotter and Liam Horgan stood out for Doolan's.
?FOOT-NOTE : Congratulations to Satellite Taxis who won the recent UCC University Shield pre-season tournament at The Farm. Goals from Eoghan Buckley and new signing Aaron West edged out UCC Utd. in the final,2-1, with Mo El Shouky scoring for the College. The stakes were high on two fronts as the match also substituted as the play-off for last season's Premier Division runners-up.?