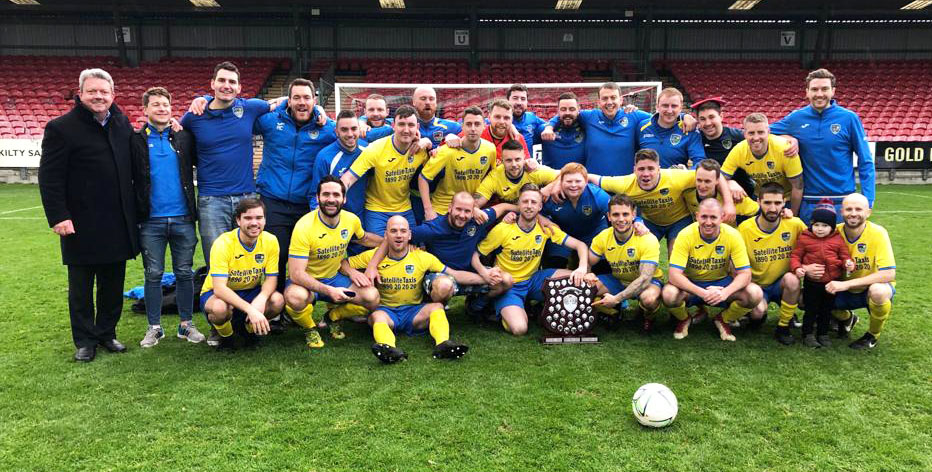 ?️ Special Report: CBL Shield has a chequered history!?️
✍? & ? Finbarr Buckley
As teams prepare for the league's opening competition, the Cork Business League Shield, holders Satellite Taxis have the opportunity to win the trophy for the third time in succession, equalling Postal Workers' feat of the mid-eighties, writes Finbarr Buckley.
? Satellite Taxis celebrate winning the Sports Gear Direct Shield for the second year in-a-row following their dramatic penalty shoot-out win over Doolan's Cow at Turner's Cross,on Sunday, November 25th last. The holders will be hoping to emulate Postal Workers' feat of three in-a-row in 2019/20,
The group sections draw took place recently and resulted as follows :
Group A : Dell EMC, Martin Harvey Solicitors, Planet Entertainment (Cork), Cork Hospitals, VoxPro.
Group B: O'Brien Scaffolding, Marlboro Trust, Doolan's Cow, SCS Crookstown United, Abtran.
Group C : Healy O'Connor Solicitors, Janssen, CPL, Pepsico, Quinlan's Bar.
Group D: UCC Utd., Satellite Taxis (holders), The Weigh Inn Dripsey, Co. Council, Colso Celtic.
Group B contains three former winners in Marlboro Trust (2009/10, 2012/13), Doolan's Cow (2016/17 & beaten finalists in 20-17/18, 2018/19) and Abtran (2014/15) while holders Satellite Taxis in Group D will have it all to do if they are to come out ahead of 2017/18 premier division champions UCC Utd. who have previously lost two finals and won't want to make their rivals win a third time at their expense.
The shield was competed for first in 1957/58 and was won by one of the lower harbour teams, Steampacket, who defeated Postal Workers 2-1 in the final at Marina Pk. Like Steampacket the previous season, Lunhams won the league and shield double before going on to become the first to retain the trophy in 1958/59.
A succession of six different winners consolidated the competition in the mid-sixties among the league's competitors as a worthy alternative to the league championship and Mooney Cup. After Denny's defeated Fords in the 1967/68 final, CIE took over centre stage to contest the next four finals, winning two and losing two. The 68/69 final win over Cork Spinners set up the national transport company for what would transpire to be the first leg of a memorable treble of shield, league and cup , the first team to do so. Fords and Lunhams denied CIE further success in the next two seasons only for revenge to be exacted over Lunhams in the 71/72 decider.
The seventies featured two unique final pairings in 1974 and 1977. Two bacon factories squared off against each other in the earlier contest when three time winners Lunhams locked horns with Olympic, named after a popular sausage product produced by the Michael Byrnes & Sons Group. Olympic triumphed on that occasion before another first was established three years later when two teams from the same firm, on this occasion Youghal Carpet Yarns, met at Rangers Pk. Youghal 'A' made it three wins out of three by winning 4-2 in an entertaining tie to end their dominance in the competition leaving CIE Athletic to take over the mantle and end the decade with two successive over, ironically, Youghal 'B' and Youghal 'A'.
Postal Workers' dominance in the competition began in the early eighties after they lost to surprise package OLH Utd. 3-1 in the 1981/82 decider. They went on to win four times in the decade including the three-in-a-row between 1985 and 1988 and contested seven finals in total in the period. The Workers defeated arch rivals CIE Ath. In two of the four finals while accounting for OLH in the other two and interestingly, lost twice to the same opposition in the first half of the decade.
Aer Lingus emerged with the most wins in the nineties, three, with five clubs winning the honours for the first time. Cork Examiner were the first to celebrate success in their treble winning campaign of 1990/91 and were followed Centra, Garda, Cara Partners and Garda Athletic. Aer Lingus' triumphs came courtesy of wins over three different clubs, Liebert, ESB and AIB.
Cork Plastics began the noughties with a double triumph over Naval Services and Old Mill in '01 and '02 and was followed a year later by Naval Services whose only success came by way of an extra-time win over Lous Laundrette. Roches Stores made amends for their surprise loss to then third division opponents Liebert in 1989 by maintaining their 100% record over Postal Workers in finals by toppling the eight winners, 2-1, in extra-time in the '04 decider only for the losers to go on to win their last accolade twelve months later following a second win over Cork Airport in the final tie. S Transport and RPH would write their names into the history books before the decade would end leaving the path clear for the emergence of one of the teams of the modern era, Marlboro Trust, to leave their calling card after a 2-0 win over another first-time finalist, EMC, at rain and wind swept Turner's Cross.
Trust's one-nil win over UCC United in 2013 was sandwiched between first wins for Tile King, Cork Eagles, Lakelands Celtic, Abtran, MiDaza Rebels and Doolan's Cow to take us up to Satellite's two recent memorable triumphs over Doolan's, the second of which when all the way to penalties. Both teams had chances in regulation time but in the shoot-out Tony O'Reilly gave Doolan's the early advantage after Shane Hennessy's effort was saved by James Murphy. However, it was the turn of his opposite number, Cian Hammond to shine when he saved from Luke Byrne, Graeme Buckley and James O'Shea to leave the path open for Mark Maher, Greg Browne and captain Shane Dorgan to all convert and set up the cup specialists for a possible three in-a-row in 2019/20.