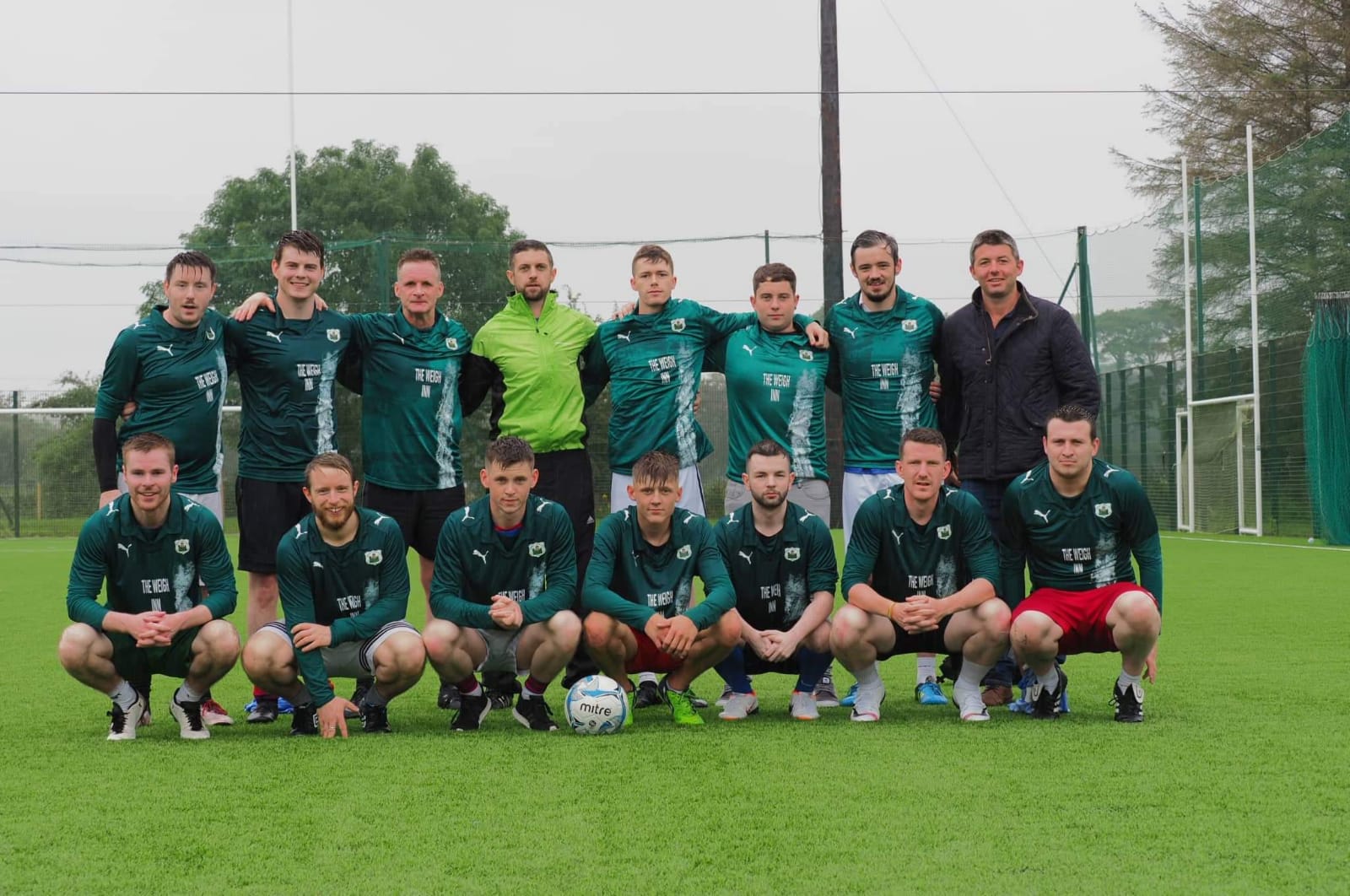 Cups
Fixture Updates
History
League
News
The Weigh Inn Dripsey Launch New Cork Business League Team for 2019/2020 Season
Today, Saturday August 3rd 2019, marked the triumphant return of soccer to the thriving town of Dripsey, Co.Cork
The Weigh Inn Dripsey FC (or Dripsey Celtic AFC as it was known as then) was formed back in 1992 and joined the AUL for the 92/93 season . In their first season, Dripsey finished 6th in the league and their best victory that season was against local and to be on going rivals Strand Utd. In their first meeting and also Dripsey's first competitive match Dripsey came out winners 3-2. Dripsey then got promoted to Division 2 the following season, but it was in 1997 that Dripsey Celtic reached their first final and it was against Glanworth in the Saxone Cup at Turners Cross. Unfortunately, even though Dripsey held most of the ball possession in the final they lost 2 – 0.
In 1999 Dripsey Celtic started a U18 team and this team made all the headlines in the Club in '99, with some remarkable victories. They also reached the semi final of the League Cup going out in penalties to Grattan Utd. who went on to win the competition.  The junior team went on to get promoted to Division 1 where they went undefeated in the league and secured top flight status in the premier division. The club disbanded shortly after the 04/05 season.
The Weigh Inn Dripsey was then re-established in 2019, and with that, confirmed its status as one of the many new entrants to the Sports Gear Direct Cork Business League. With the new management of the club in place, came the decision to join the Cork Business League under the name The Weigh Inn Dripsey FC . This decision was made as long running club sponsors The Weigh Inn was the birthplace of the re-establishment of the new club.
"Many of the players have worked or spent much of their spare time in The Weigh Inn and the club decided it was time to give back to the business that held so many fond memories for many players past and present throughout the years. The Cork Business League is a solid platform for teams to grow and businesses to prosper and has been for many years and the club believes it will be great foundation for clubs in the city and county alike." said Marc O'Donovan, Chairman.
The Clubs long-term ambitions are to have their own pitch because the future is indeed looking very bright for this young Club with a growing population in Dripsey and lot of promising Youths Players coming up the ranks. So silverware looks to be a certainty in the next few years.
Click on each photo below to enlarge ?