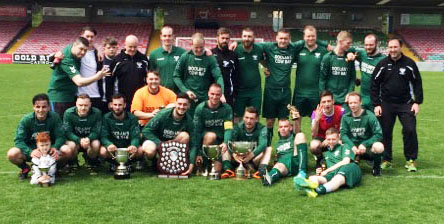 ✍? Special Report: Four-midable Youghal and Doolan's – clean sweep specialists!
✍? ? Finbarr Buckley
Doolan's Cow (quadruple winners 2016/17):
L to R (Back):  Wayne Kavanagh, Aaron Hennessy, Alex Cotter, Micheal McAuliffe, Keith McCarthy,  Brian Harris, Mark Sheedy, Edward Scanlon,  Craig Keegan, Stephen Ramsell, Ian McCarthy,  Roy McCarthy, Denis O' Sullivan (manager)
L to R (Front): Liam Horgan, Stephen McCarthy, Bryan O' Leary, James Murphy,  James O' Shea, Darren Geraghty, James Cotter, Tony O' Reilly, Ian McAllister, Ryan O' Regan and Alan Monaher.
In the 67 year history of the Cork Business League, only two teams have succeeded in winning all  four domestic trophies in one season;
Premier Division
Mick Mooney Cup
CBL Shield
Jackie O'Driscoll Premier Division Cup
Youghal Yarns were first to achieve the clean sweep in 1992/93 and were followed as recently as 2016/17 by current league champions Doolan's Cow.
The quest for what was thought was beyond the reach of a team in the same season began in earnest in 1975/76 following the introduction of the then Byrne Cup, now O'Driscoll Cup. The great Postal Workers team of the 1980's first went close in 1983/84 but lost to OLH Utd. in the shield final before turning the tables on their opponents later in the O'Driscoll Cup. The Workers in another treble winning campaign in 1987/88 and Cork Examiner in 1990/91 , slipped up in the rounds before the final itself and most difficult leg of the hurdle,  the O'Driscoll Cup.
Youghal Yarns in 1992/93 hadn't won a major honour in over ten seasons, going all the way back to their  Mooney Cup win  in 1981/82 and Doolan's Cow in 2016/17 fared better going into their historic campaign, having won the league and cup the previous season.
Yarns got their shield campaign off to a flyer on September 6th 1992 with a 6-1 win over McSweeney's  while Doolan's went one better eight days later on September 14th 2016, crushing debutants Haven Electrical 7-1.  By the end of October Doolan's had reached the last four following wins over VoxPro (6-0) and Abtran( 6-0) while at the same stage Carpets still hadn't reached the last eight, having accounted for Old Mill (3-1), O'Driscoll's (7-0 ) and Roches Stores (4-0).
Before Yarns could contemplate taking on twice winners and four time finalists OLH Utd. in the quarter-final on November 14th , Doolan's ran in eight against ALPH SüD to set up a northside decider against Quinlan's Bar on November 20th at Turner's Cross. Youghal duly dispatched OLH, 4-2, with goals from Sean Twohig (2), Alex O'Regan and Greg Cooney before overcoming six time winners Postal Workers ,2-1, in the semi-final.
Doolan's recovered from a goal down to topple Quinlan's 4-2 with Aaron  Hennessy, James Cotter, Anthony McAlavey (pen.) and James O'Shea on target  while Carpets needed a second bite of  the cherry to overcome Liebert in a replay at Pfizer Pk., 3-2 on penalties after a thrilling 2-2 draw .Kieran O'Neill and Greg Cooney netted for the three time winners in the ninety minutes.
Interestingly, Youghal had only played twice in the league before the Christmas break while their counterparts had opened the defence of their league title with three straight wins to go into the New Year eight points adrift of leaders Satellite Taxis. By the end of March Carpets were had only been beaten once in nine outings by Aer Lingus, 2-0 at Alsaa Pk. while at the same stage Doolan's had closed the gap at the top  on joint leaders UCC Utd. and Abtran to a single points after a 7th straight win.
With the Mooney Cup in full swing at this juncture, both teams went through April unbeaten in the league, Youghal accounting for CIE Ath. (4-3) and Bank of Ireland (6-1), with Doolan's comfortably marching past Abtran (2-0) and UCC (4-0).
In the first week in May both clubs were in pole position for an assault on the title, Youghal's  6-2 win over OLH being their 11th in twelve outings as Doolan's 9th straight win opened up a two point gap on UCC. By the mid-way point in the month title rivals Postal Workers were mathematically out of contention as Carpets finished their programme with a sparkling 4-1 over Garda. Doolan's wrapped up their second title with an equally impressive 8-1 win over Co. Council to remain two clear with two games in hand. However,  Marlboro Trust had a surprise in store for the newly crowned champions, inflicting on Doolan's their only defeat following a 4-2 win.
Youghal rattled in sixteen goals on their way to their Mooney Cup Final date with Garda Utd.  Greg Cooney grabbed five of his side's seven in round one against CIE Ath. with Denis Crowley, Alex O'Regan and the late Bernard O'Sullivan on the mark in the 3-2 win over Roches Stores in round two. Wins over Naval Services (4-2), in the quarter-final, and holders Cork Examiner (2-1), in the semi-final was followed by a two-nil win over United in the final, John Bowen and Alex O'Regan among the goals. Doolan's cup run took in 20/20 Glazing (4-1), ALPHA SüD (4-1) and Marlboro Trust (1-0) on the way to a second cup triumph with a one-nil win over Quinlan's Bar, James Cotter's coolly taken 11th minute penalty separating the teams at the finish.
With the Premier Cup beginning for Carpets in mid April and Doolan's at the end of March, both teams were still in contention after having secured the league, cup and shield treble. Doolan's 2-1 win over Satellite in the final came a day earlier in the month of May than Youghal  who went further than  any  team went before and made history by beating Cork Examiner 5-2 in the final on May 29th.
Overall, Carpets' statistics read  P32 W28 D3 L1 F113 A40 while Doolan's clocked in with P26 W25 D0 L1 F105 A21.
?
Youghal Yarns (quadruple winners 1992/93):
L to R (Back) : Timmy Murray, Seamus Cody, Sean Twohig, Greg Cooney, John Bowen, Bernard O'Sullivan, Laurence Murphy, Connie Hosford, Willie Griffin, Dave Golden, Timmy Houlihan.
L to R (Front): Denis Crowley (Cork Youth League), Dave O'Mahony, Alan Costello (capt.), Alex O'Regan, Brian McCarthy, Denis McCarthy.