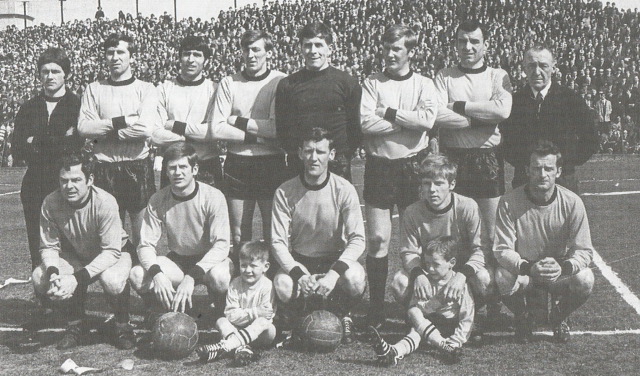 ? #ThrowbackThursday: Cork Celtic's Expulsion Ends Another Decade of Disruption! ?
✍? Finbarr Buckley
? Irish Examiner
Cork Celtic (FAI Cup Finalists 1968/69):
L to R (Back Row): Con Calnan, Eamonn Heffernan, Les Wilson, Billy McCullough (player/manager), Tommy Taylor, John Carroll, Donal Leahy.
L to R (Front Row): John Keogh, Paddy Shortt, Pat O'Mahony (capt.), Liam Ronayne, Frank McCarthy
FOR the many legions of young Cork City supporters who've travelled the length and breath of the country being thrilled by the team's recent successes at home and in Europe, how many would be aware that their once proud predecessors at Turner's Cross, Cork Celtic, were shamefully expelled from the league forty years ago on July 20th 1979, writes Finbarr Buckley.
As had happened to the great Cork United and Cork Athletic teams of the past whose glorious tenures ended abruptly in the late 40's and 50's, Celtic would follow their derby rivals  Cork Hibernians by falling out of the league a little over five years after winning the League of Ireland championship for the first and only time in 1974.
Celtic entered the League of Ireland in 1959/60 as a name change for Evergreen United who had only being in existence since 1951 and had reached the FAI Cup Final in 1953 only to lose out to neighbours Cork Athletic in the first and so far only all-Cork Final. Celtic matched the feat of their predecessors to finish runners-up behind champions Limerick in their first season before finishing joint top with Shelbourne two years later. Future Celtic star Ben Hannigan scored the only goal in the play -off to deprive the Leesiders of a first title success.
However, that's as good as it got in the league for the remainder of the decade as the Rebels only once made it into the top three. Celtic fared better in the cup reaching the final in 1964 and 1969 where they lost in replays to the all conquering Shamrock Rovers six-in-row winners. On the way to the '64 decider Celtic eliminated St. Pat's, Shelbourne and Bohemians but needed an 81st minute equalizer from Donie Leahy to  set up a replay three weeks later.
There was to be no comeback this time after Al Casey had cancelled out Eddie Bailham's opener for Rovers, the Hoop's striker netting a second with four minutes remaining to break the hearts of the Corkonian's eleven whom Leahy described as 'the best Celtic team ever !' Five years later,with Leahy back in the fold, Celtic returned to Dalymount after wins over Drumcondra, St. Pat's and Limerick, following a protracted four-match semi-final , to lock horns again with the Milltown masters. If the heartbreak of '62 and '64 was anything to go by, '69 certainly eclipsed both. With less than eight minutes to go and the Leesiders winning one-nil courtesy of John Carroll's 27th minute strike, former Rovers' favourite John Keogh, now playing for Celtic, unfortunately put through his own goal to, little did he realise it at the time,  end Celtic's last chance of cup success.
Rivals Cork Hibernians began the seventies in the ascendancy, winning the league in '71 and the cup in successive seasons on '72 and '73, to leave Celtic trailing in their wake. Manager Paul O'Donovan, who played in the '64 decider, turned to former Chelsea and England international Bobby Tambling for inspiration and his inclusion against champions Waterford at Kilcohan Pk. on Sunday, October 28th 1973, helped the visitors to a resounding 6-2 triumph. Hibs stayed top after a comfortable 3-0 home win over Shelbourne but by the time the teams met for a second time in the league at Flower Lodge on Sunday, February 24th 1974, Celtic were in sight of the summit, knowing a win would take them there with less than two months of the season left to play.
In front of 18,000 spectators, goals from Carroll and Paddy Shortt sealed the two points Celtic needed to go top for the first time, the victory captured for posterity by Cork Examiner reporter Bill George, ' It was a victory to send Celtic's ambitions shy-high.' 'They showed skill, maturity, and wonderful temperament, a performance to put them in mind of the double, let alone the League Championship.'
By early April and the visit of cup finalists St. Patrick's Athletic to Turner's Cross, Celtic stood on the threshold of a first championship success and their 3-0 win finally brought an end to years of frustration. April ended with another trophy in the bag, this time the Top Four accolade made its way South following a penalty shoot-out win over Bohemians in which goalkeeper Alec Ludzic made a brilliant save to deny Con Martin in sudden death.
As the seventies progressed, attention turned to the demise of Hibs in 1976 and with Celtic in decline following the departures of the ageing Hannigan, Alfie Hale and captain Keith Edwards, former Hibs' manager Amby Fogarty was brought in for the 1978/79 season to bring stability to the chaos that was happening around the club's administration.
As part of the hastily organized supporter's club by director Eddie Connolly, I observed first hand the dire position the club faced as frantic attempts were made to get the playing surface at Turner's Cross in order  by removing rocks and high grass and painting the outside perimeter wall. Fogarty ordered the antiquated black timber dressing-rooms to be burnt and replaced by temporary dressing-rooms which never materialized as the club opted to play at Flower Lodge instead.
The death knell finally told on Friday, July 20th 1979 when the club lost an 11-6 vote to stay in the League after 20 years in existence as Celtic and 8 as Evergreen United.
Former Cork Celtic 1974 League of Ireland winner, Frank O'Neill, far right, pictured with fellow referees, from left, Michael O'Connor and Zlatko Kristic and captains Paul Finn (QC Data) and Chris Matthew (Abtran) before the 2011 CBSL Linehan Cup Final at Turner's Cross.
? Finbarr Buckley