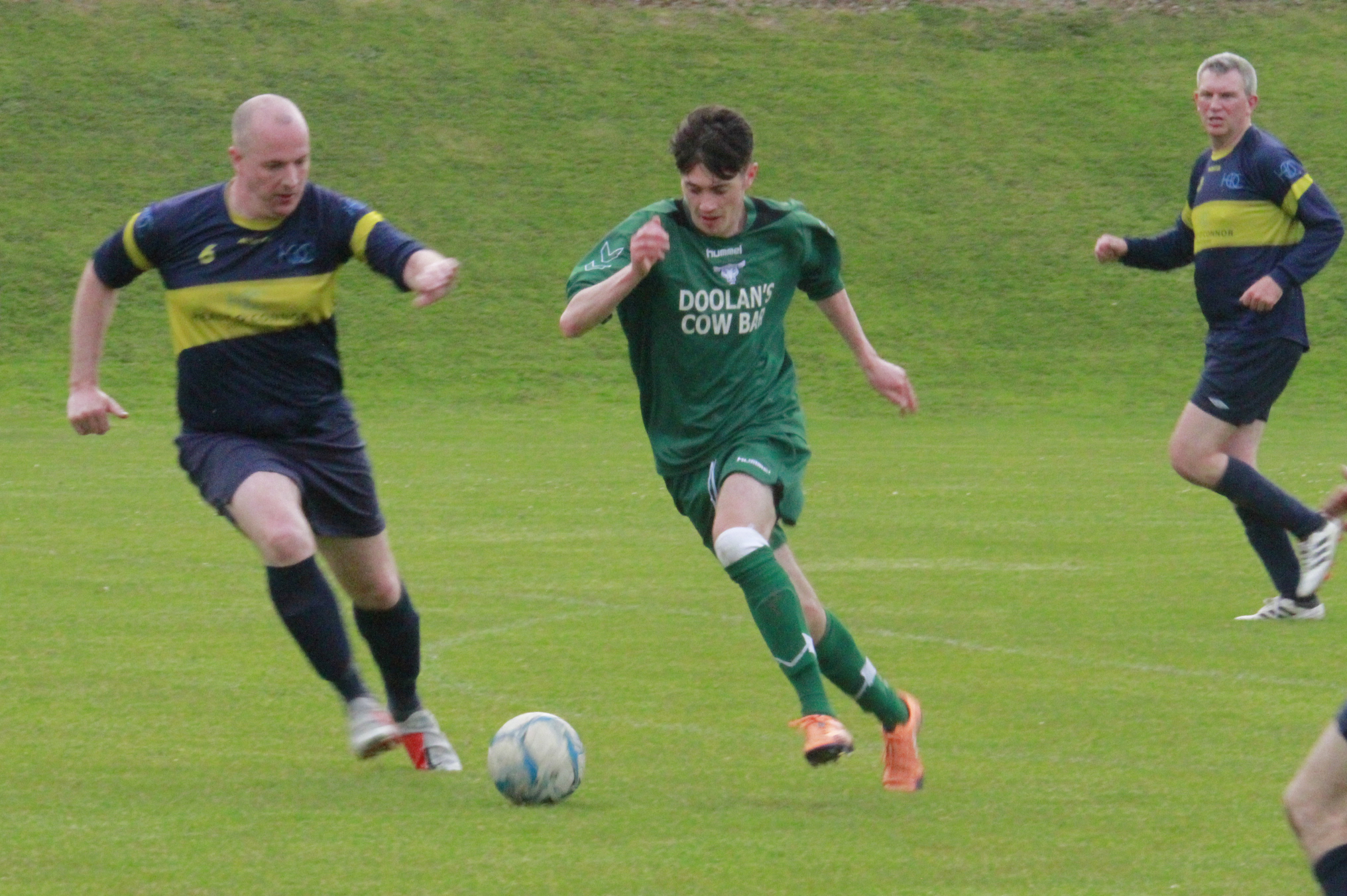 Cow & Crookstown Milk Title Wins with a Game in Hand! Cork Business League Weekly Roundup!
CONGRATULATIONS are extended to both Doolan's Cow and South Coast Sales Crookstown United following their respective Sports Gear Direct Premier & First Division Championship wins in mid-week, writes Finbarr Buckley
Both won away from home with a match to spare and can look forward to the prospect of further silverware in the divisional finals to come.
Sports Gear Direct Premier Division
Healy O'Connor Solicitors 1 – 4 Doolan's Cow
Doolan's went in at half-time three up against Healy's at Garryduff after Tony O'Reilly, James Cotter and Aaron Hennessy netted for the visitors. Keith Donovan got Healy's off the mark from a free-kick on the hour before O'Reilly rounded the keeper in the 75th minute to complete a 9th straight league win for the champions. Doolan's backroom team of Denis O'Sullivan, Wayne Kavanagh, Robert Graham and Cian Hennessy contributed hugely to the success, the club's third in four seasons,  equally the feat previously achieved by Postal Workers and MCM.
Sports Gear Direct First Division
OBS 2 – 5 Crookstown United
Crookstown confounded all the experts by spectacularly coming out on top at the first attempt in the race for honours with Co. Council. Michael Quinlan opened the scoring for the visitors in the 15th minute only for Arainn McGrath to equalize. After Charles Kenneally converted Dave O'Halloran's cross and McGrath levelled again before the break, further goals from O'Halloran (2) and Quinlan settled the nerves leaving league assistant secretary Peter Travers to present the trophy to Tim Irwin's charges. Irwin courageously managed the team as well as playing in goal and centre-back  and was ably assisted by chairman Aidan Buckley.
Frank Linehan First Division Cup – Semi-Finals
OBS 1 – 0  Co. Council
OBS and Crookstown will face each other  for the first time in next Sunday's Frank Linehan Cup Final at Turner's Cross ,(kick-off 11am), following last Sunday's semi-final wins over Co. Council and Dalton's Pharmacy. Colm O'Brien set up name sake Nyall O'Brien to dink the ball over the keeper for the game's only goal in the 15th minute. Arainn McGrath went close to doubling the lead before Council hit back but could not find an equalizer. The returning Ross Drummond, Jamie O'Connell and Lee Maher shone for the winners.
Dalton's Pharmacy 1 – 3 SCS Crookstown United
Crookstown got goals at vital stages, two in the first-half from Brian Henchion and Liam O'Sullivan followed by the killer third from sub Dave O'Halloran. Dalton's had their chances with Chris Fitzgerald scoring and Crookstown keeper Tim Irwin saving a penalty, the best they could produce for large spells of dominance. Fitzgerald, Brian Davis and Pierce Purcell impressed for the home team.
Visit the official Facebook event here and let everyone know you are going to the First Division Final!
Sports Gear Direct Premier Division
Marlboro Trust 1 – 3 Healy O'Connor Solicitors
Both teams finished their campaigns on equal points after goals from Emmanuel Adeleke, Justin Banks and Joady Sinnott sealed only Healy's fourth league win. Pedro Pinto replied for the hosts midways through the second 45.
Sports Gear Direct First Division
Cork Eagles PFC 2 – 2 Cork Hospitals
Cork Hospitals were pegged back from two up courtesy of Dusan Lubosevic and Colm Kirby to finish with a share of the points after and own goal and a second by Robert Susek levelled the contest for the Eagles.
Mid-week Round-up:
Four points separate second, third and fourth in the premier after goals from in-form striker Shane Hennessy secured a 2-1 win over Quinlan's. On the previous night UCC United overcame Marlboro Trust 2-1 with Ali Ahmidat and Trust old boy Eric Montgomery among the goals for the winners. The evergreen Pat McSweeney's goal kept Trust well in the contest. Co. Council claimed the runners-up spot in the first division by winning 2-1 against Planet. After a scoreless opening 45, Evan Mohally crossed for Fergus O'Connor to fire Council in front only for Robert Egan to draw the teams level. Jason Crowley's penalty decided the destination of the points after Mark Geary was taken down in the area. Cork Hospitals finally carved out a win against VoxPro , Colm Kirby and Dusan Lubosevic among the goals in a 2-1 win.