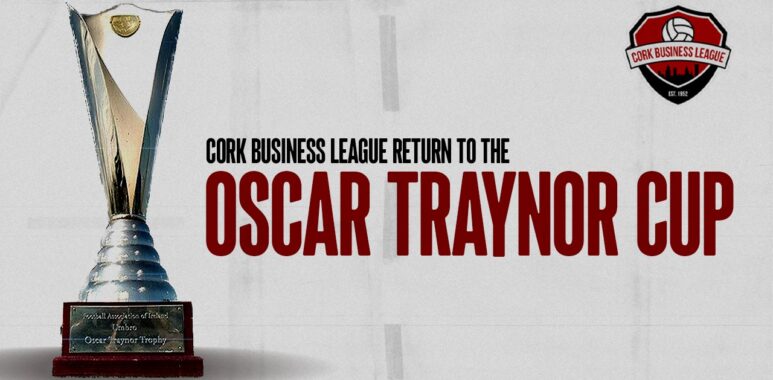 Cork Business League Return to the Oscar Traynor Inter-League Cup 2023 / 2024!
The Oscar Traynor Inter-League Cup, which dates back to 1963, returns for the first time since the 2019/20 season and sees Junior Leagues affiliated to the FAI submit representative league teams to participate in the competition. The Cork Business League is happy to announce that it will have a representative team in the tournament for the first time in over 10 years!
This season's competition will return in October 2023 with teams participating in a provincial Inter-League competition before progressing to the national phase of the competition from January 2024 onwards.
Today we can also announce our management duo of James Corcoran (Satellite Taxis) and Ross O'Sullivan (Martin Harvey Solicitors)
James Corcoran, after returning to the CBL as a player last season, landed the Satellite Taxis management job this Summer. He had this to say on also being successful in getting the CBL position: "I would like to thank the Cork Business League for allowing me this opportunity to manage the Oscar Traynor Team. It will be a privilege to be able to coach all of the finest players in CBL preparing them against some the most talented players in country at amateur level."
Ross O'Sullivan, has guided Martin Harvey Solicitors to some memorable Cup finals in recent years and is looking to use that experience to push the CBL squad to success this season: "I'm absolutely delighted to be a part of the CBL Oscar Traynor management team this year. It's been a few years since the CBL entered a team so I haven't seen them in this competition and I'm over the moon to be a part of the latest setup. Working with new players who I've only seen play will be a challenge but a challenge I am relishing. I can't wait to get started"
To support them, our CBL Oscar Trayor Steering Committee of Joe Murphy, Ray Anthony and Anthony Golden will provide the lads with full attention and guidance over the course of the next few months and ensure any thing that is needed for a cup run to be a success is provided.
The qualification / group phase of this competition will be organised by the Munster Football Association and will be run as a Munster Inter-League competition. This phase of the competition will take place between October 2023 and January 2024 and will conclude with an eventual Munster winner that will go forward in the knock-out phase of the Oscar Traynor Inter-League Cup.
The number of rounds in the knock-out phase will be subject to the entries received for this year's competition. Dates for the knock-out phase of the competition will be advised in advance of the knock-out phase and following confirmation of the competition format.
| | | |
| --- | --- | --- |
| Stage | Dates | Format |
| Munster | October 2023 to January 28th 2024 – Dates TBC by the MFA | Group Based Competition with Munster Winners |
| National | January 29th 2024 to April 2024 – Dates TBC by FAI | Open Draw knock-out with SF & Final or QF, SF & Final based on entries |
Note: All CBL Club managers will be contacted in the coming days by James and Ross as they build their squad for this years competition. The final squad of 24 players will be announced next week.