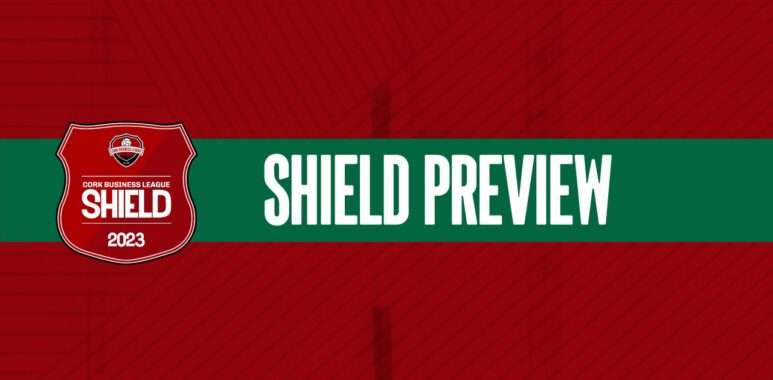 New Teams Look to do the Business in the Shield! – CBL Shield Preview 2023
The Cork Business League kicks-off its 71st season this weekend with fixtures in the CBL Shield and league competitions, writes Finbarr Buckley.
Following an extensive recruitment campaign during the summer, six new clubs were enrolled in time to be included in the Shield Group Stage Draw which took place at Turner's Cross last Tuesday week. EVcore Gym, Frame Up, NetApp FC, Croatia Fermoy, RFP Masseytown Utd. and Swyft Energy have boosted the league's compliment to twenty-eight with the prospect of three divisions being accommodated in the league for the first time in over ten years (2012/13).
The format of the Shield competition itself is four groups of four teams and four groups of three teams with only the winner of each group progressing to the quarter-final stage. As had been in place in previous competitions three points are to be awarded in the group stage for a win in normal time. In the event of a draw all ties are to go straight to a penalty shoot-out. Two points are to be awarded to a team who triumphs on penalties.
Winners for the last three years, Doolan's Cow, are drawn in Group A along with last season's First Division winners Andy Sull's Hair, and a First Division duo of Fisherman's Rest Valley Rangers and Longboats. The holders will be looking to win their opener to take the pressure off in the latter stages of the group. Promoted ASH have a lot to prove in their first season in the top flight and with two premier opponents among the four contenders, they will be able to prepare for the league campaign ahead. Longboats narrowly missed out on promotion last season while Valley Rangers rallied late on to preserve their premier standing. Both will be eager to impress to shake off the disappointment of last season's under achievements.
Twice winners Marlboro Trust will go in as favourites in Group B ahead of their three First Division opponents The Weigh Inn, VIP Carrigaline Utd. and Curry House Hungry Tigers. Their wily manager Aidan Kelleher knows what it take to negotiate the group stage but will be mindful that a single defeat could prove costly. Group C also contains two Premier Division clubs , UCC Utd. and promoted Arc Rovers and two first division sides in SCS Crookstown Utd. and Suro Cars who will be boosted by their amalgamation with TELUS International.
Promoted Cork Hospitals are the highest ranked team in Group D but will find relegated OBS, Helio Inter Cork and debutants Frame Up Ballincollig tricky opponents in what could well be the most open group of the seven. In the first group of three, Group E, twice winners Satellite Taxis will look to progress ahead of fellow premier hopefuls Cheers Bar and Healy O'Connor Solicitors. New manager James Corcoran and his assistant Pat Downey, the former CIE Athletic great, have worked hard in pre-season to build up a panel capable of launching a serious trophy challenge on all fronts in the coming campaign.
Group F brings together two new clubs, Croatia Fermoy and RFP Masseytown Utd. along with premier outfit Jay Bazz in what could well be a baptism of fire for the debutants as they come face to face with one of the best teams over the last two seasons. Group G is another with two new clubs facing competitive action for the first time. EVcore Gym and NetApp line up alongside the long serving Healy O'Connor Solicitors who must fancy advancing to the last eight and an opportunity to lift a trophy come the end of November. In Group H Swyft Energy are in the mix with the league's longest serving club, Council and HBC Redemption Rovers who shared ten goals in their league outings last season.