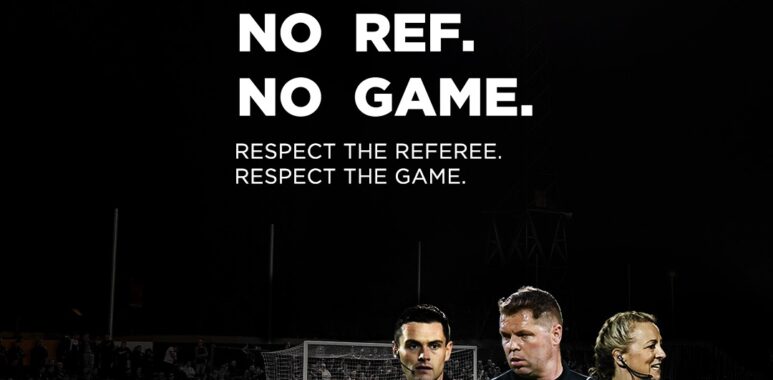 Cups
Fixture Updates
League
News
FAI Launch #NoRefNoGame Campaign
As Grassroots football returns around the country for the 2022/23 Winter Season, the role of the referee has never been as important and that is being highlighted through the #NoRefNoGame campaign.
Designed to recognise the influence of referees on the game – at all levels – the campaign showcases just how different it would be without a referee to implement the laws of the game.
At the heart of the campaign there is focus on respect for the referee. Whether it is players, coaches or supporters, any level of inappropriate behaviour directed towards match officials is completely unacceptable.
It is why the stakeholders across all sections of the game, including players, League representatives, Irish Soccer Referee Society, National Referee Committee and the Football Association of Ireland have come together to help address this problem.
Part of tackling this is the implementation of new sanctions, approved by the FAI, to safeguard referees. These new sanctions will help to bring respect back to the forefront of how referees are viewed and treated by all involved in the game.
The current disciplinary regulations already carry clear and serious sanctions of up to 36 months for misconduct against a Match Official, while these new sanctions approved by the FAI Board include:
Behaviour that is aggressive, intimidating, or threatening towards a Match Official –  At least 6 matches.
Where a Player or Official persists in using foul and abusive language, having been sent from the field of play, a further sanction shall be applied.
Separate incidents of misconduct towards a Match Official in relation to the same game shall incur an additional sanction for any such incident.
Any club that has a player, team and/or official found to be in continuous and persistent breach of Regulation 5 may be subject to a separate investigation by the Disciplinary Regulations Officer (''DRO'') who can consider the culpability of the Club and subject to such investigation, the DRO may issue a charge(s) against the club directly.
Full Press Release here