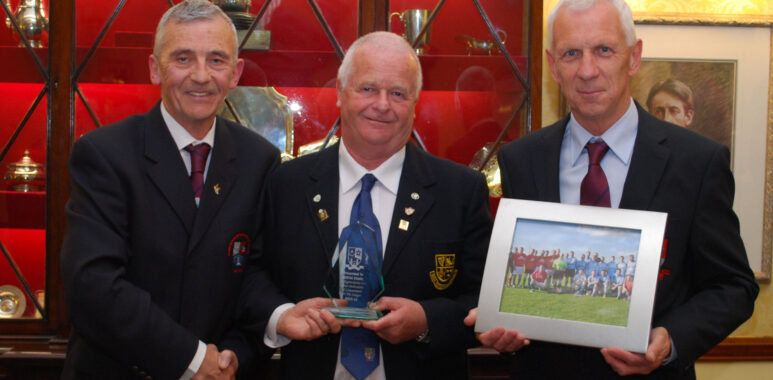 ⚽ In recognition of all Referees – Past & Present! CBL Interview with Finbarr Buckley ⚽
 ✍️ Peter Travers & Finbarr Buckley
Referee Bertie Stark centre, receiving a retirement presentation from Finbarr Buckley, CBL Press Officer, right, and Joe Murphy, CBL Registrar, left, at the City Hall in June 2016.
In over 40 years of involvement in local football, current CBL Press Officer Finbarr Buckley is in a unique position to view the role of the referee from a playing aspect, as a referee himself and later as a coach. The Cork Business League caught up with him recently to dicuss his time as a referee after his playing career ended.
Peter Travers: So Finbarr, this must be an odd feeling – you being interviewed instead of you putting the questions to someone else!
Finbarr Buckley: It's a great honour Pete to have you sat across from me asking me to recall my experiences as a ref and give you an insight into how the attitudes surrounding refereeing may have changed over the years!
PT: If you can go back a couple of years and tell us when you started playing in the CBL and if any experiences with referees come to mind early on?
FB: I still have a vivid memory of my first encounter with a referee as a player with Roches Stores back on September 3rd 1978 at the Showgrounds. I made my debut up front as a sub against Fords 'A' in a CBL Shield tie only to display my naivety by being flagged offside after Dommie Heffernan had buried the ball in the back of the net to reduce the host's lead to 3-2 with five minutes remaining. It was a rude awakening I'll never forget!
PT: Calling offside has always been controversial so even when it's a player of your calibre involved!
FB: Yep you always need to be aware of how tough it is from a ref's perspective. From then on I enjoyed a fruitful stay in the first eleven for nearly fourteen years, picking up a CBL Premier Division Cup or two along the way under the management of the inspirational Aidan Draper. My tenure in the team afforded me the opportunity to view up-close legendary names like Derry Barrett, Sam Spillane, Eddie Mullins, Peter O'Sullivan, Frank Hourigan, Connie Long  and Denis Morley and later a crop of excellent emerging talent in Kevin Coughlan and Michael Foley, both who made a big impression on me.
PT: Nearly hitting 15 years in the CBL is quite the feat Finbarr, did you ever think you'd become a referee after you finished up though?
FB:  When I hung up the boots in 1992, the opportunity to take up the whistle presented itself in October 1993 in the guise of a week long course in Turner's Cross overseen by the late senior assessor Frank Casey. Thirteen hopefuls gathered in the old boardroom to be taken through the seventeen laws and afterward, to his eternal credit, Frank had us believe that someday a Champions League or World Cup Final appointment would be achievable one day.
Only John Linehan, who would go on to distinguish himself as a grade one and become chairman of the Cork Branch,  and I would stay in the game. At our first branch meeting in Moore's Hotel, Derry Barrett handed me a piece of paper with his phone number if I ever needed assistance. What a gesture by one of Cork's greatest ever officials.
Billy Falvey, who led Roches to promotion to the top flight in 1979/80, was instrumental as an assessor in my only appointment in the centre at Turner's Cross in 1997 for a second division Youth's play-off between Douglas Hall and Mallow Utd.
PT: Getting chosen for a Final must have been a great acknowledgment for you personally to prove you had the control and attributes to command the top teams in the league.
FB: A tenure on the CBL panel in 1998/99 followed before a move into coaching with first, Evergreen, and later Douglas Hall schoolboys, where my son Alan was involved, gave me a view of the referee from a manager's vantage point. While Alan might have thought the ref had an indifferent performance, I was never going to be as critical having recognised the value that an encouraging word might have on the man in the middle.
And so, now as a committee member, I can assess the performance of the ref with the hindsight of being there before and having enjoyed some thrilling moments both memorable and funny.
PT: Over the years Finbarr, was there any ref that stood out as a memorable character for the league?
FB: Referee Bertie Stark continues to be a good friend to the CBL after a couple of stints on the panels over the years and the banter he created was enjoyed by all concerned. 'Hey Ref! You're a bit slow with the yellow cards! ''Just as slow as you are Pat delivering the post!', which was his response to former Postal Workers stalwart Pat Lester during a match from in the mid-nineties.
On another occasion a Bank of Ireland player giving him yap, looking for more protection received the response, ' Get on with it, I went in for a car loan last week and you refused me!' A group of players were once met with the words, 'If ye don't cop yourselves on I've no problem dishing out yellow cards like John Wayne does with machine gun bullets.'
Towards the end of his involvement in the middle, he built up a rapport with former O'Driscoll's, Super Valu and Outpost striker Maurice O'Keeffe, whom he christened 'the white Andy Cole' in recognition of his strike rate being on par with that of the former Manchester United legend. In the dressing room at Turner's Cross before the first division cup final his approach to O'Keeffe as the assistant referee had everyone in stitches when he said, 'Maurice, you were born offside, don't give me a pain in the arm trying to keep an eye on you!' While officials are frowned upon today from engaging too much with players in the modern game, Bertie's banter helped to make the ninety minutes more enjoyable for all.
PT: Thanks for the chat Finbarr!
FB: Anytime Pete, will this go up on the News Room?!