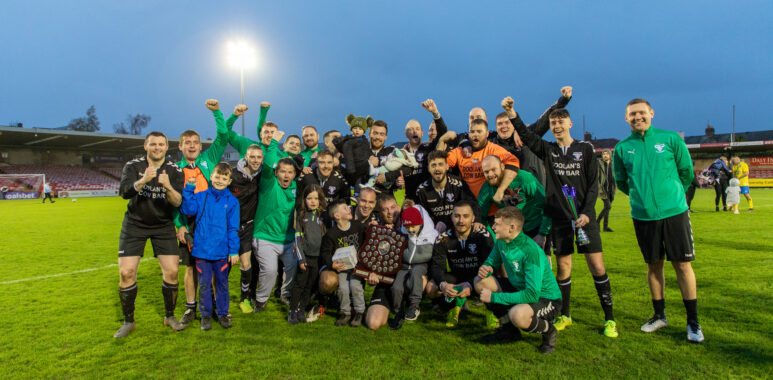 Sports Gear Direct Cork Business League Shield Final Match Report: Satellite Taxis 1 – 3 Doolans Cow
✍? Finbarr Buckley
65th Sports Gear Direct Shield Final
Satellite Taxis 1 ; Doolan's Cow 3
DOOLAN'S COW put the painful memory of their previous two final defeats to Satellite behind them to spectacularly come from behind to win their third final in six years at Turner's Cross last Sunday afternoon, writes Finbarr Buckley.
Satellite enjoyed a dream start after two minutes when Doolan's Stephen O'Leary  was adjudged to have tripped Shane Dorgan inside the area. Taxis' all-time leading scorer Breff McCarthy duly sent James Murphy the wrong way from the resultant penalty. With the match being played at a ferocious pace and bot teams going at each other on the flanks, Doolan's leveled on the stroke of half-time when Aaron Hennessy's powerful header  from  Jamie Murphy's corner took a deflection past Aaron Spriggs.
After Murphy volleyed into the side netting and Satellite's Kian Fitzgerald headed narrowly wide, Hennessy's delightful pass played in Tony O'Reilly in the 55th minute and his  low shot was parried by  Spriggs only for  the in rushing James Cotter to sweep the ball to the back of the net to score his hundred competitive goal.
The second 45 continued to be played at a high tempo with Spriggs beating Cotter on the edge while at the other end Damien O'Mahony's free-kick struck the outside of the post. The holders wrapped up a memorable win at headquarters with five minutes remaining when Jamie Murphy finished off a move which had Spriggs extended  on a number of occasions to score  the decisive third and his second in consecutive finals.
Aaron Hennessy was a worthy recipient of the man of the match award for a jubilant Doolan's whose victory was described by Wayne Kavanagh  as 'one of the Cow's sweetest in the club's thirteen year history.' Satellite boss Ray Halissey was bitterly disappointed afterwards saying, 'We got off to a great start but couldn't keep the momentum going.' 'James Walsh lob with eight minutes left could have made it two-two but credit Doolan's for finishing off the tie with the third.'
Match referee Brendan Dowling used his experience to control a competitive contest with assistants Gordon O'Leary and Grahame Duffy supportive throughout.
Satellite Taxis : Aaron Spriggs : Shane Doody, Alex McCarthy; John Murphy,Greg Browne; Emmett O'Neill (Brian Wyse), James Walsh, Shane Dorgan (capt.); Bref McCarthy, Damien O'Mahony, Kian Fitzgerald.
Doolan's Cow :  James Murphy : Stephen O'Leary (Keith McCarthy), Ian McCarthy; Brian Harris, James O'Shea; Darren Geraghty (Tony O'Reilly), David O'Sullivan  (Liam Horgan), Stephen McCarthy; James Cotter, Jamie Murphy (capt.), Aaron  Hennessy.
Referee : Brendan  Dowling.  Assists. : Gordon O'Leary, Grahame Duffy.