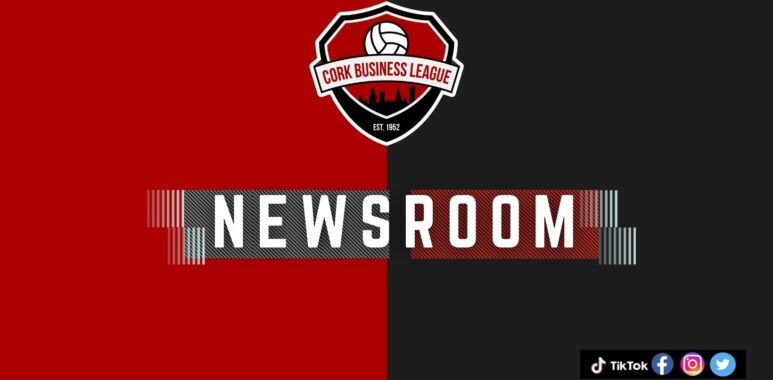 Cups
Fixture Updates
League
News
Cork Business League Weekend Preview 29th – 31st October 2021
? Finbarr Buckley
Marlboro Trust, Doolan's Cow and Cork Hospitals carry the league's hope into this weekend's McCarthy Insurance Group Munster Junior Cup. Trust face MSL Junior First Division title challengers Cobh Wanderers at Mayfield Community School on Friday night in what promises to be an enthralling cup tie. The hosts will be hoping ace striker Kevin O'Sullivan will be on form along with experienced midfield schemer Tom Frawley who scored three in successive matches in recent weeks.
On Sunday morning Doolan's Cow take on another title contender in the MJL Premier Division this time, Carrigaline at Mayfield Community. The Cow bowed out disappointingly to UCC in the FAI Junior last Sunday week and will be hoping for an improved performance next Sunday. Prolific strikers Jamie Murphy and Aaron Hennessy are carrying injuries along with central defender Craig Keegan but could come it at some stage to exert an influence on proceedings. Across town, at the same time,  Cork Hospitals face a tricky assignment at home to another MSL Junior side Youghal Utd. John Browne needs  a big performance from his charges to progress but can draw confidence from players with potential  like Tadhg Whelan and Conor O'Halloran who can be a handful for any opposition.
In the Sports Gear Direct Premier Division Satellite Taxis can stretch their lead  at the top to nine points with an away  win over JONE at Mayfield Pk. on Friday night. JONE have only one win so far will  their opponents who will be looking for their 7th to register their best start in the top flight. Satellite won the team's first met, 3-1, at Deerpark Secondary School back on August 29th  and are looking to the double for the first time. OBS and Healy's lock horns at Ballea Pk. on the same night with a draw a likely outcome for the two teams locked in mid table. UCC fancy their chances of remaining unbeaten at he Farm when they meet bottom club Harp Celtic who are only playing their fourth  ever match in the premier. Davie O'Mahony has yet to have his best eleven out on the pitch and should see progress up the table once his squad is strengthened. MHS will be hoping to maintain their recent good form by toppling District 11 at Ringmahon Pk.
Six first division fixtures are scheduled for Saturday and Sunday with the top three in action. Leaders Lion's Den, three points clear, will be hard pressed by Longboats who are nine points adrift and know nothing more than a win is needed even at this stage of the campaign. Second placed Brew Boys should see off Trend Micro away at Mayfield Pk. while Daz Barbers have a tricky fixture away to Jay Bazz who have yet to display their best form in the league. Co. Council have lost three already and a fourth defeat to the Weigh Inn on Sunday morning could all but end any hope of promotion back to the top flight. Council striker Mario Fosca is in a rich vein of form while his opposite number Fionn Edwards will be looking to get back among the goals after a lean period in recent weeks. Telus International in 10th entertain Suro Cars in 9th while 12th place Derrow Rovs. have a home tie against bottom of the table VIP Barbers who have yet to pick up a point. Two draws could be the order of the day in the scramble to get away from propping up the division.