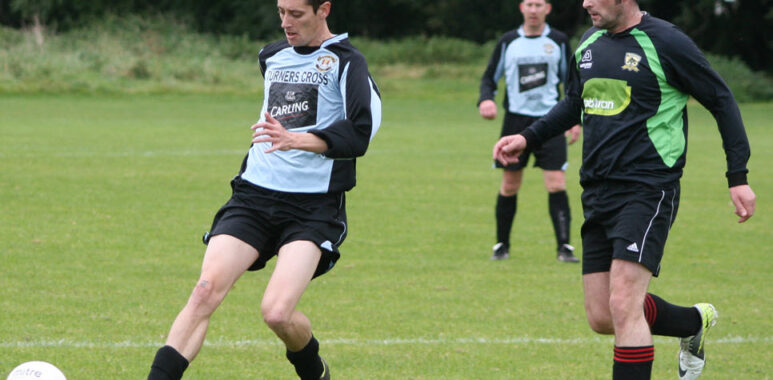 Daz a cut above VIP in battle of the Barbers! CBL Weekend Round-up 17th – 19th September 2021
?Patrick McSweeney (Marlboro Trust), left, who scored his one hundred career goal for his club in the 3-0 win over OBS at Mayfield Community School last Friday night,
Sports Gear Direct First Division
VIP Barbers 2 – 5 Daz Barbers
IN a unique pairing of two teams from the same profession, Daz Barbers got the better of their rivals VIP Barbers in the first-ever meeting between the teams at Crosshaven last Sunday morning, writes Finbarr Buckley.
Kieran Buckley and Darren Hosford gave the visitors a two-nil lead inside the opening twenty minutes and Joe Joe Duffy smashed in a third before half-time. After Arainn McGrath made it four-nil, James O'Leary reduced the deficit only for Hosford to score his second in the 75th minute. Alex O'Dea completed the scoring with the host's second.
The Weigh Inn Dripsey 0 – 2 Lion's Den
Unbeaten Lion's Den maintained their three-point lead at the top by winning for the fifth time. Sean Lynch opened the scoring in the 20th minute and David Gaffney converted a penalty with twenty minutes remaining to make the points safe.
Brew Boys 4 – 1Telus International
Brew Boys are hot on the heels of leaders Lion's Den after a fourth win in four at Castlelyons. Sean McCarthy, Jamie Noonan, Simon Drislane and Jonathan McCarthy registered the winner's goals. A Stephen Looney penalty was only a consolation for the visitors.
Trend Micro 3 – 2 Suro Cars After Trend Micro's Vitor Granja and Suro Cars Kevin Murphy exchanged early goals, a counter-attacking move involving Mark Foley and Cian Higgins ended with Chris Brant netting for the visitors. The hosts were not to be denied and found Suro keeper Cathal O'Sullivan in fine form. However, after Paolo Canelo Laprida set up David Collins for the equalizer, Laprida was on hand again to put in David Collins who scored the winner.
Jay Bazz 3 – 1 Co. Council
Jay Bazz were good value for their two-goal win over an under-strength Council. Brandon Downey gave the hosts a 1stmminute lead and further goals from Junior Kavanagh (free-kick) and Adam Hegarty sealed a second win for the home side. Jordan Hughes replied with Council's consolation.
Longboats 4  – 1 Cork Hospitals
Longboats continued their unbeaten start to the league with a second win after already registering three draws. James Sullivan came off the bench to score twice after goals Eddie Walsh and Jack Sheehan kept the visitors at arm's length. Home keeper Damien Kennedy was outstanding and was only beaten once by Dave Synott.
Sports Gear Direct Premier Division
Marlboro Trust 3 – 0 OBS
Marlboro Trust made it three wins out of three without conceding to remain top after a comfortable win over OBS at Mayfield Community School. Daniel del Blanco opened the scoring after five minutes when he volleyed in from twelve yards. With the visitors coming more into the game as the half wore on, Steven O'Reilly netted a second on the half-hour from a composed finish for the hosts who last won the title back in 2012/13. Despite enjoying the lion's share of possession throughout, OBS were further rocked when they conceded a third with ten minutes remaining when veteran Paddy McSweeney confidently stroked home his one hundred career goal for his club after being put through by Colin Hewitt. O'Reilly, Pedro Pinto, and Dave McCarthy were the pick of the winner's performers on the night.
Martin Harvey Solicitors 1 – 4 Satellite Taxis
Satellite's impressive start to the campaign continued when they inflicted a third defeat in four on MHS. In–form striker Damien O'Mahony got Taxis off the mark from a free-kick before doubling the lead with a neat finish from an acute angle. After Jamie Lynam halved the deficit before half-time, James Walsh squared for Alex McCarthy to knock in a third for the visitors whose comfortable win was confirmed after Jeff Abbott scored one of his trademark specials from distance.
Harp Celtic 0 – 4 Doolan's Cow
Harp Celtic were unfortunate to get off to a wretched start after only two minutes in their first-ever top-flight fixture. Aaron Hennessy turned in Doolan's' first before going on to score a second sandwiched in between goals from Ian McCarthy and Liam Horgan. The visitor's concession of a sloppy third on the stroke of half-time gave Davie O'Mahony's charges a mountain to climb but credit to his hard-working back-four and full-backs Ian O'Mahony and Aaron Rawley for restricting the host's front three to just one second-half goal.
UCC Utd. 2 – 1 Healy O'Connor Solicitors
UCC notched up their second win of the campaign following last Sunday morning's best of three goal win over Healy's at the Farm. A fortuitous own goal and another from Dom McHale put United two to the good in the first 45. Stephen Dwyer got Healy's back into the contest midways through the second half but the College held out to take all three points.
District 11 4 – 1 SCS Crookstown Utd
District opened their top flight account with a convincing win over Crookstown Utd. Dean Mooney bagged a hat-trick and Lewis O'Mahony was also among the goals