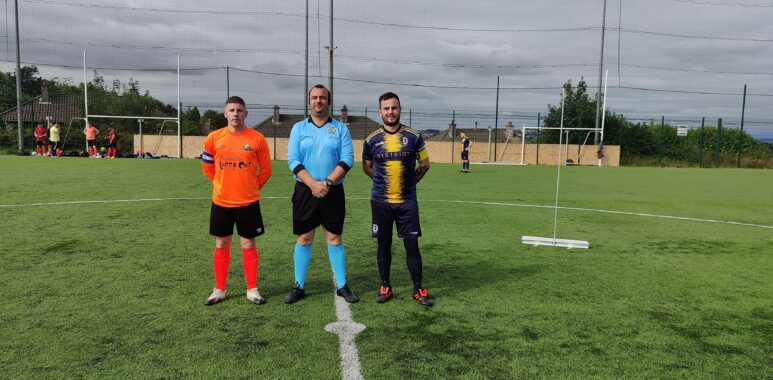 Crookstown court first three points with win over Solicitors! CBL Weekend Roundup 22nd August
Sports Gear Direct Premier Division
SCS Crookstown Utd. 5 – 0 Martin Harvey Solicitors
CROOKSTOWN UTD., after a disastrous shield campaign, romped to an impressive 5-0 win over last season's beaten shield finalists Martin Harvey Solicitors in their opening top-flight fixture at Crookstown last Saturday afternoon, writes Finbarr Buckley.
The West Cork outfit had been top of the table before the first Covid lockdown when football was first terminated back in March 2020. It was little wonder that manager Tim Irwin would have reminded his charges of the fact before the teams when out on the field of play. And what a response he received. The returning Colm Crowley unleashed a spectacular long-range opener after ten minutes to get the ball rolling. Once Alan Desmond cut in from the left within three minutes of the resumption of the second half to finish at the near post, there was no way back for the visitors. New signing Callum O'Shea went on to add two more along with Kevin Barrett to enthuse a buoyant Irwin to comment afterward.' I was delighted with the way the team played today especially our new lads, goalkeeper Conor Murphy and the ever-dependable Charles Kenneally.'
OBS 2 – 4 Satellite Taxis
Having qualified from their respective groups in the shield as leaders, OBS squared up to unbeaten Satellite in the opening premier division fixture at Ballea Pk. last Friday night. After OBS's Dara Woodman opened the scoring for the hosts, Shane Dorgan equalized on the half-hour. A lightning break led to Breff McCarthy putting the visitors in front for the first time only for Andrew McGarry to square up the contest at 2-2. Goals from Satellite's Dorgan and former MiDaza Rebels' title winner Greg Casey put Taxis two goals clear and in a position to see out the contest and secure a first three points on the road. Brian Wyse and another former MiDaza Rebels' league winner Damien O'Mahony were in superb form for the winners while Jamie O'Connell and Lee Maher were influential throughout for the home eleven.
Sports Gear Direct First Division
Daz Barbers 3 – 4 Brew Boys
With only one win between the two new teams in their shield groups, a win was a must when the teams met in league action for the first time at Mayfield Community School last Friday night. At the end of an absorbing ninety minutes, goals from Brew Boys' Dan Turcan, Tom McGrath, Daniel O'Flynn and Aidan O'Leary outscored Barbers' three scored by Chris Wall, Josh Wilkinson and Jonah Delaney.
Suro Cars 5 – 2 VIP Barbers
Suro Cars made an impressive start following a 5-2 win over VIP Barbers at Mayfield Pk. After going one down against the run of play to a Ben Roberts' strike, Ger Kelly nudged Suro ahead with a brace before the in-form Dean Farrissey equalized for 2-2. From then on, the hosts took control with Cian Higgins (2) and Chris Brant tagging on further goals to claim the points.
Longboats 2 – 1 Finbarr Galvin's Derrow Rovers
In a best of three goal encounter, Jack Moloney netted twice for Longboats with Andrew Dale replying for the visitors in the first ever league meeting between the teams.
The Weigh Inn 2 – 0 Trend Micro
Fionn Edwards' ability to find the net twice told in his team's win over Trend Micro at the Regional Pk. last Sunday morning. The visitors were playing in their first competitive match together and had impressive performances from Cristian Vera Perez in midfield and José Guerra and Paolo Laprida up front. Edwards, Ross Leahy and Mark Daly shone for the home team.
Co. Council 1 – 3 Lion's Den
Co. Council were undone by an improving Lion's Den whose goals came courtesy of Terence McSweeney (2) and David Gaffney. Top scorer Mario Fosca banged in his seventh in shield and league for Council.
Sports Gear Direct Shield – Group C
Harp Celtic 3 – 0 Telus International
Davie O'Mahony's Harp Celtic made it four wins out of four to top the group overnight after three unanswered second-half goals secured all three points at Mayfield Pk. last Saturday afternoon. Sub Jordan Bullman was taken down in the area which led to Ryan O' Connell dispatching the resultant penalty to open the scoring. Aaron Rawley beat the keeper from a distance to extend the lead before Jake Smith completed another impressive win for the hosts with his side's third with fifteen minutes remaining.
Jason O'Neill Electrical 3 – 4 District 11
District strengthened their position of qualifying from the group after their 4-3 win over Jason O'Neill Electrical at Mayfield Community School last Sunday morning. In an intriguing contest, Paudie Cotter put the hosts two up only for an own goal and another from Dean Mooney pulled the teams level at half-time. After Caolan O'Callaghan edged District in front for the first time, a superb volley from sub Christian Quinlan tied the match up again. Despite a missed penalty, Andrew Hegarty broke the deadlock with the winning goal in the 85th minute.