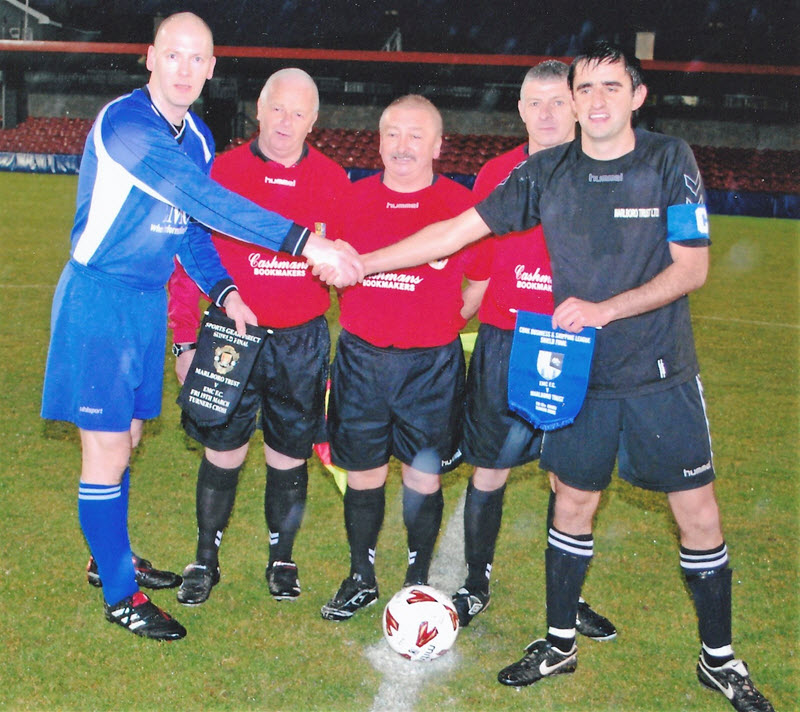 Six of the Best Shield Finals!
The cancellation of all matches due to the introduction of nationwide Level Three restrictions was particularly disappointing for Martin Harvey Solicitors and Doolan's Cow who were scheduled to meet in the Sports Gear Direct Shield Final recently, writes Finbarr Buckley.
First division Martin Harvey's would have been appearing in their first decider while Doolan's were faced with having to miss out on consecutive final appearances due to cancellations caused by the response to the Covid-19 pandemic. The shield competition remains the much-loved child behind its older siblings, the premier title and Mooney Cup, but has always been eagerly contested by all clubs wanting to win its first silverware of every campaign. The finals themselves have featured all aspects of a knockout competition, from giant-killing acts to spectacular goals to extra-time and penalty shoot-out drama. Six finals stand out for being particularly memorable:
Olympic 4 – 0  Lunhams (Replay) – The Showgrounds – Sunday, May 5th 1974
In the novel meeting between the two meat processing companies, Olympic, named after the famous sausage brand and who would go on to become Byrnes and later McSweeney's Bacon, went two up at half-time through Philip Maher and Kieran O'Connor. Lunhams looked to have pulled one back when Eddie Hussey's shot stuck in the mud before further goals from Donal O'Connor (pen.)  and Val Keohane sealed Olympic's first and only Shield success.
Liebert 4 – 1 Roches Stores – ESB Grounds – Sunday, November 27th 1988
Third division Liebert, only in the league since 1986, stunned first division Roches Stores in their first Shield Final appearance. Roches had knocked out Postal Workers, finalists for the previous seven years, in the semi-final to go into the final firm favourites despite Liebert putting out another top-flight scalp in AIB at the same stage. After Pat Kenefick gave the underdogs a 15th-minute lead and John O'Neill, who would go on to win shield and cup honours with Roches later in his career, doubled the advantage midways through the second-half.  Kevin Callanan reduced the deficit in the 72nd minute only for  Liebert's constant pressure to led to further goals from Sean Hanafin and O'Neill in the final ten minutes to bring the curtain down on a memorable performance excellently refereed by Tony Thompson in his first decider and still officiating at the highest level of junior football today.
Cork Examiner 2 – 4 Postal Workers – Pfizer Pk. – Sunday, December 2nd 1990
The Workers were appearing in their eighth final in nine years while Examiner made it through to their first final following a 3-1 win over the holders Liebert in the first of the two semi-finals, also at Pfizer Pk,,  back on November 18th. Examiner were quick to settle, forcing two splendid saves from Tom Archer before deservedly going on to take the lead in the 33rd As the Workers' defence pushed out, Dave Higgins chipped over the advancing back-four for Peter O'Callaghan to lob home with perfection. Don Bevan made it two-nil ten minutes later from a carbon copy of the first, this time, Frank Drummond providing the chip for Bevan to slot past the stranded Archer. Within six minutes of the resumption, Andy Maher turned in John Reid's pass for 2-1 only for Bevan to run clear and restore Examiner's two-goal lead in the 65th minute. With fifteen minutes remaining, captain Sean Murphy set up current Echo columnist Noel O'Sullivan for a fourth before John McGrath completed the scoring with Postal's second minutes from time.
Naval Services 2 – 1 Lou's Laundrette AET (Replay) – Turner's Cross – Friday, January 31st 2003
Both teams had never won the competition before and after a scoreless first-half, Barry Hayes edged first division Lous Laundrette ahead in the 55th Premier opponents the  Navy went for broke and were rewarded with the equalizer from a spectacular Mick Lannon strike with twenty minutes remaining. Coleman O'Driscoll netted the winner in the 101st minute.
Marlboro Trust 2 – 0  EMC– Turner's Cross – Friday, March 19th 2010
Marlboro Trust's long wait to win the only trophy which eluded them in what would be a season to remember with the acquisition of the treble, ended at Turner's Cross on a bitterly cold and wet evening against their close rivals EMC. Talisman and inspirational captain Joe Monaghan scored both goals, the first a neat finish from a Pat McSweeney downward header in the 31st The second a minute later followed neat footwork by Gonzalo Santos who beat two defenders to set up his fellow striker whose first shot was parried by Ken O'Mahony before making no mistake with the rebound. Referee Tony Murphy and his assistants Bertie Stark and John Quinn contributed hugely to keeping the contest flowing in the trying conditions.
Satellite Taxis 3 – 2  Doolan's Cow 2 – Turner's Cross – Sunday, November 26th 2017
Satellite Taxis deprived Doolan's Cow of becoming the first team to win five trophies in-a-row in all competitions when they triumphed for the first time. After a lively opening twenty minutes, Shane Hennessy released Breffni McCarthy who slid the ball past James Murphy to break the deadlock. After Tony O'Reilly poked home the equalizer in the 47th minute, McCarthy restored Satellite's lead seven minutes later. Incredibly, Stephen McCarthy's cross cum shot deceived Cian Hammond for 2-2 only for Taxis' sub-Michael Doody to head past Murphy from Shane Dorgan's cross in the 68th minute.