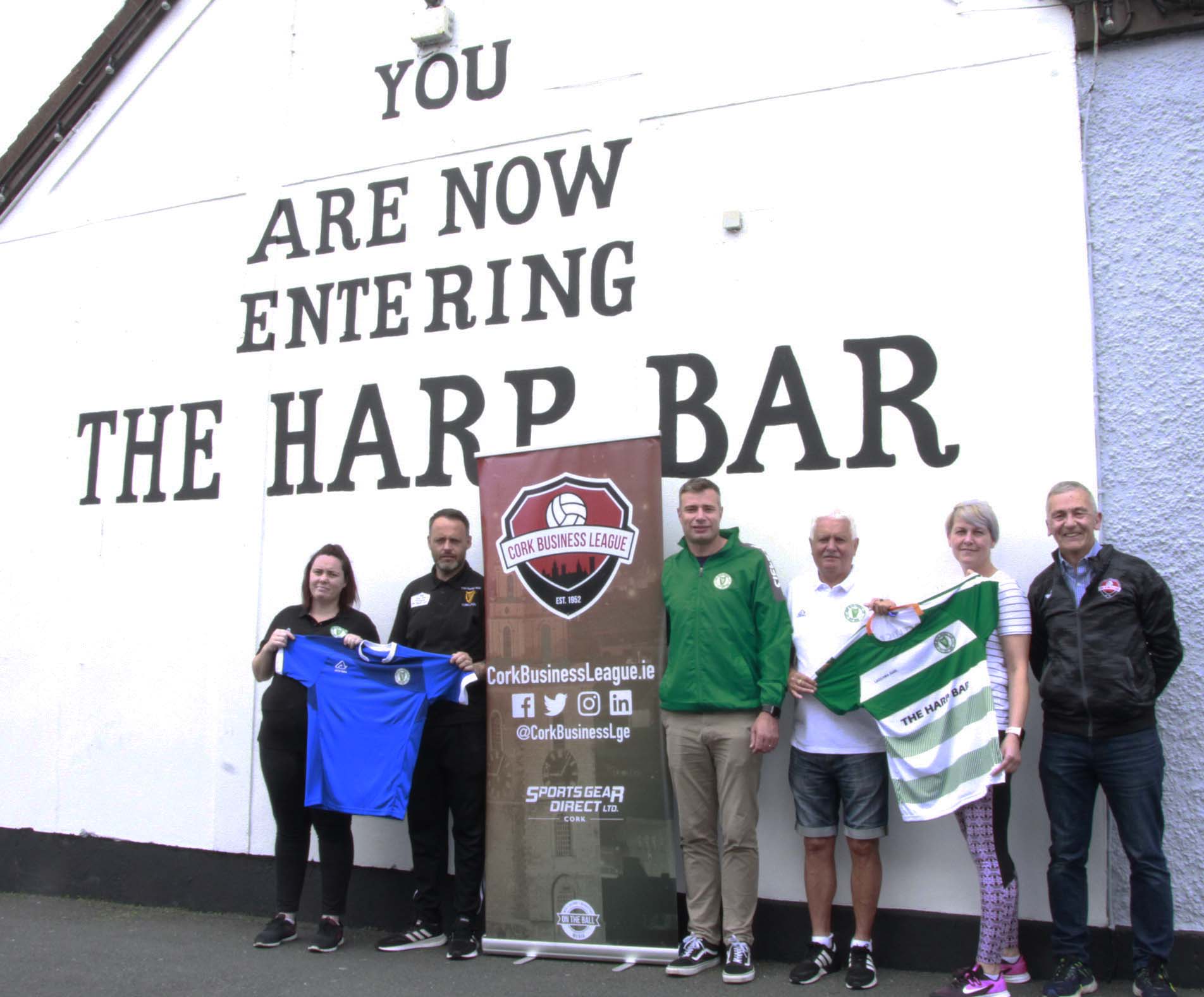 Harp Celtic Launch New Cork Business League Club for 2020/2021 Season
Today, Thursday 16th July 2020, Harp Celtic FC launched their new club for the 2020 / 2021 Cork Business League season.
Situated on the Pouladuff Road in Ballyphehane, Cork, run by Conor and Aine McLaughlin, the Harp Bar has a long tradition with Cork soccer and as big fans of Scottish Premiership champions Celtic, football is a big passion of the bar. However, joining the CBL came about by chance as last year, when refurbishing the premises, an old photo of Harp United of the Cork AUL was unearthed, which sparked the interest of current bar manager Danny Kiely. Danny has played with many clubs during his career, most notably Everton and Rockmount so was ready for a new challenge. As chairman of Harp Celtic his ambitions for the season are clear.
"Get promoted to the premier division and get to Turners Cross Stadium is our number 1 priority. We are not here just to fill up the numbers and be mediocre".
Manager of Harp Celtic, Dave O'Mahony is no stranger to the Business League or "shipping league" as it is historically known as. Having played with the all-conquering Youghal Yarns in the late 80s and early 90s, he won a record breaking 4 cups in the 1992  / 1993 season. Speaking today at the launch he mentioned his expectations for the season.
"Our hopes for our first season in the league is to reach the 'Cross (Turners Cross Stadium) and represent Ballyphehane in all the cups we can enter. We have savage support and I couldn't believe the amount of people that came to watch us in our first friendly game last weekend up in Mayfield. We do have a very talented, youthful side, but have signed a couple of experienced heads who will guide the young lads to success. Alot of our players are from around the area and have become friends over the years, often seen playing pool in the Harp Bar, so it will be great to bring them all together on the pitch to keep them fit and healthy.. and out of trouble".
Also in attendance at today's event was Jason Keegan, a decorated player, who aims to continue to add to his trophy cabinet with Harp Celtic.  Keegan previously won the Oscar Traynor Cup with Cork AUL, in the 2008-2009 season. With his own club Leeside, he has won 2 AOH Cups and remain the last team from Cork to win the Munster Junior Cup. Having him on the squad as a vocal and enthusiastic player will be a huge addition to O'Mahony's side.
Harp Celtic FC would like to thank the following people/sponsors for helping to get the club off the ground
Conor & Aine McLaughlin (Harp Bar)
Sean MacArdle (MacArdle's Bar, Monaghan)
Shane Knott (Teamwearworld)
O'Sullivans Life Pharmacy Ballyphehane
Click on each photo below to enlarge and download ?