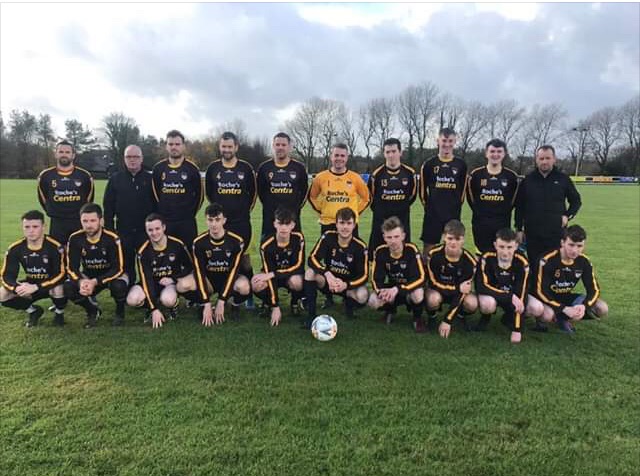 Get to Know the Teams! Doolans Cow & Lismore – MFA League Champions Trophy Quarter Final
? Finbarr Buckley (CBL) & Paddy Pollard (WWEC)
? Lismore AFC (Stephen Quinn)
Doolans Cow:
Doolan's Cow were formed in 2005 by Eamonn and Ciarán Murphy and entered the Cork Business & Shipping League in 2005/06 under the name of Island Tavern. The club won the O'Driscoll Premier Cup in 2008/09 beating Fermoy Nissan MCM in the final at Turner's Cross . A name change to its present one of Doolan's Cow brought a change in fortune and a first Mooney Cup Final appearance in 2012/13 where EMC ran out winners. The league and cup double was achieved in 2015/16 with the club's most memorable and successful season to date coming in 2016/17 with the acquisition of all four domestic trophies, equalling Youghal Yarns' feat of 1992/93.
The club won the championship for a third time last season and are on course to make it through to a fourth consecutive shield final. Denis O'Sullivan, Wayne Kavanagh and Robert Graham currently manage the team who play their home matches at Mayfield Community School (All-Weather).
Lismore:
Lismore AFC was founded in 1955 and is regarded as one of the oldest clubs in West Waterford. The Lismore club played in the Waterford league, but in the late 60's found the cost of travelling to Waterford every second weekend too much of a financial burden. Lismore organised a league in 1972 with four clubs involved, Lismore, Youghal, Stradbally and Modeligo and called the league the West Waterford East Cork League
Murphy's Brewery then sponsored the league for two years before The Red House in Lismore took up the Sponsorship, and the Red House League was born. In due course the league changed to its original name, West Waterford East Cork Junior League and the rest is history and a separate committee was elected from the clubs. Lismore won the league last year, playing 14 league games, winning 12 and drawing two. So far this season they have lost one of their five league games played.
Kick off in the MFA League Champions Quarter Final between Doolans Cow & Lismore is at 14:30 on Sunday afternoon in Mayfield Community School All-Weather pitch.