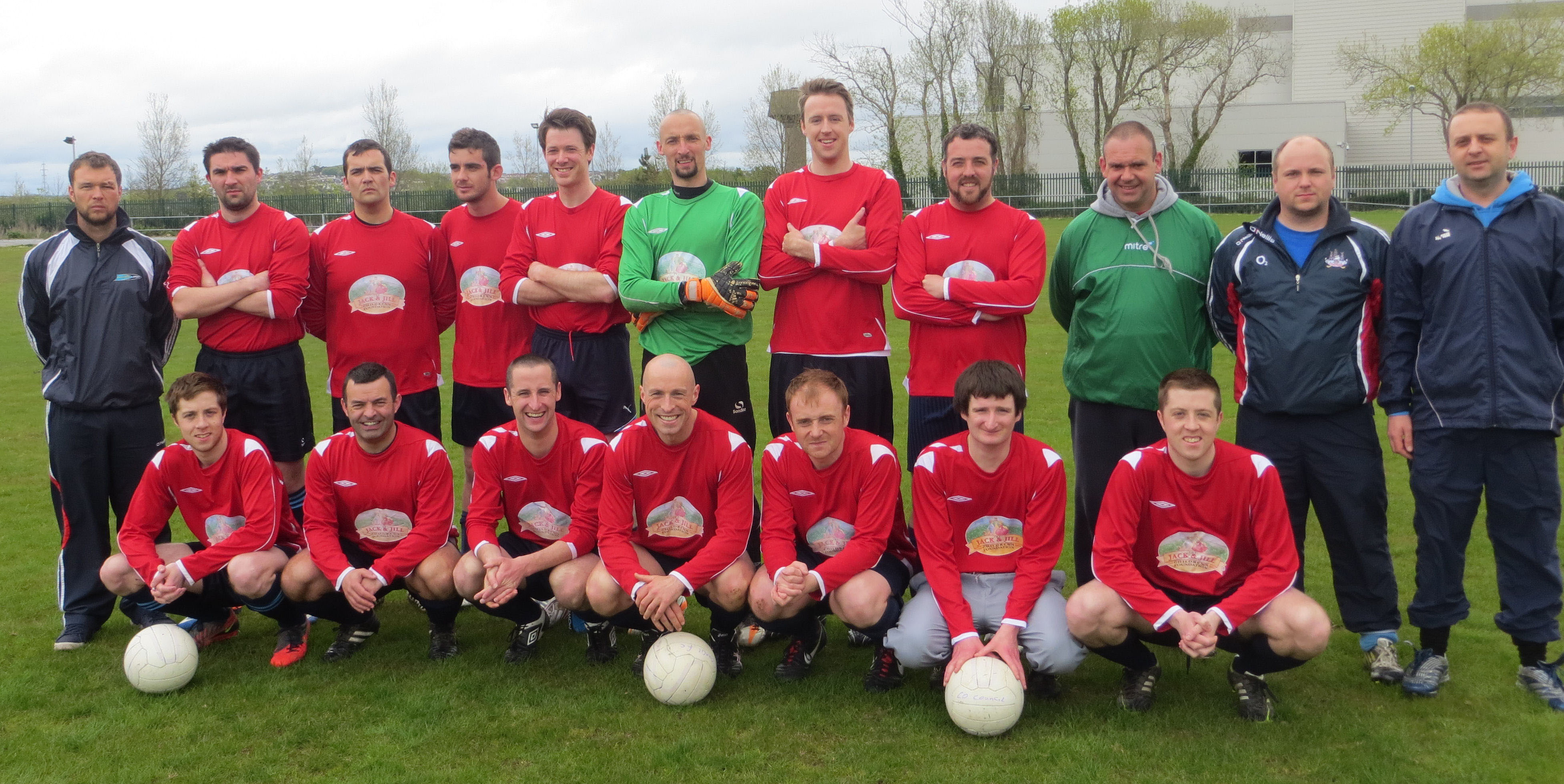 ?Special Report!? Cork County Council Dig Deep to Remain in CBL for 40 years!
✍? &? Finbarr Buckley
Co. Council (Frank Linehan First Division Cup finalists 2012/13):
L to R (Back): Tom Pittam, Tom Clery, Martin Curran, Alan RIng, James Cunningham, Michael Murphy, Noel Howley, Eric Moore, Ciaran Gallagher, John Buckley (assist. manager), Tony Byrd.(manager).

L to R (Front):  Fergus O'Connor, Pio Treacy, Richard Murphy, Paul Killeen (capt.), Shane Kennedy, Eoin Murphy, John O'Connor. 
---
Cork County Council the league's longest-serving club, celebrate forty years this season since joining with Examiner United on September 2nd 1980, writes Finbarr Buckley.
For the record the club submitted the following panel to registrar Jackie O'Driscoll : Sean Cooke, Pat Duggan, Christopher Murphy, Thomas Lonergan, Stephen Kearney, Paul O'Callaghan, Ger Power, Ger Cotter, Pat Bourke, James McCarthy, Vincent Walsh, John O'Rourke, Ger O'Callaghan, Val Cotter, Davy Hayes, Michael Rogers, Thomas Cooke, Michael and Edward Murphy, John Walsh, James Keegan, Brian McCutchean, Jerry Casey, Niall Kennifick, Brendan O'Neill, Fintan Beecher.
Following the withdrawal of Harringtons from shield section B, both clubs joined SHB, Bank of Ireland, AIB, Youghal Yarns B, Fords, Lunhams and CIE Athletic in the race to finish in the top two and join their counterparts from section A in the last four. Council began with a 4-1 defeat to SHB at St. Annie's Pk. on Saturday, September 27th before securing their first point a week later when Jerry Casey cancelled out Danny O'Leary's  first-half opener for Bank of Ireland at The Farm.
Despite scoring five goals in their remaining six shield fixtures, that elusive first win didn't arrive until February 22nd 1981 in the league at St. Anne's Pk. and avenged the earlier defeat in the shield with goals from recent additions Eric Scannell and Denis Buckley in a 2-1 win. Only two further wins accrued before the end of the season, both in the league, and despite early exits in both Mooney and O'Driscoll Cups, confidence was high going into 1981/82 with the signings of Noel Cooke, Arthur Moynihan and Declan Power.
Two wins out of four  in the shield over Youghal Yarns 'B' and Byrnes wasn't enough to progress but matters faired better in the league with only one defeat in ten, the highlight being the 7-1 triumph over Examiner Utd. at the Regional Pk. on Sunday, February 28th 1982. However, four defeats in the last six scuppered any hopes of promotion.
Council's third season, 1982/83, was again without major incident after four defeats in the shield and seven in the league. A run of four straight wins between January and March was achieved with a settled side but injuries to key players couldn't prevent first round defeats in both cups.
And on to 1983/84 beginning with heavy defeats to league champions Postal Workers and Irish Steel in the first two shield matches which were eclipsed  by an impressive league run which featured nine wins out of twelve and promotion to the second divisions behind champions ESB who won both contests between the teams, 3-2 in December and 2-1 in late February. A 2-1 win over Fords in the Mooney Cup was the shock of the first round but failure to beat Pfizer in the next round and only drawing with the same opposition in the group stages of the Linehan Cup would end another campaign without a trophy.
In the early years the club owed much to remain in football to the trojan efforts of current CBSL registrar Joe Murphy, Ger Power and Jerry Casey. The topsy turvey form would continue for the remainder of the decade and right up to 1993/94 with relegation along the way. However, qualification to the quarter-final of the shield for the first time and a second promotion to the second division, this time as champions, following a play-off against Gaelio, saw Council turn a corner that would lead to top-flight football within four seasons and a Mooney Cup Final appearance in 2004/05.
The successful title push of 1997/98 which led to a runners-up finish, began with a 2-2 draw with Garda Ath. at The Regional Pk. on Sunday, October  4th and ended with a 2-1 win over O'Driscoll's at the same venue in early May. Council won thirteen times in the league and only lost on three occasions, scoring seven against Hickeys, five against CSO Celtic and champions Roches Stores and four on three other occasions.
Despite losing their opener to champions Craig Gardner the following season wins over seasoned campaigners CIE Ath. (2-1) and Postal Workers (3-0) secured their top-flight status, and the campaign ended with a penalty-out defeat to eventual winners Naval Services in their Premier Cup semi-final.
The highlight of the club's next three seasons was the Premier Cup Final defeat to Cork Airport at Pfizer Pk. on May 27th 2002. After accounting for Cork Plastics and Roches Stores in the earlier rounds, the final itself produced no goals and went to penalties which went Airport's way, 4-3. Another final appearance was achieved in the Shipping League Cup, later to be re-named the Mooney Cup in 2007 in honour of the league's first secretary, following wins over Manpower Services, EMC, Tile King, LC Services, but ended in defeat to McSweeney's at the final hurdle at Turner's Cross on April 17th 2005.
Relegated followed in 2005/06 but under the guidance of former player Tony Byrd, the club made it through to another Linehan Cup Final appearance in 2012/13, this time losing out to O'Neill Electrical. Byrd's competitive team pushed newcomers Crookstown United all the way in the first division title race last season but had to settle for the runners-up spot and the compensation of a return to premier football which is a fitting reward for a model club deserving of every success in all competitions. The club always had an excellent working relationship with referees and the much respected 'Knight of the Whistle', Bertie Stark, on the occasions he was on the league panel, certainly enjoyed the banter he built up with former player and assistant manager Johnny Buckley. Both always put a smile in their game and thoroughly enjoyed their interaction on and off the field of play.
? Finbarr Buckley
L to R (Back) : Ger Power, Brendan Pentony, Mark Ryan, Cormac O'Neill, Tony Byrd, Michael Tierney, Brendan Power.
L to R (Front): Derek Hooley, Paul Sutton, Robert Falvey (capt.) Joe Murphy, Mark Hooley