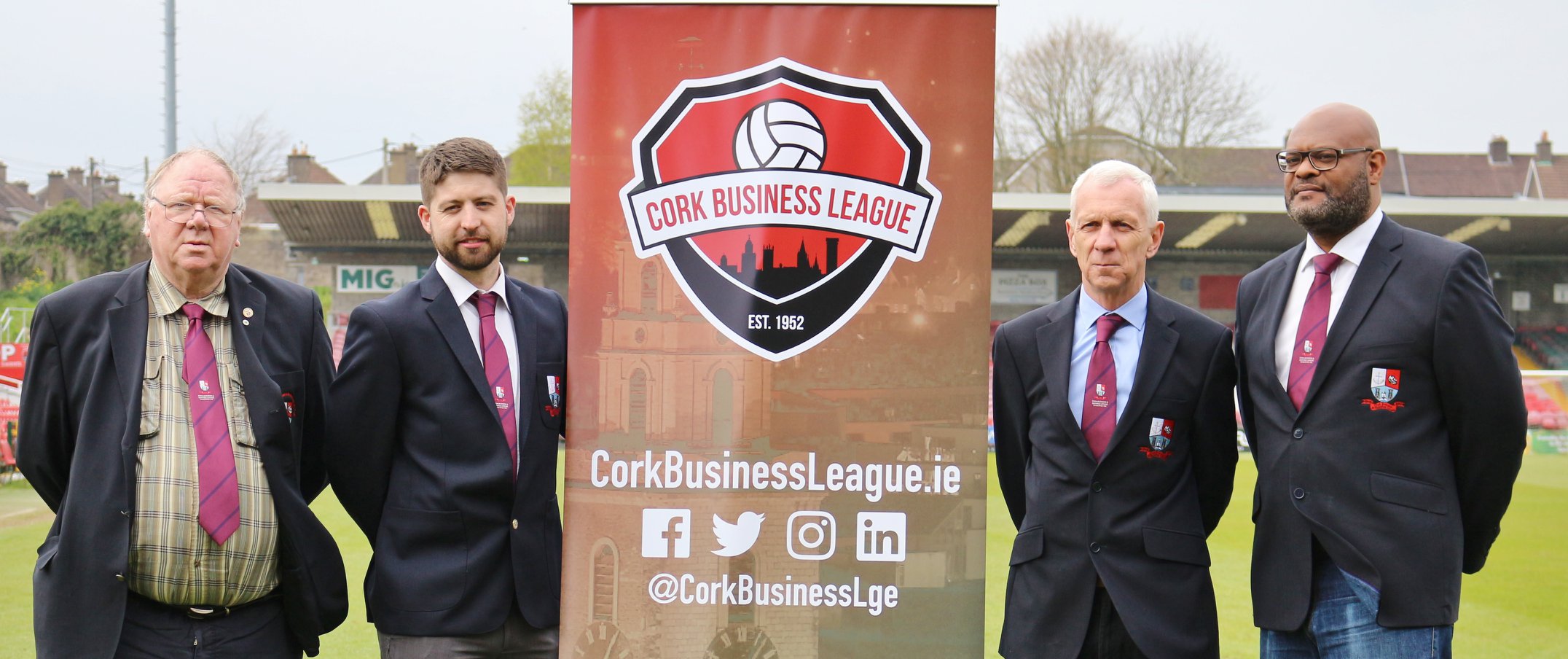 Cow & UCC Continue Impressive Cup Runs! Cork Business League Weekend Round Up
✍?Finbarr Buckley
New Balance FAI Junior Cup – Third Round
Glen Celtic 2 – 3 Doolan's Cow
FOR the second weekend in-a-row Doolan's Cow grabbed the headlines and raised their growing reputation in junior cup football with another impressive win, this time over fancied AUL Premier A promotion-chasing opponents Glen Celtic at Glen Pk. last Saturday afternoon, writes Finbarr Buckley.
Doolan's' Stephen McCarthy threaded a pass through to Aaron Hennessy who set up James Cotter for a 15th-minute opener from close range. The lead was wiped out on the half-hour by John Corcoran whose blistering strike from distance rattled the back of James Murphy's net. Darren Geraghty picked out Hennessy who split the defence to set up an easy finish for Liam Horgan before a Horgan header stretched the visitors lead to 3-1 on the hour. The best the hosts could muster to save the tie was an 80th-minute penalty from Corcoran but there was no way the Stephen O'Leary, Sean O'Sullivan and Ian McCarthy inspired visitors were going to be denied another notable victory.
https://www.facebook.com/permalink.php?story_fbid=3364448866913784&id=1102617276430299&__xts__[0]=68.ARANy1zYdv3MbSSCcjigDiZFyGyH1rB6GopTfThKYz0ZvlKvBwsMksROaZiyMp0GMYSt9QkwcpWavx0Xo5paV5VFEkyxVd7kbNn8hwcVm6X95xQjRLQP4RG1BehLyS2TZ7qA-RABEhYHT4YwPHYrELilGHEbp_Wp5X5noQ3R7ih1rLipnMw6LBL6aHKkXArWGx8_K5Iei9agTSSxq5VP-QQbN_Dgis3rBcjGvLxhFqp3lH6nP1LcALO3POBOoOMuI4N12OOBXT0ljSVJLDSqGgJpdA5gwnjLrGO0XaLxJOtlwY2TioUeDpeEztRChirY8ChOOp6xNazmQDFXpnNslyMr&__xts__[1]=68.ARBufySO2o5LNDErVBWeeUbWq_nxL2LJweTlyrt2fCL3MOqSPvRSE2xlJMiX00nzM6eL9XDGYC37WVSIzXWH7AvPTRmlit0_vE3d0tG_25daAV3wMMB1JWgpkNUv-1R9korPxizLWgqIYMAmBHCm0YaHdLIjqqbJ8NfN6DlUQquePoJf31c4j-zTj_6pLC4hBYDMRUTKk43bPefdxMu9MUUI_SBH5afHGIrhKar6WmoQ74wx6b3InNDv_lmcpqHoiRHr7LwY_ntRZdkfhLW5J_Mh1dYAka3-gfOanHkKf9cyxbMAFbAfOht5KEiQqKoo5v6GggSTEZmnuKaNqT9aBut7&__tn__=-R
UCC United 3 – 2 Blackpool Celtic
UCC turned around a two-nil half-time deficit to join Doolan's in the fourth round draw following an equally impressive best of five goal contest with AUL opponents Blackpool Celtic at The Farm. A well-worked corner routine resulted in Colm Coveney giving the visitors the lead with the second, a brilliant strike from fully twenty-five yards from Joe Kinsella, coming against the run of play as good goalkeeping and poor finishing denied United an equalizer. UCC's early second-half pressure was rewarded when Eric Montgomery converted a penalty after Ali Ahmidat was taken down. The tie was up for grabs when Admidat slotted into the bottom corner for 2-2 with twenty minutes remaining and in the final minute, as both teams pressed for the winner,  Ahmidat's miss-hit shot deceived the keeper to put the seal on a memorable comeback. Ahmidat, Gokan Dumlupinar and Joe Normyle were outstanding for the winners.
Munster Junior Cup – First Round
Avondale United 7 – 2 Colso Celtic
Colso Celtic had a massive task at hand last Sunday to overcome MJL First Division side Avondale in the Munster Junior Cup. We always recommend our clubs to enter these national competitions to get a feel of what football is like outside of our league. But, Avondale did give Colso a lesson in finishing but credit is due to James Corcoran's young charges who never stopped running and pulled two back through Corcoran himself and Alex Cummins. Niall Brennan (2), James Claffrey, Greg Murphy (pen.), Kevin O'Regan, Kevin McSweeney and Pablo Gomez netted for United. Olan Bermingham, David Murray and Craig Murphy shone for Celtic.
https://www.facebook.com/colsocelticfc/posts/714334379080215?__xts__[0]=68.ARCh_uYE_VE4LyTLxFRVzJi9ZJq3yu69ERoVyH7NZjzrMCw0grAFWz1MRT4vyHnlfOUAwXLtBowmMvdf0QfoNGLimjKnFoEZuG0nf8RFlLJ9VD3nxul5macQQq5-f-c7p2fPOB2My9AD4FYQJjx_VZ75KFRAOxf4SEunQvclFnyuc6oLDaS9C5MXLU2pS5kH10UTdbIGw7d5KlAbC79T7K9Mv1EnxKaQdNCYo0IU-Yaj_Zyp-7XJWz66tl5h92r1OyUt8lKjwoSxtfg1gE7WVQhMj3CrTBfJUSOJK4zaPpnkt-HbySf3LLZEG0bolMXLVSK9HM0d9hJgNgEfnTw&__xts__[1]=68.ARBTKVQvUoS–sfhg7_khV4WQydzS7BnfceAuk-ZfKRhaVlzIAT2SihLbnrNoKd63MRi97XKdgs7hsVfmIovDBntXq9j0D_HlcSxqINvzNc8Ktc82Lo1973DNZ0_M3jT_3F3q4cUTF-ikCE9mgq4hlqjRDhPULdpO6JyD0VNAZPyADc6zXi76u5WMSaGDbvhyuk4CneWuV-NDNuJT38IW_CBZyS0ZFbmHCRJn2bgFu2eBjeNe3nSG5FDXsw4BWt9Oe2M6MXkzZM293tVB2z4jOWSQ2C6UaAEF9ngJw1a-JY7ZQazyyImT7ttuMwndtui0APo5JXUh6bO5sgRSXo&__tn__=-R
Sports Gear Direct First Division
Planet Entertainment (Cork ) 1 – 1  Janssen
Both teams were without a number of regulars and at the end of the 90, a point apiece was a deserved outcome. After a bright opening from Planet, a slip-up at the back allowed Jamie 'Big' Burns in for the lead for Janssen with Joe Cullagh's cross-cum-shot ending up in the back of the net for the equalizer before half-time.
https://www.facebook.com/planetcorkfc/posts/971221769930527?__xts__[0]=68.ARAhSqlDKJg4_4SMbOznBKUMqw3ox7NVFQlL-9duWbigTus8_BPu0j9ZD_INVFIdMUmncWPfZNXUdl7FCTnT6mq_hY8I2x4in2fu25cFBwpkAxWnxQHb-5pyaLPdEoDxLAIPemn-tfdEUGdjHCmcOyrc103hV9Szw6PCSEMiDG5Cbnr_IRA36VRw0haBhg1X55r7i4id5QTFuvvlAm0Vnu_dvsGBpI7xZmTkV8QmlqnjHoiYPYDb5NZDnwRCf6HIIfSZmlIkNSCmM7eYRcvqU6DzTMc76puzbTiOcaaDGESZTMp828BqocZJlC_6QwdmU1bpILr7mGKOPFur2J8&__xts__[1]=68.ARA1LbCtdQzmZJdoBoyAHwVHEHuF-qEg0l_pCwesglEq93qtiMWCGf7om07SXI2CAHx3l0bbHir8NPKDDWYm8Gdu_j8Us9d11HJaG8cwS45cBALA_Cohd2m1GommcI6vgyUe7WbqgF_hOi-LY8wkxRAixu9qpUwNDzpRgKteTLZmx0GFalAawuDOG34x6nt0Q8vZFfD-bdIcHZiqR3FQaozxIRaPhHChib5SOXaJSvG4akX8aOmN3Yo6uyMUtD_Pp6ViwczrTERS9pSnh5JY04n_s7FHXCVEnwR7Q0WD-4UsEbQs84G2HG6rRmZ750av-dHrQjNgyol4II-CM2Q&__tn__=-R
Pepsico 9 – 3 Martin Harvey Solicitors
In the highest-scoring match played last weekend, Pepsico made it two out of two to go top with goals from Brian Gunning, Alan Walsh, Ian Leary and Dave Sweeney, all two apiece, with an own goal completing the scoring. Stephen Colgan, Alan Walsh and Kieran Buckley were on target for the visitors.
CPL 3  – 2 The Weigh Inn Dripsey
CPL bounced back from their recent reverse to Abtran to claim a first home league win. Gearóid Collins and Cian Higgins combined for Afonso Gaspar to lob the opener for CPL with Alan Nugent making the break for Steven Cronin to make it two-nil with an excellent finish. Gaspar showed deft feet to release Ashley Todd for a third before the break but a spirited late rally produced goals from sub Dave Harrington. Higgins and Michael O'Connor caught the eye for the home side with Harrington and Daniel O'Driscoll the pick for Dripsey.
https://www.facebook.com/permalink.php?story_fbid=138309817551127&id=105973200784789&__xts__[0]=68.ARDrbZWdJ2ZUKxn6wpMYQDm8RC2sR30fWdoC8tgPCgRsD-5lFa4Ogxbx0v-ZI4MYGL1RAmXloz6_-RIR3W6oONC-NB4wzelmXNFecNLiEs_o-yAZIMh7onh7pv-DkpvaOQ9_qOiIzyc88MgtzKLOzAm2GdqejsRfx5WeMqMV3FD1FTj1U87ah2jOY2noPqR2M86Tj9glaOpFIHpAdql1hnp326bxQpze1IzS-DMCrs3BXnPA62BFq5uUCrooB1zNAvdsBACoimsuoz2M_vR2J3Y6S48ByXLaosIx5FfsYi9q0SCjSXTyZbV8a9sEY-d4X8sAElSIGHSiiZLIVPw&__xts__[1]=68.ARB_9voVZdufbAUpNtuA-7RttHohvExoeN9ads2vwbnGJ7umTaGiW4jYCV99_T0GjV_lhtij85R7wTwN-cs910RheYSTkuJu9N82Wyb6-_iK5NVpjztQAOxsGMNlHcW72SLkXOMr7-jZBsJJaOd9rWHM2g8BCVkcvlGn9aAlD2ti_7wHqQbmslNY6dBB2_1-xn69csm3tJu2XwXecH_40JU3igEMtQIGJczH4jDp3q-NsPYlNmKlCyLpn1yjnErKxO2EPqKqLI2nSFzCG6D-z9xSSQAlCgu1kMuhIQ7_muD1z2kqNJSebVJZSiJc67OhXpVSeMQGXBxnvci98Gs&__tn__=-R
Sports Gear Direct Premier Division
Satellite Taxis 5 – 0 Healy O'Connor Solicitors
Satellite never had to get out of first gear to take all three points against a Healy's eleven who have yet to find their best form. Aaron West, Shane Doody, Emmet O'Neill, Red Geaney and Brian Wyse registered the goals for Satellite. Goalkeeper Breifne Kent made a number fine saves for Healy's who had started well but faded in the second 45.
https://www.facebook.com/permalink.php?story_fbid=2459151037707616&id=1639598816329513&__xts__[0]=68.ARC_brIVnhkudF_dFwueKU12Vtdgo6rQzK8r5KW3oZ5BOAqWmPG8WHnhyKfxh22p3PDJVXUpzWoTZW4MRzDKD704g7xlAvDDKrnBYb2pzvVzksQmnQgCpD1c3ftTIsbTcMmSi06fQYaJ47xc5UuVV1xEkN3kLUkxcJUD9KmcLCqMunyGRVUTHqzVqKPbMAxBEdGggoY7__bGWrAaC698h8pjGuwyGP_yVxIgymWGPim-u67nQbKoCqSvxBpNZ9hXSNjPncW9KPAvOOZJ8R5CcBg74ciAqZpsT8MvKr0kWnZkve16nNKabOkYLRo37sKthv00EGT5MXetrUNxBTp-Ci71&__xts__[1]=68.ARAeLiVCsN0_SEgczqtVbhUwonMyurKTQtCb_bZZUqKzlOFEMKlDLm_9d0KORBSeBGuDX2Y9azJGE-uchOSdn1dSORJH6vmhA3hYq6hfc3V_l7MBs9IqfwLjjV8GqytLuQmSa3_zeyfQtPYfRnTi-rxtwzQrP3YNuG7e2lEneUMO8FJe5D2ivYRWFLdvDfetzOQ0X044hrQLGSqhpyLRqj3iKaFrI36SRRufepLQMSO1kirm3bxofq0bCev10FbkbI2IiKgWV08pzZv-oVp38YKHOM9RepYTIo5k7pdzgmBiU3xXox8UPRU7ROYJ9wip4-PYZ4eFGe9MTc3Y2NiWZ4j2&__tn__=-R
SCS Crookstown Utd. 6 – 2 Marlboro Trust
Last season's double first division league and cup winners opened their premier account with a four-goal win over Trust. Goals from Dave O'Halloran, a superb free-kick on forty minutes, and another from Kevin Barrett put Crookstown two up at half-time and the situation got worse for the visitors fifteen minutes into the second 45 when O'Halloran got on the end of a long clearance from his own keeper to make it three-nil. Colm Crowley put through his own net to give Trust a foothold but the same player made ample amends by driving forward to add a fourth in the 70th minute. Kevin O'Sullivan reduced the deficit from a penalty but further goals from Aidan Deasy and Declan Ambrose put a big smile on manager Tim Irwin's face after a frustrating shield campaign which was now well forgotten with the response he got from his team. Ambrose, Padraig Hinchion, Liam O'Sullivan, Charles Kenneally and Mark Dromey put in notable performances for the winners.
https://www.facebook.com/crookstownunitedfc/posts/758417044605657?__xts__[0]=68.ARBhhIb-VPzVlEnC_yP3OMtL5kQzWH2J3-KxCmdfAIAsRuDsQ4O_WwNS09nZuCkNrNX7wVoIpZ1pMkgcJ5NxChQjxt5LjRdqzt6fwLHZsgsBlYAxioDZZCh16vQFlSlg_6bE5MF0LqjjSkOqzJGDlc0UQqTXb90J7ZZoJikbRkcXUd0oHvcBXMkNqjJmvfNt-q30v1b9lM9su6KOKGlTl0QIimYkqmCMoK-x5tTZ-ahuuEfBMDDaW4QQHoOhhI5GTvv3b8jq-EemwgKsIuFzzY7-JazKG3tithDFwO5MlN18sWvItDQitOOHQ9wsPFvAzq2MsuKqEAxIEtWPezw&__xts__[1]=68.ARC5RwSsiCxOEHKfQgSR8cBDsmgMcemgvjD-vOXdP6bI7yYN3Hqh-VlLUMvmUVlAH7fsgATgWApdkCHr-UJixuHqZB2W1F-ZZJ9gAB9UcUx35LqRDMy3b0Vvc8y5bUwq0-mtc7kVTa5jH8x_e3B9e6xvbbrF7_H9zwhco6CbHeXwDuCeI92C4jGOOdWhlFkGEtn1zedA99pL1MbFvps5krFD5ofO2m8kUFi_IhgRXkkW9_AwetvXYC-wNdOOr9YiIPQT1q8VtgKNZNVw–8dY0hQU57Mdgpe6l0Bo6Kt9-E8lu_H9kCT8ozFt88IQW5iqxAojbNTRwG3O-jWuwI&__tn__=-R
County Council 5 – 2  OBS
Council, celebrating their 40th season in the league,  displayed all their experience in top-flight football to inflict a second defeat on OBS. Both teams created numerous opportunities before Grzegorz Sienicki got Council off the mark. After Shane Creech equalized before the end of the opening 45, Council's Robert Susek grabbed the game by the scruff of the neck to first, win a penalty which John Buckley converted, and then score twice himself in quick succession. Nyall O'Brian pulled a second back for the visitors but the contest was put out of reach by Jordan Hughes who added a fifth after Susek had been denied a hat-trick from a penalty.
FOOT-NOTE: There are no fixtures due to teams requesting a free weekend.