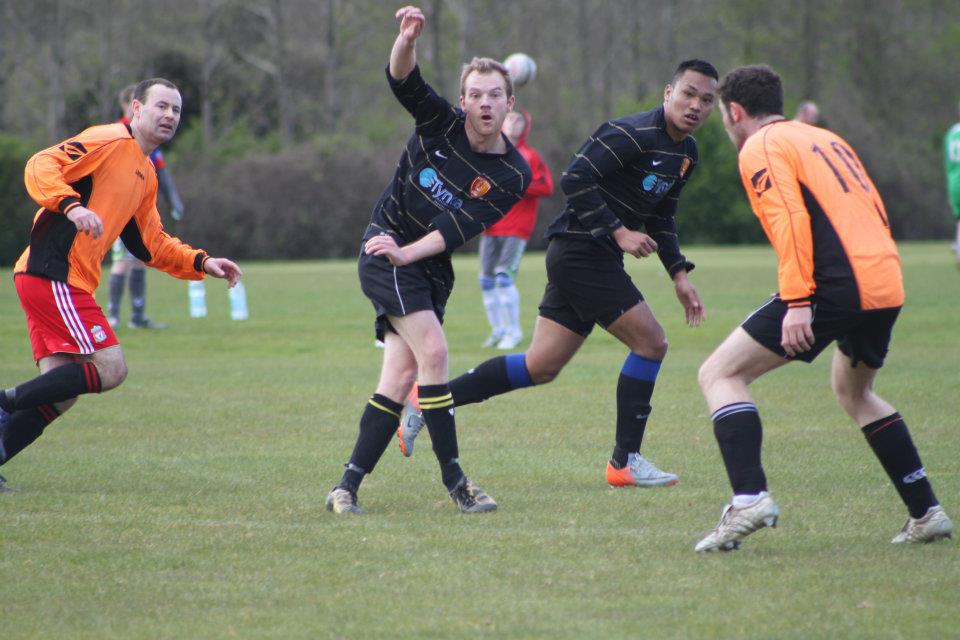 ?️Special Report: Goals to Flow on Opening Weekend of Shield!?️
✍? Finbarr Buckley
? Ian Matthews & Shyam Malla Thakuri of UCC United playing against Premier Auto Parts in April 2012. 7 years later, will they both return to play for the college in the 2019 CBL Shield?
The 68th Cork Business League season kicks-off this weekend with a full fixture in round one of matches in the CBL Shield competition, writes Finbarr Buckley. The competition has a rich tradition of producing high scores on opening day stretching right back forty years to the late seventies when the three scheduled matches produced fourteen goals.
Postal United hit Quigley's for four at Blackpool Park while across the Lee at the Showgrounds, holders Fords 'A' emerged 3-1 winners over True Temper who would later in the season be crowned Second Division champions for the first time.1976 and 1977 winners Youghal Yarns 'A' enjoyed a comfortable 4-1 win over Garda at Killacloyne in the third fixture played on Sunday, September 2nd 1979.
Ten years later the league had grown to accommodate over thirty teams and an extra division and required ten fixtures to get the season up and running on the weekend of September 2/3rd 1989. Bank of Ireland were the highest scorers when they took on Southern Health Board at Pfizers Pk. Two goals each from Ted Cronin, Danny O'Leary and Finbarr Lyons and one from John Vaughan sealed a seven-nil win for the winners. Roches Stores were also in fine scoring form when they dismantled Cork Examiner 6-1 at Hillington Pk. After Noel McCarthy opened the scoring for the hosts on the half-hour, Roches ran in five second-half goals from Anthony O'Reilly (3), Don Sheehan and the late Rory O'Shea with veteran Pat O'Callaghan scoring what proved only a consolation for Examiner.
Six time winners CIE Ath. displayed their vast range of talents with an impressive win against True Temper at Newcastle. Tony O'Leary scored either side of half-time with Mark Doyle and John Maloney also among the goals. Seamus Walsh netted for the visitors midways through the second-half. Performance of that weekend must have surely belonged to newcomers Centra who defeated fancied Irish Steel 4-1 on their home turf of Ringaskiddy. Joe Kenny had the honour of scoring his first goal for the visitors from the penalty-spot before further first-half goals from Derek Forde and Joe Murphy practically wrapped up the tie for Centra by the half-hour mark. In the second 45, Steel's Jim Murphy reduced the deficit only for his opponent of the same surname, Joe, to added a fourth to wrap up an impressive away win. Other results included : Pfizers 0; Aer Lingus 2, Hickeys 2; Youghal Yarns 1, Ridge Tools 5; Civil Defence 0, Penn 1; Concurrent Computers 5, WF Rational 1; Naval Services 1 and AIB 5; CIE Utd. 2 ,bringing the total amount of goals scored on opening day to a staggering 49.
By the end of the nineties a clatter of new teams had come to the fore and set out with high expectations on the weekend of August 28th/29th 1999. Once again the thirteen matches produced a healthy 59 goals on another goal fest opening chapter to the shield campaign .Six fixtures were decided by penalty shoot-outs with the CIE Ath./ Spring grove tie at the ESB Grounds going to sudden death before Athletic emerged 6-5 winners. Wilton Centre were the day's highest scorers when they met Janssen at The Farm, scoring seven and conceding one. McSweeney's Bacon hit CIE Utd. for five along with Sifco against Co. Council while Naval Services were the next highest after they scored four against RCI at Haulbowline.
By the end of August 2009, a new season and another new decade heralded another glut of goals of goals setting a record 51 in just seven fixtures. In the Saturday afternoon fixture, premier champions EMC had little difficulty in beating UCC at EMC Pk. courtesy of a Kieran Hegarty hat-trick and one each from Jer Lotty and Tom Herdman. The match between O'Driscoll Cup holders Island Tavern, who later changed their name to Doolan's Cow, and Cash's Export at Pigeon Hill produced eight goals with Tavern bagging five from Steven Kearney (2), James Carroll, TJ Bulman and Patrick Murphy. Goals from Paul Quirke and Shane Healy had given Cash's a two-nil lead before Colin Younan gave the visitors a fighting chance at 3-4. County Council and The Groves finished their ninety minutes all square at two apiece after Council's Pio Treacy and opposite number Anthony Goulding exchanged first-half goals and Frank Fitzgerald and Kieran Wolfe did likewise in the second 45. Alan Costello's fine save in the shoot-out for Council set up Ronan O'Sullivan to convert the fifth and decisive winning spot-kick.
Cork Airport ran in eight against Iron Mountain who must have had reservations after conceding four to Steven Notley, Michael O'Connor, Conor Murray and Craig Shields. Airport's marksmen included Stuart Howard and Daniel McAteer who both scored twice apiece along with Aidan Lombard, Michael Brennan, player-manager Allan Murphy and an own goal. Tile King and Deady Security both scored seven with reply against RCI and Super Valu respectfully while the Premier Autoparts and QC Data clash at Ballyvolane Pk. finished 5-3 to the visitors. Data burst into a three-nil lead on the half hour through Ed Heffernan, Dan Kelleher and Brian O'Donnell. However, Autoparts weren't going to leave their first outing on their home turf go without a fight-back and responded magnificently to pull level at the break through Xavi Matynia (2) and John O'Donovan. But, that was as good as it was going to get for the debutants who conceded twice in the second 45 to O'Donnell and Mark O'Callaghan.
FOOT-NOTE : Sincere condolences are extended to the family, extended family and friends of former Fords' striker of the late 60's and 70's, John Good. Ar Dheis Dé go raibh a anam !