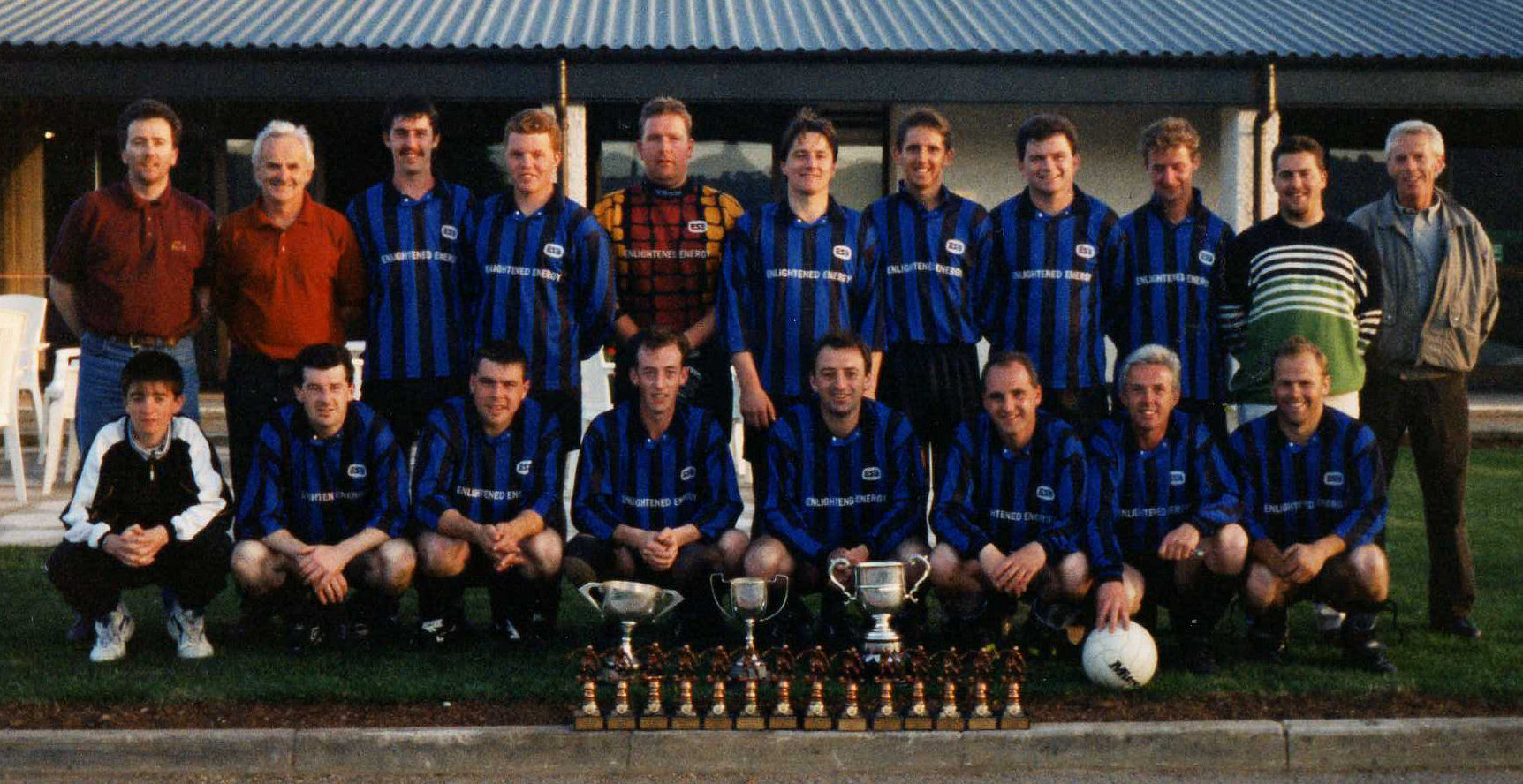 ⚡#ThrowbackThursday ESB were Fully Charged to Win Title for the First Time!⚡
✍? Finbarr Buckley
? ESB (First Division & O'Driscoll Cup Winners 1996/97):
⚡L to R (Back): Des Lougheed, Dave Maloney, Keith Lynch, Paul Hurley, Liam O'Rourke, Brian McCarthy, Jim McSweeney, Don Maher, Sean McCarthy, Ross Lynch, Dan Lucey.⚡
⚡L to  R (Front): Stephen Tyrell, Donie O'Riordan, Martin Lynch, Frank Murphy (capt.), Tom Tyrell, Donal O'Connor, Noel Lucey, Ger Whelan.⚡
ESB enjoyed a twenty-year tenure in the Cork Business League since joining in the early eighties. Formed by Tim O'Leary, Peter Warner and Dan O'Shea in the company's former Patrick Street Office, the Board  did have another life back in the sixties and enjoyed notable success in the Inter-House League as  ESB Marina, but it wasn't until the second coming that the club regained the trophy success of their predecessors, culminating in the championship winning campaign of 1996/97.
A marker was set in 1990/91 with a Fred Hickey First Division title and Linehan Cup triumph over Centra. The Curraheen Road outfit followed up their early successes by narrowly losing out, 1-0, to Liebert in the 1993/94 Mooney Cup Final as well as losing out to Aer Lingus in the shield final earlier in the same season.  The run to the cup final included victories over Roches Stores, (5-4 in a replay after a 1-1 draw  at Hillington Pk.in which Noel Lucey tucked away Robbie Allen's free-kick in the first minute), Pfizers (2-0), AIB (5-2) and Aer Lingus (1-0).The nine-goal first round extra-time win over Roches at the ESB Grounds couldn't have been more dramatic as the hosts found themselves 3-1 down with  only four minutes remaining.  Noel Lucey netted twice from the penalty-spot to take the tie extra-time leaving the Board to score twice more and seal the tie.
Many of the Board's panel would go on to play in the championship triumph three seasons later. Goalkeeper Liam O'Rourke was thought at the time to be of a dying breed due to his staunch support of Liverpool. Brian McCarthy was a strong, reliable full-back, bought from Youghal Yarns' quadruple winning team of 1992/93.Ger Whelan was a popular delegate and sweeper who had previously played for Albert Rovers. The evergreen Noel Lucey was unlucky to miss the cup final due to picking up an injury in the week leading up to the decider. Strong centre-back Don Maher would go on to be an inspiration in the title winning season while Frank Murphy and 'Billy's Boots', Tom Tyrell would supply the goals up front. Na Piarsaigh senior hurler and footballer Martin Lynch continued his flow of vital goals in the run-in to the title.
Postal Workers' dominance of the eighties had been replaced by Cork Examiner's double title triumph of 1990/91 & 1991/92. In the following seasons Youghal Yarns, Aer Lingus, AIB and Smurfits landed the top prize, but Workers remained the team to beat all the time.
ESB began 1996/97 with a comprehensive victory over Cork Plastics in the shield at the ESB Grounds,  on August 25th. CIE Utd. were put to the sword ,four-nil ,at Hillington Pk. a week later, before a 3-1 win over Naval Services on September 7TH guaranteed a quarter-final encounter with AIB.
A tricky assignment away to Naval Services at Haulbowline opened the league campaign on Sept. 14TH. Despite going two behind early on, goals from captain Frank Murphy and Tom Tyrrell ensured a share of the spoils in a courageous second-half fight-back.  A one-nil win over Garda Utd. was followed by a 3-2 victory over Postal at Rochestown College. AIB's Liam Tobin, Liam Shine and Billy Mulcahy scored the decisive goals in the shield quarter-final when the sides met, with Frank Murphy and Keith Lynch replying for ESB.
It was back to league action the following week with Jimmy McCarthy, Martin Lynch and Frank Murphy scoring in a three-nil win over Aer Lingus at Alsaa Pk. The league leaders suffered their first defeat in five on November 3rd, going down to Garda by the odd goal in five at Sportsco. Sean Stack, Mick Comyns and Ritchie Davis were among the goals for the winners, with Frank Murphy and  Martin Lynch's  65th minute penalty providing ESB's response.
Draws with CIE Ath. (3-3) and Apple Computers (0-0) were sandwiched in between victories over CIE Utd. (2-0), champions Smurfits (2-1), Roches Stores (5-0), and AIB (4-1). Roches Stores ended hopes of advancement in the Mooney Cup , when goals from John O'Neill and  Fergal Ryan cancelled out an early Martin Lynch strike in round two. Postal kept in touch, winning two-one on February 9th to make it a three horse race for the title with Naval Services. However, the ship was steadied a week later when goals from Tom Tyrrell (3), brother Gareth, Ross Lynch and player- of the season Don Maher overcame CIE Ath. at the Greyhound Track. A purple patch of wins followed against CIE Utd. (5-1), Garda Utd. (4-0), Aer Lingus (4-1), AIB (5-2, Roches Stores (5-1), before the decisive one-nil win over Smurfits at Smurfit Pk. on April 26TH, Sean McCarthy scoring , set up a 2-0 win over CIE Utd. which secured the coveted Brendan O'Herlihy's Solicitors First Division championship for the first time.
The season continued with the Taxi Co-op O'Driscoll First Division Cup with wins over CIE Utd. (3-0), Smurfits (1-0 aet.) and a final triumph over shield winners Aer Lingus (1-0) at Pfizer Pk. on Wednesday, May 28th 1997. It was a fitting conclusion to the season in which inspirational captain Frank Murphy should be the one to score the all-important winner.
⚡ESB's record reads: P 29 W 22 D 3 L 4 F 87 A 28⚡