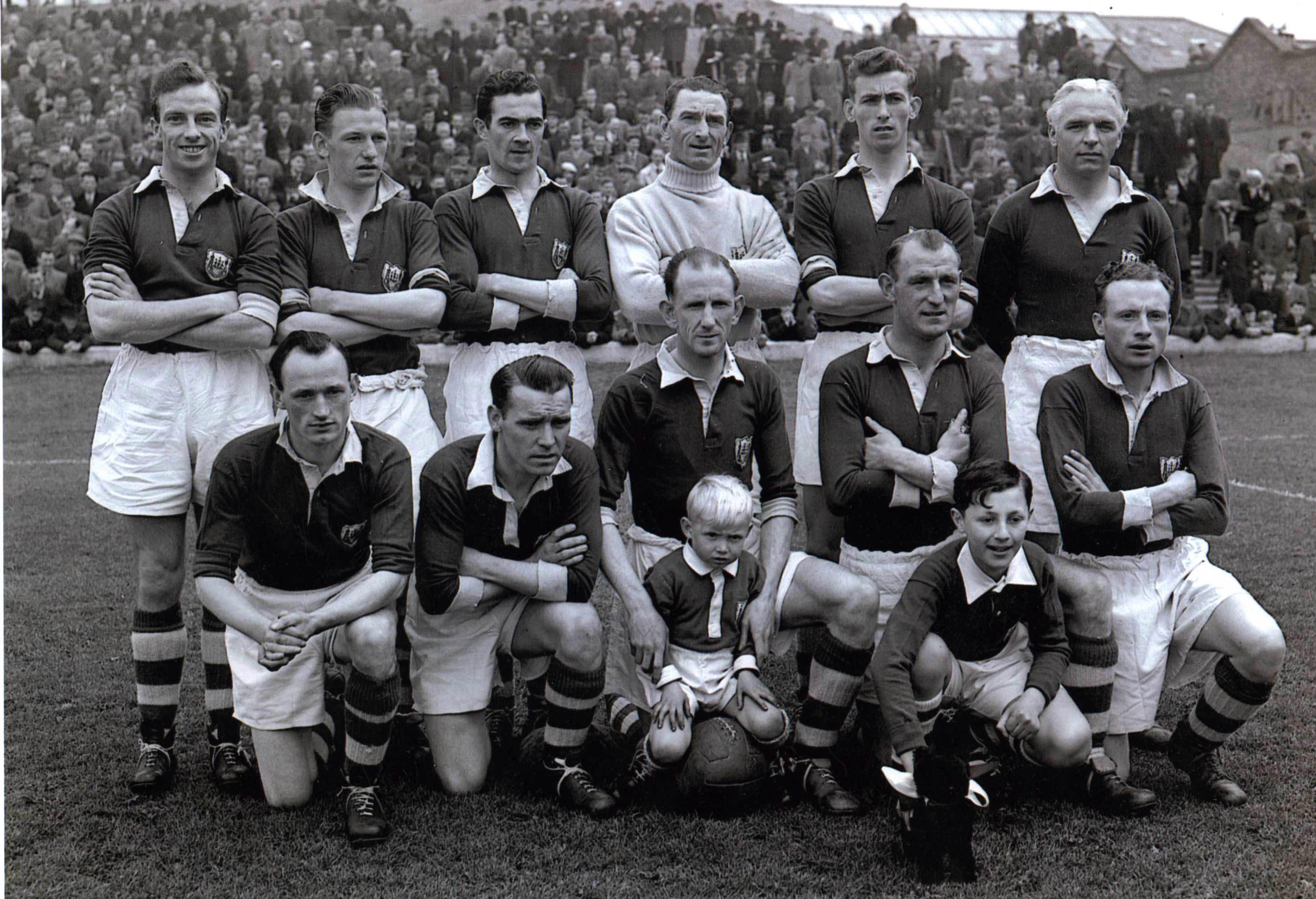 ✍?"Cork Clubs Played Their Part in Golden Age of Irish Soccer!" – Cork Soccer Nostalgia Piece ✍?
✍? Finbarr Buckley, first appeared in today's edition of The Echo
? Cork Athletic (FAI Cup Winners 1952/53)
L to R (Back): Georgie McGrath, Johnny Moloney, Paddy O'Callaghan, Ned Courtney, Murty Broderick, Raich Carter.
L to R (Front): Willie Cotter, 'Small' Seanie McCarthy, Davie Noonan (capt.), Paddy O'Leary, Johnny Vaughan.
CORK CITY'S intense rivalry with Dundalk over the last five years has seen a renaissance in League of Ireland soccer not seen since the heady days of the fifties and sixties when record crowds and clicking turnstiles dominated the capital and the country's second city, writes Finbarr Buckley. The recent emergence of Shamrock Rovers as serious title candidates this season has given the domestic game a further boost and has re-ignited hopes that the new generation of Hoops may emulate  the feats of their predecessors of over fifty and sixty years ago.
Down South, Cork United had blazed a trail of success in the forties not seen by a Cork club before when they captured four titles in five years along with two FAI Cup wins. Their successors, Cork Athletic entered the fifties on the crest of a wave and immediately made their mark on the decade by winning the league and cup double. Ireland was in a far different place back then than it is today. With vast numbers emigrating and employment  in industry falling rapidly, it was little wonder that people turned to sport to escape the reality of the tough living conditions they were forced to endure.
Daire Whelan in his 2006 publication, 'Who stole our game? The Fall and Fall of Irish Soccer', described the national feeling of the time. 'There was an inexorable slide downwards, and it was pulling the people down with it. With jobs so scarce and living so tough, sport boomed and became the panacea to take away the misery once a week!'
Athletic finished third from bottom in their first season,(1948/49),  but stunned the pundits the following campaign by finishing a point ahead of the champions the previous season, Drumcondra ,in the race for the championship. They also embarked on a cup run which took them all the way to the final where they led in extra-time against Transport only for Jim Loughran to salvage a replay for John Giles' uncle Matt's former Leinster League team. After Transport's Barney Lester and Cork's John Vaughan exchanged goals inside the first twenty-six minutes, a second from Lester and a third from Jimmy Duggan secured Transport 's one and only cup success. An attendance of close to 50,000 attended both matches and paid in record gate receipts of over £6,000 maintaining the game's huge popularity.
The Leesiders finished a point better off the following season, 1950/51, but it was enough to seal a consecutive championship ahead of runners-up Sligo Rovers. Another assault on the FAI Cup began with a 2-2 draw at the Mardyke against Transport. Another draw, this time, in Dublin three days later failed to separate the teams before the Rebels prevailed 3-0 back on Leeside a week later. Blackpool born Jackie Lennox scored twice and would go on to score in every round up to the final where following another replayed final, John Vaughan's 45th minute winner against Shelbourne landed the coveted double before another bumper crowd 22,010 which added to the first match's attendance of nearly 39,000 made it the largest up to then to view a final in the capital.
The following season Athletic were joined by Turner's Cross based Evergreen Utd. who fared better in the league than their illustrious opponents, finishing nine points ahead in fifth. While United were shocked 2-1 by AOH in the first round of the cup, Athletic battled their way to a third consecutive final before losing to Dundalk in yet another replay. Such was their stature at the time, that their presence in the Capital for the two matches still attracted crowds of over 20,000 plus as they left their Dublin based counterparts floundering in their wake, such was their pulling power.
In another memorable campaign in 1952/53 Athletic would finish above Evergreen in the league as well as the cup where both teams met in another replayed final, the first and only all-Cork final. Inspired by former England international Raich Carter, Athletic's second round tie away to Waterford made history by becoming the first all-ticket match with a limit of 9,000 and became a precursor of what would happen later in the decade, the spectre of fans being accommodated along the touchlines. Athletic won a memorable tie 3-2, going on to defeat their neighbours in the final reply 2-1.
Athletic would spectacularly go on to lose the 1956 decider to Shamrock Rovers after being two up with thirteen minutes to go while Evergreen would go on to finish runners-up in the league in 1954 and 1959. Coupled with their all-ticket cup tie, Athletic recorded a league attendance of 11,356 at the Mardyke for the visit of Shelbourne in 1953, while Evergreen's biggest gate was against St. Patrick's Athletic.
There is no doubt Cork clubs paved the way for their counterparts in Dublin to follow and would culminate in Drumcondra's home match with Shamrock Rovers in January 1958 which became the first all-ticket league match. The sixties would prove a lean period for the two contesting Cork clubs, Cork Hibernians, who replaced Cork Athletic, and Evergreen who changed their name to Cork Celtic. But, in an austerity far removed from today's world of mobile and tv communication, the names of Cork Athletic and Evergreen Utd. will be to the forefront as having contributedl handsomely to the golden age of Irish soccer !
? Evergreen United's Nicky Hayes, pictured with his wife Eileen, replaced Mick Taylor for the replay of the 1953 FAI Cup Final against Cork Athletic. Up to his passing four years ago, Nicky was one of the last surviving players who participated in the cup final sixty-six years ago.(pic: Finbarr Buckley)