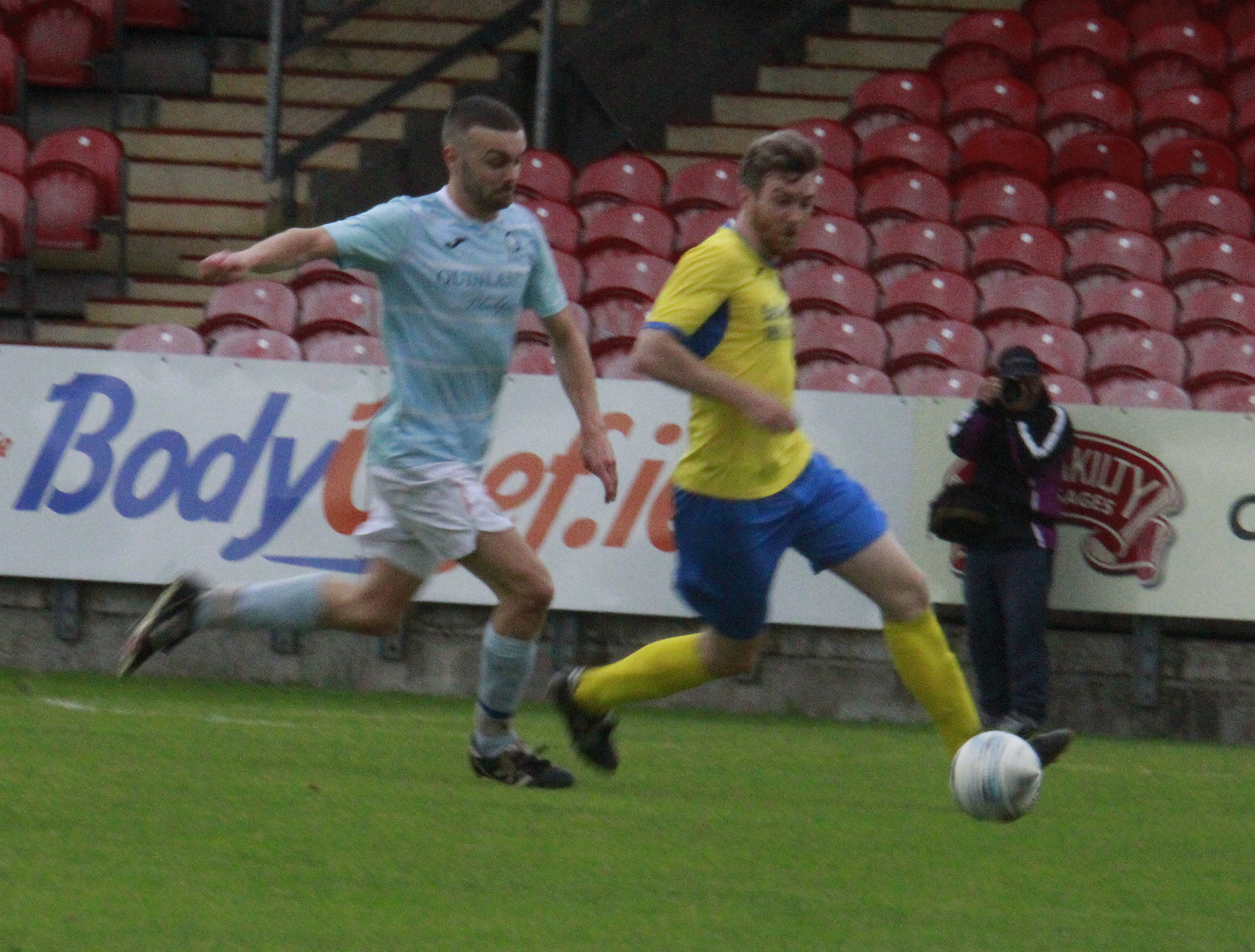 Quinlan's reach for the stars with win over Satellite! Mick Mooney Cup Final Round-up ?
? Finbarr Buckley
? Finbarr Buckley
Quinlan's Bar 0 – 0 Satellite Taxis
(Quinlan's won 7-6  on pens.)
QUINLAN'S BAR won the 65TH Mooney Cup Final for the first time following a nail-biting 110 minutes and a dramatic penalty shoot-out win over holders Satellite Taxis at Turner's Cross (writes Finbarr Buckley).
Quinlan's had lost on their three previous occasions to headquarters and went tantalisingly close to enduring another heart break as they survived a first-half let-off  and a sudden death shoot-out to claim their first blue ribbon trophy.
Quinlan's showed promisingly in the opening quarter when captain Danny O'Donoghue found himself in space but couldn't keep his shot from drifting over Cian Hammond's crossbar. In the 23rd minute Damien O'Mahony cut in menacingly from the right but delayed his cross enough for Greg Browne to intercept.
Satellite were without the services of leading scorer Shane Hennessy, link man Shane Dorgan (Hooneymoon ? ?) and the experienced John Harris but gradually got a grip in the middle with Mark Maher Maher, Simon Irwin and Patrick Horgan beginning to thread passes in behind their opponent's rearguard. On one such occasion Irwin placed the ball at the feet of striker Breffni McCarthy who only had himself and full-back Sean O'Donovan between him and the vocal Aaron Spriggs. O'Donovan stuck to his task and managed to dispossess the striker as he was about to pull the trigger.
At the other end, Quinlan's threatened with the pacey Kyle Hosford and O'Donoghue lively in attack,  but as had happened  in previous deciders, the final pass was proving once again to be the team's Achilles  heel. While the action was a times frantic and full-blooded but played in a sporting manner, two excellent defences kept chances to a minimum.
On the stroke of half-time the game's best arrived when again Irwin made progress to find Mark Maher with a sight of goal. With Kevin Murphy and Gary Gould about to close him down, Maher elected to lift his shot over Aaron Spriggs who was wrong footed for a fraction of a second but relieved to see the ball rebound off the crossbar.
Spriggs was again called upon to punch clear in a crowded area on the hour before Quinlan's introduced fresh legs in Christopher Bell and Eric Fleming who carried the contest to their opponents as the energy sapping surface began to have an effect on both teams. Spriggs was penalized for carrying the ball outside the area and from the resultant free-kick, Emmett O'Neill's low drive beat the wall but was gathered by Spriggs low at his near post.
Neither team could break the deadlock in normal time and as the match moved into extra-time, many on the Quinlan's' strong attendance began to wonder whether the Turner's Cross hoodoo was about to befall their team again. Both teams began to stretch their respective defences with crosses eluding the final touch as the sizable attendance awaited the game's first  goal.
With referee Denis Cronin looking at his watch, Quinlan's broke with Damien O'Mahony's close range shot smothered by Hammond. The rebound fell invitingly for sub Ciarán McCarthy to head what looked like to be a certain goal. Somehow, Satellite's man-of- the- match Greg Browne headed off the line to keep his team's double double of shield and cup victories alive.
Respective keepers, Spriggs and Hammond saved one each in the resultant shoot-out which took the tie to sudden death. It was the final throw of the dice for Quinlan's who once again stared defeat in the eye but unlike their previous encounters when they disappointed, there was to be no turning back now. Sub Robert O'Rourke stepped up to make it 7-6 and keep the tie alive before the unfortunate Alex Coughlan shot over to bring an end to a pulsating encounter.
Victorious manager Donal Cronin said: 'We worked so hard and I thought we missed our chance when Ciaran's (McCarthy) header was taken off the line in the last minute!'
Quinlan's Bar : Aaron Spriggs: Diarmuid Kenneally , Sean O'Donovan (Ciarán McCarthy),; Kevin Murphy, Gary Gould; Kyle Hosford, Graham Hosford, Cullan Kirwan (Robert O'Rourke); Danny O'Donoghue (capt.) (Eric Fleming), Damien O'Mahony, Darren Hosford (Christopher Bell).
Satellite Taxis : Cian Hammond (capt.): Shane Doody (Jeff Abbott), Eric Kennedy; Greg Browne, Ross Healy; Emmett O'Neill  (Shane Twomey), Kevin O'Connor (Alex Coughlan), Mark Maher ;  Patrick Horgan, Simon Irwin, Breffni McCarthy (Red Geaney).
Referee : Denis Cronin.  Assists.: Jim Hennessy & Gordon O'Leary.