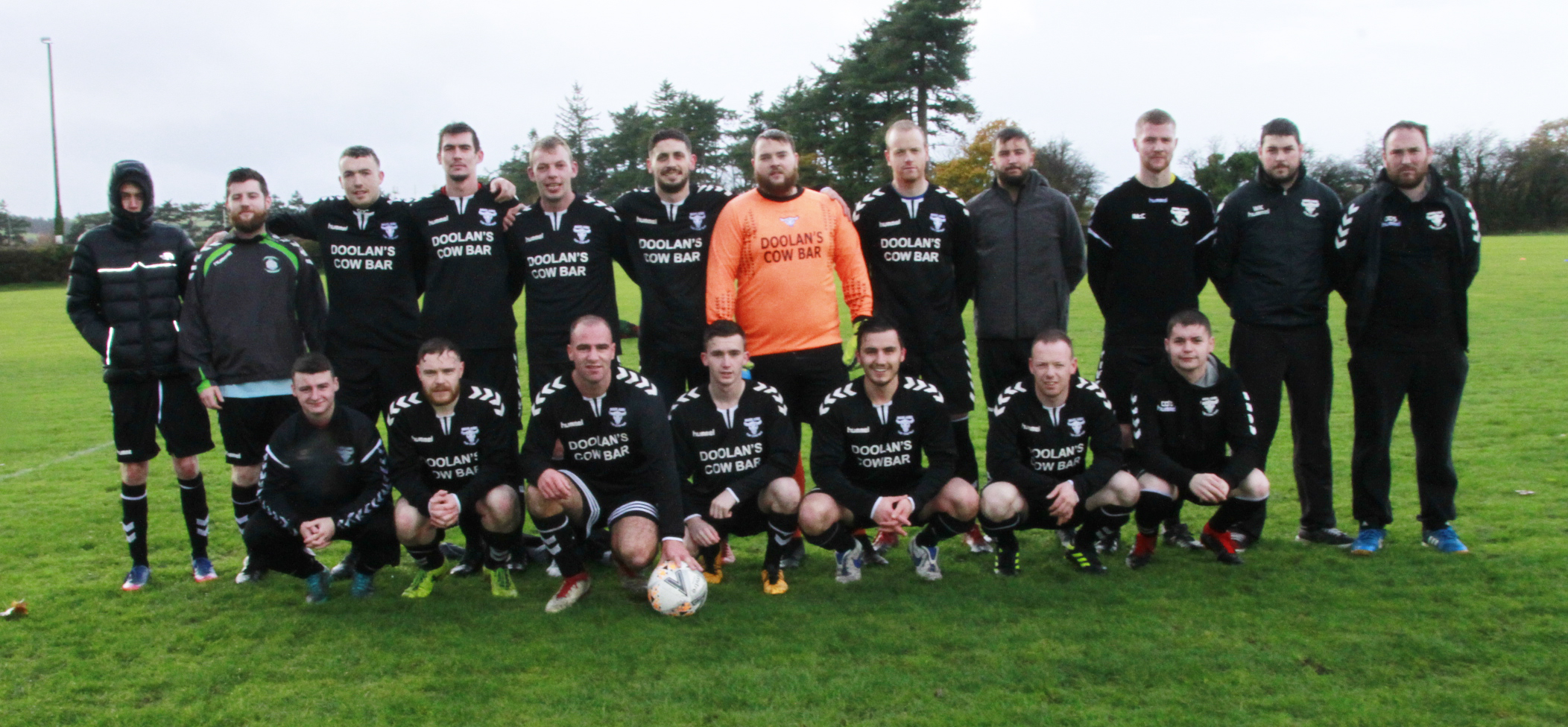 Cups
Fixture Updates
League
News
Doolan's on the brink of a third title in four years! Cork Business League Weekly Round-up!
Sports Gear Direct Premier Division
Quinlan's Bar 0 – 1 Doolan's Cow 1
LEADERS Doolan's Cow extended their lead at the top of the Sports Gear Direct Premier Division table to four points  following last Saturday afternoon's one-nil win over northside rivals Quinlan's Bar at Mayfield Pk., writes Finbarr Buckley.
The victory leaves the 2016 and 2017 winners needing just two points from their remaining two matches to clinch the championship for a third time. Quinlan's went into the contest a point behind and a match played more and knew  that nothing less than a win was required and even at that needed their rivals to drop further points for them to claim the title. The home side bossed the early exchanges and a series of near misses coupled with heroic defence kept the tie scoreless at half-time. The visitors gradually got on top and by the mid-point mark of the second-half capitalized on their dominance to finally break the deadlock. James Cotter wiggled clear on the edge of the area to plant a low shot past Aaron Spriggs who looked to have seen the shot late as the ball sped through a forest of legs. Ciarán McCarthy had a header disallowed for offside late on but that was the closest Quinlan's came to saving a point. Brian Harris, James O'Shea and Sean O'Sullivan shone for the visitors.
Cork International 0 – 11 Satellite Taxis
In-form Satellite had too much up front for a depleted International eleven with top scorer Shane Hennessy boosting his goal tally by seven along with further goals from Shane Doody, Alan O'Donovan, Eric Kennedy and Mark Maher.
Sports Gear Direct First Division 
SCS Crookstown United 1 – 0 Dell EMC
Crookstown consolidated their position at the top with a consecutive one-nil win to take them six clear of nearest rivals  Co. Council  with a point required from tonight's contest with OBS to secure the title for the first time. Michael Kelleher's deflected shot on fifteen minutes produced the only goal of a match in which neither side created many clear cut chances. The nearest Dell came was late on when a Sean Holmes' header was comfortably held by Tim Irwin. United's back-four of full-backs Kelleher and Mark Drummy and centre-backs Michael John O'Mahony and Liam O'Sullivan were dominant for the winners with Holmes, Paul O'Hea and JP Serres the pick of Dell's performers.
Cork Eagles PFC 4 – 3 Abtran
An under strength Abtran led three-nil at half-time courtesy of goals from Jason Lake, Rob Twomey and Dale O'Donoghue. After the visitor's replacement keeper Shane Bowles, who normally puts the ball in the back of the net at the other end, saved a penalty early in the second 45, the hosts eventually pulled it back to 3-3 through Jacek Worwa  (2) and Arek Szklarczyk before a breakaway from an Abtran corner led to Robert Susek poaching the winner in the final minute. O'Donoghue Shane Rigney were outstanding for the away side.
Frank Linehan Cup – Quarter-Finals
Dalton's Pharmacy 5  – 1 20/20 Glazing 1
Last season's beaten finalists Dalton's  eased to a semi-final encounter with Co. Council following a 5-1 win over 20/20 Glazing. Paulo Santos (2), Stephen Kiely, Michael O'Sullivan and Shane McGill, a winner with ALPHA SüD last year, registered the goals for the winners with Glazing's reply coming from Fionn Hennessy.
OBS 6 – 1 Cork Hospitals 
OBS joined Dalton's in the last four to face Crookstown after an equally impressive win over Cork Hospitals. The home team finished with a flourish with Mike Brown (2), Nyall O'Brien, Shane Hickey, Colm O'Brien and Arainn McGrath all scoring in the 90 with Hospitals' consolation coming from Dusan Lubosevic.
Mid-week Round-up : Crookstown took a giant step towards securing the first division title at the first attempt by squeezing past their nearest rivals Co. Council at Crookstown. Both teams were evenly matched throughout with the only and break through goal coming two minutes from time when Colm Crowley capitalized from a lapse of concentration at the edge of the Council area to rifle in the winner. The victory leaves Crookstown three clear of Council with a match in hand and just four off the title with three matches to play. On the same night, Wednesday, Quinlan's Bar easily disposed of UCC United in the Jackie O'Driscoll Cup semi-final to face the winners of the Doolan's Cow/Satellite tie in the final at Turner's Cross on Tuesday, June 4th next. Diarmuid Kenneally turned in Darren Hosford's corner after ten minutes before goals from David Busher, with a fine strike from forty yards, and Kenneth Crinnion in the final ten minutes sealed the win for the dominant home team. Satellite stayed in the title race in the premier by hitting Marlboro Trust for five at Deerpark Secondary School. The visitors could have been two up before a Shane Hennessy double sent Taxis in leading two-nil at the break. Hennessy, Mark Trinder and Jeff Abbott tagged on further second-half goals to give the final score line an unfair reflection on how well Trust had played. Dell EMC had too much for Cork Hospitals going in front in the 20th minute through Kevin O'Connor who beat three defenders to score. Sean Holmes added a second fifteen minutes later when he turned to volley in from thirty-five yards. Cian Higgins made it three-nil on the hour mark only for Risteárd Ó'Lionard  to reply from a rebounded free-kick for Hospitals with ten minutes remaining. Cathal O'Sullivan, Matthew Tiffany, JP Serres and Mark Foley impressed for the winners.