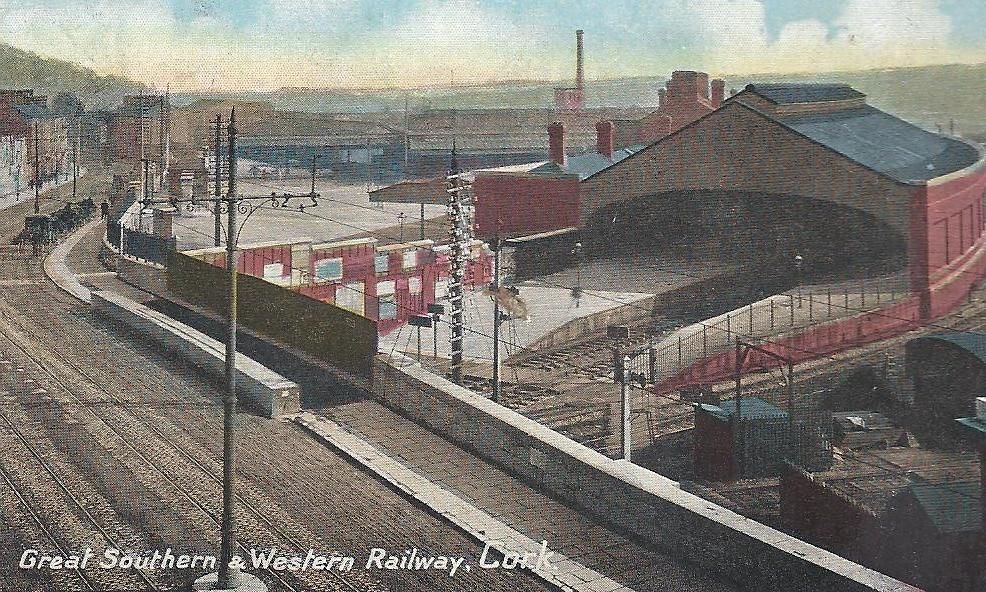 Cork Business League History Lesson: CIE Athletic FC
A History of CIE Athletic
In early 1962, a group of soccer fans based in Kent Station decided to start a team with a view to playing in the Cork Shipping League. CIE at the time was a single company with many staff interchanging between the trains and the buses. It was common for people to work in the summer as conductors in Capwell and the winter in Kent Station as porters, platform staff or as was most common, in the road freight division. The early pioneers were all the people who had experience at AUL level but found the structure of working for a transport company and its unsociable hours incompatible with the strict rules of the AUL or the MSL
Among the founding fathers were Jackie Carroll, Steve Murphy, Larry Murtagh and Paddy Gilley. They entered the league and were not long in making a reputation for themselves. CIE were at the time one of the biggest employers in Cork and the pool of players would have been quite high. The first success came with a League & Sheild double in the 1964/ 65 season. and continued with a trophy each season until 1972. It was however the 1968/ 69 season that was to bring CIE Athletic it's greatest ever triumph. It is generally accepted by those who have been involved in the league as Administrators, players, and mentors that this team was the best ever to have played in the CBSL. They won the treble of the League, Shield & Cup being the 1st team ever to do so.) and remained unbeaten in doing so. Their only losses were in the Quarter Final of the Munster Junior Cup and the 3rd Round of the FAI Junior Cup. Full record reads:
"Played 33, Won 28, Drew 3, Lost 2, Goals For 128, Goals Against 28"
Leading Goalscorer was Tommy Murphy on 35 goals. A lean period followed this golden era with just 2 Shield wins in 1980 and 81, and 2 Byrne Cups in 1979 & 80 to show for an excellent squad that was overshadowed by the teams from Youghal Carpets but more so by the great Postal Workers team of the 80s. The records rarely show the next best, but it would be fair to say that CIE Athletic would have been in this category for much of this period. CIE as a company was re-organising and the level of new blood that is essential to the health of any sporting club was not coming through. Changes to work practices meant more time off and in some minds, this meant spending it doing other things.
Our final League success came in 1990/ 91 and a Byrne Cup Success in 1995 remains our last success in Shipping League competitions. CIE players have, since their involvement in the league, contributed many players for Shipping League teams in the Oscar Trayner competitions and have always been very supportive of all inter-league matches, whether be it friendly or competitive.
We have also established relations with other teams from England, Scotland and most notably Wales. During a 10 year period, in the 80's and 90's an annual home and away fixture existed between CIE Athletic & Bonymaen Colt of Swansea. These were normally played over the Easter weekend and the craic that existed made these occasions a fantastic reason to be involved in sport.
To single out any player in this or any period of CIEs 40 year history,could be a little unfair but two exceptional achievements stand out. In Dublin on 24th April 1982, Pat Downey who was at that time a CIE Athletic player who represented Ireland in a Junior International game. While playing for Athletic, Pat set scoring records that are unlikely to be surpassed. Indeed at the celebration to mark the 30th anniversary of the Treble winning team in the Arcadia, it was said that Pat was the Tommy Murphy of the 80's.
In 1968, Peter Gregson started as an apprentice with his hometown club of Blackpool. Upon finishing his apprenticeship, he was transferred to Southport in 1971 and won a league winners medal in the 1972/ 1973 season. His goalkeeping talents were spotted by Cork Hibs and he came to Cork in the summer of 1973. He transferred to Cork Celtic the next season and won another League winners medal the following season. He had spells with Glasheen and Celtic again in 1977 before finally making the move to CIE Athletic in 1981. Peter served as Captain, Player-Manager, Coach, Manager and mentor since has featured in every CIE fantasy XI that has been discussed in Kent Station and Capwell garage (or wherever soccer people sit in canteens or bars to reminisce)
No history of the CIE Athletic would be complete without an enormous dept of gratitude to the people who administrated the club in the last 40 years. In any organisation it is these people that remain in the background, but without them, CIE Athletic would never have enjoyed the level of success they achieved. People like Jackie Carroll, Stevie Murphy who also served the Shipping League. Gerald Desmond, Ger Flynn, Susan Gregson, John O'Donovan, Joe Harrington, Des Furlong.. the list goes on and on and there are too numerous to mention.
To all the players, mentors, supporters and those who served on the committees, thank you for the ride.