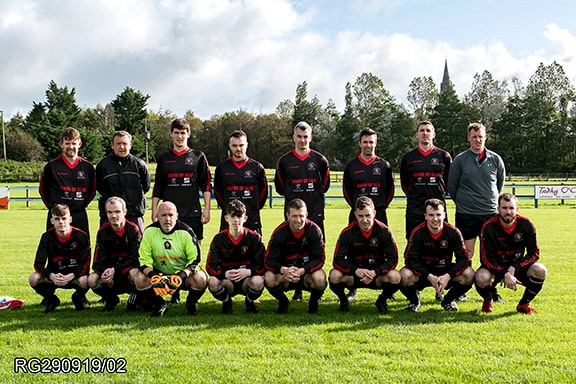 Munster Junior Cup 4th Round: Get to Know the Teams! Doolans Cow Bar & Glin Rovers
Finbarr Buckley / Peter Travers (CBL) & Gavin Sheehan (Glin Rovers)
Glin Rovers
Doolans Cow
Doolan's Cow was formed in 2005 by Eamonn and Ciarán Murphy and entered the Cork Business & Shipping League in 2005/06 under the name of Island Tavern. The club won the O'Driscoll Premier Cup in 2008/09 beating Fermoy Nissan MCM in the final at Turner's Cross. A name change to its present one of Doolan's Cow brought a change in fortune and a first Mooney Cup Final appearance in 2012/13 where EMC ran out winners. The league and cup double was achieved in 2015/16 with the club's most memorable and successful season to date coming in 2016/17 with the acquisition of all four domestic trophies, equalling Youghal Yarns' feat of 1992/93.
The club won the championship for a third time last season and are on course to make it through to a fourth consecutive shield final. Denis O'Sullivan, Wayne Kavanagh and Robert Graham currently manage the team who play their home matches at Mayfield Community School (All-Weather). Doolans Cow beat their CBL rivals UCC United in the 4th Round of the FAI Junior Cup this year to get through to the open draw, which saw them end Leinster Senior League's Valeview Shankill's participation in the 5th Round.  Westport United came from two down to defeat Cork Doolan's Cow in a thrilling FAI New Balance Junior Cup 6th Round tie at Mayfield Community School two weeks ago. The Cow also put Munster Senior League Junior Premier Division, joint leaders, Everton to the sword in the 2nd Round of the Munster Junior Cup before Christmas after a 6-1 win in Mayfield. The glory will continue into Spring of 2020 where a semi final against Limerick Desmond side Rathkeale in the MFA League Champions Trophy is due to be played in February or March.
Recently, 2 of Doolan's current players Darren Geraghty & Tony O'Reilly were names in the CBL / EchoLive.ie Team of the Decade. Geraghty, captains the decades team from the centre of the park as he had done so effectively with his club in their double and quadruple winning seasons of 2016 and 2017. O'Reilly was the Premier Division's top scorer on two occasions and along with his strike partner James Cotter, the two have claimed the majority of Doolan's goals since their partnership flourished in 2015.
Glin Rovers FC
Glin Rovers F.C. is a soccer club located along the banks of the River Shannon on the border of Limerick and Kerry. It is affiliated to the Limerick Desmond League. The Club was founded in 1968 and our colours are Black/Red & White. In the club's early years it played its home games at St. Joseph's G.A.A. Pitch in Glin but the club acquired its own pitch in 1987. The Junior Structure of the club comprises of two teams which compete in the Premier and Second Division. Our Underage system saw us amalgamate with near neighbours Bally Rovers, to form G.B. Rovers which competes from U6 to Youth levels within the League.
The Club's pitch has undergone a large redevelopment in recent years. Today we have an excellent playing surface, Home & Away dressing rooms and a seated stand. Our stand was officially unveiled in 2007 as "The Liam Mulvihill Stand". Like all clubs, we are extremely proud and appreciative of all the work that goes on behind the scenes from Underage/Junior Team Management & players to Pitch Maintenance, Local Sponsors and to our Supporters/Members. The club would like to acknowledge all of those people right up from 1968 to the present day.
Amongst our clubs greatest honours was winning the Desmond Cup on 3 occasions. The first was in 1977 then again in 2009 and most recently 2016, which a remarkable year for our junior sides with the B team claiming the double of Division 3 League and Shield. We have also won the Desmond League for the first and only time in 1986.
Last season saw the club create history by reaching the last 32 of the FAI Junior Cup losing out to hosts VEC FC of Terenure. Local rival's Abbeyfeale Utd denied the club from reaching round 4 of the Munster Junior Cup after a titanic battle.
Many players down through the years have represented the club at local level and progressed in various sports including Limerick GAA, Kerry GAA, IRFU and FAI. Past players who lined out with Glin Rovers at a young and not so young ages include Mike McLoughlin, John McNamara, Mick Mackey and David Wall. Most recently Sheagh O'Connor joined back with the club from previous stints with Kerry and Limerick U17's and U19's. Karl O'Sullivan who played a key role in our 2016 Desmond Cup success at the tender age of 16 has moved into a professional career. He climbed the ranks of Limerick FC's U17 and U19 teams and made his debut with the senior team while still playing U19's. Just last week he signed for LOI Premier League side Finn Harps and previously being selected on Republic of Ireland U19 and U21 training camps.
Of the matchday squad Tommy Culhane has a Republic of Ireland cap from playing with the Republic of Ireland's Defence Forces team. This great honour was matched by Paul Sheahan who is cup-tied for Sunday's game. Both Tommy and Paul represented the team at European level.
Glin Rovers are managed by the trio of Ambrose Lanigan, Anthony Collins and Shane Culhane. Another Shane Culhane has the honour of wearing the captain's armband for the 2019/20 season. From creating history in last year's FAI Junior Cup, this year's campaign was halted at the second round by local's Rathkeale back in September. Rovers' run to the last 32 of Munster was compliment by the slenderest of margins in all three rounds. Glin overcame AK United in the opening round, penalty's were required to overcome St. Ita's in round 2 and a one-nil defeat of Granagh Utd progressed the club into the round 4 tie against Doolan's Cow.
The club is undoubtedly looking forward to this tie and hope a large number of our passionate supporters make the trip south to cheer on the team. This is the first meeting between a Glin Rovers side and a team from the Cork Business League. We would like to wish both teams best wishes and hope all our supporters travel safely on Sunday.
The Munster Junior Cup 4th Round tie between Doolans Cow Bar FC & Glin Rovers FC will take place this Sunday January 26th 2020, with a kick off time of 2pm in Mayfield Park.