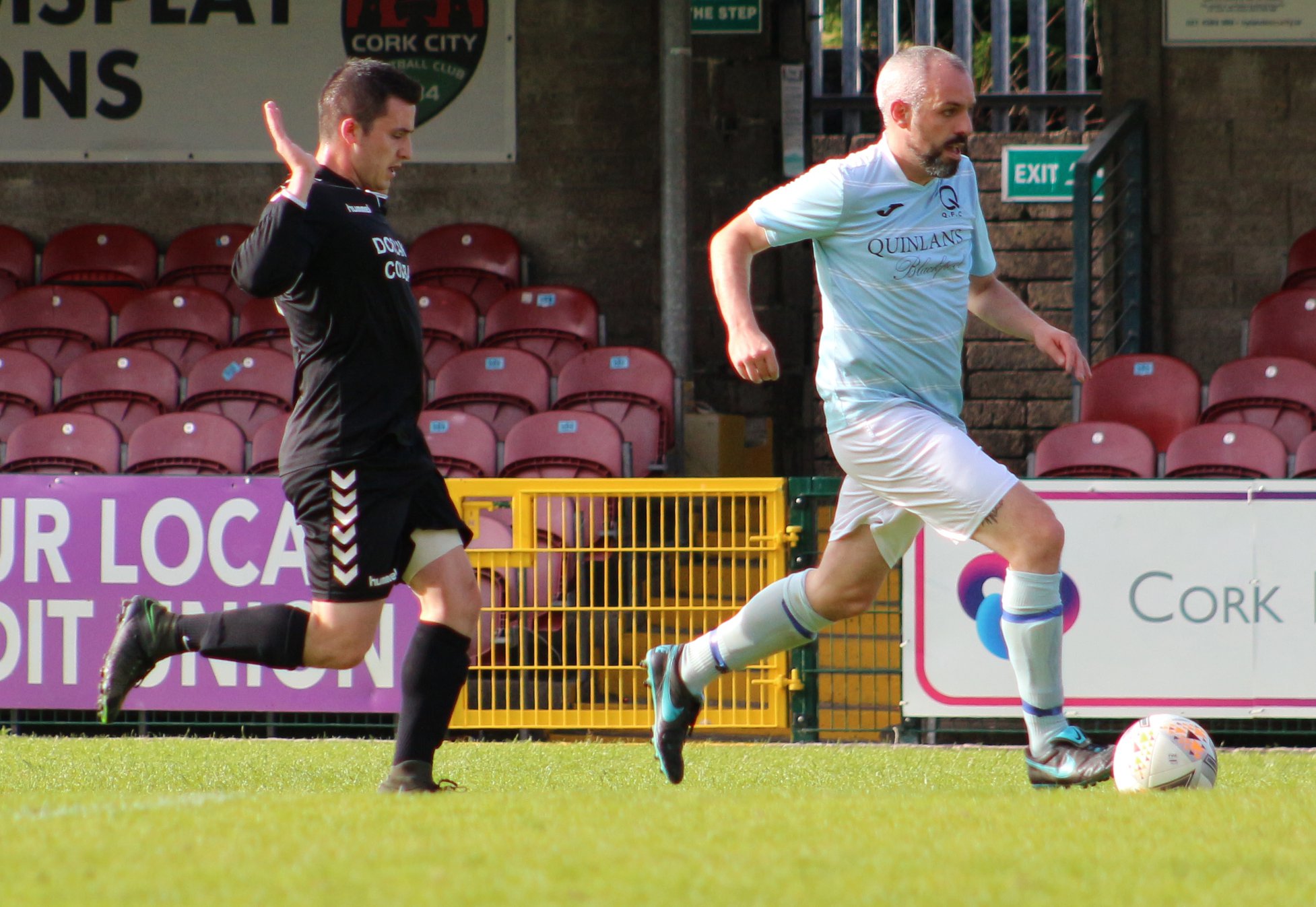 ? Quinlan's over the moon with first final win over Cow! Jackie O'Driscoll Cup Final Match Report
? Finbarr Buckley
Doolan's Cow 1 – 2 Quinlan's Bar
They say a week is a long time in football! The past week had been a long time coming for Quinlan's Bar, who after the previous two seasons which promised so much, finally captured the coveted Mooney Cup last Wednesday and followed it up by defeating  northside  rivals and holders Doolan's Cow at Turner's Cross on Tuesday night to win the Jackie O'Driscoll Premier Cup for the first time, writes Finbarr Buckley.
Quinlan's had been pipped to the title by their fierce rivals, losing home and away and after defeats in the shield and Mooney finals of 2017, faced becoming the first team to lose the three domestic finals to the same opponents at Turner's Cross.
Manager Donal Cronin went  with Robert O'Rourke in the centre and Ciarán McCarthy up front, leaving out captain Danny O'Donoghue and Sean O'Donovan from his Mooney Cup starting eleven. Both played pivotal roles in their team's success on the night, with O'Rourke using his height and physique to good advantage in the middle while McCarthy's willingness to shoot on sight would be rewarded with what would prove to be the winning goal
In the 5th minute Doolan's' James Cotter worked his way into a shooting position but  was denied by Aaron Spriggs at close range before Doolan's' keeper James Murphy saved twice from Damien O'Mahony four minutes later.  Following a goalmouth scramble from a corner, Kyle Hosford's shot rebounded off the post and within minutes midways through the half, at the other end, Aaron Hennessy outpaced Diarmuid Kenneally in a run on goal but had his shot blocked by the quick reactions of Spriggs who advanced  from his line to cut out the danger.
McCarthy almost caught Murphy with a back header and as Quinlan's began to exert pressure as the half neared its conclusion, the deadlock was finally broken on the stroke of half-time. First, Kyle Hosford had the goal at his mercy after Murphy pushed away Damien O'Mahony's low drive, but shot wide despite being off balance. A minute later the striker was the toast of the Watercourse Toad when he belted in O'Mahony's corner much to the delight of the large Quinlan's' following.
With in five minutes of the resumption, McCarthy made it two –nil with a goal worthy of the occasion. Finding himself in space, well outside the area, he elected to unleash a drive which flew past Murphy who could only watch as the ball sailed into the top corner. McCarthy went close to grabbing a second when his shot with the out side of right foot drifted wide of the far post. He went close later in the half with a header before being replaced by Dave O'Brien.
Doolan's were given a life-line in the 74th minute when captain Tony O'Reilly, for once free of the shackles of Kenneally and Kevin Murphy , ran in on goal before rounding Spriggs and sliding the ball in . The former double golden boot winner was almost in for a second but caught Spriggs in a challenge for which he was booked. The nearest  the holders came to taking the tie to extra-time in the remaining quarter was Liam Horgan's half-chance which was again smothered by the alert Spriggs.
Gordon O'Leary's final whistle brought scenes of joy on and off the field among the Quinlan's '   faithful who had at last seen their charges get the better of their rivals on the big stage and can mark the occasion as a watershed in the club's history  as the year they came of age.
Many who have paved the way for this season successes including, Danny Kenneally, Thomas Coade, Greg Casey, Richard Whitty, Ryan Cronin, Johnny Cooney and Eoin O'Driscoll will take great joy out of seeing their team win a unique double. Former manager Aidan O'Driscoll who passed away in 2017 will be no doubt be remembered on another night of high emotion and celebration.
Doolan's Cow : James Murphy: Stephen McCarthy (Sean O'Sullivan), Ian McCarthy; Brian Harris, Craig Keegan; Keith McCarthy, Aaron Hennessy, James O'Shea (Alan Monaher), Liam Horgan; Tony O'Reilly (capt.), James Cotter.
Quinlan's Bar : Aaron Spriggs:  Gary Gould (capt.), Graham Hosford ; Kevin Murphy, Diarmuid Kenneally; Culann Kirwan (Danny O'Donoghue), Kyle Hosford, Robert O'Rourke; Ciarán McCarthy (Dave O'Brien), Damien O'Mahony (Dave Busher), Darren Hosford (Christopher Bell).
Referee : Gordon O'Leary. Assists.: Yves Kirwan, Jim Hennessy.