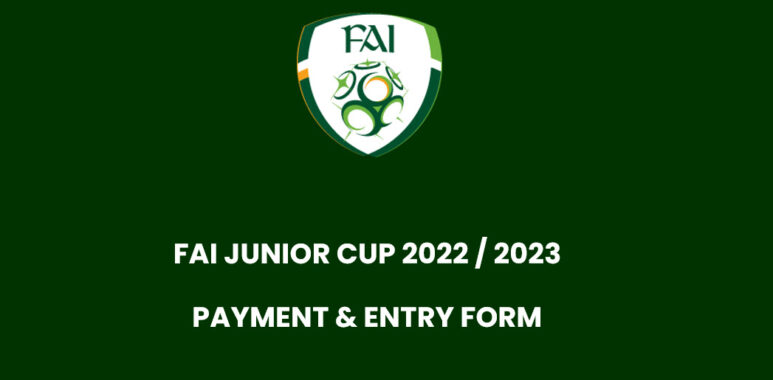 Cups
Fixture Updates
League
News
FAI Junior Cup 2022 / 2023 – Payment & Entry Form
Entry for the FAI Junior Cup 2022 / 2023 has now opened. The closing date for entries for this competition is August 21st, 2022. Due to the timelines, entries will not be accepted past this date under any circumstances.
Please see the below links and the step-by-step guide below for the payment process and entry form. Please read the guide as it contains information and images for each step of the process should you have any issues.
Below is the link for payment followed by the entry form link. Please complete the payment link first as a reference code is required in the entry form from the receipt email you will receive upon making payment. The reference code must be entered in the first portion of entry form to continue. Please note, all information in relation to this process is contained within the attached guide.
FAI Junior Cup 22.23 – Guide for Payment & Entry (Please Read)
FAI Junior Cup 2022/23 – Payment Link (Please complete payment link before entry form)
FAI Junior Cup 2022/23 – Entry Form
Once you have completed payment and used the reference code at the start of the entry form, please complete the remaining club details and select submit. There will be no receipt email upon completion of the entry form so please take a screenshot/image of the 'entry received' page. It is the responsibility of the club secretary to review all answers and make sure all information is clear and accurate.
The cost of entry for the year's competition is €30.