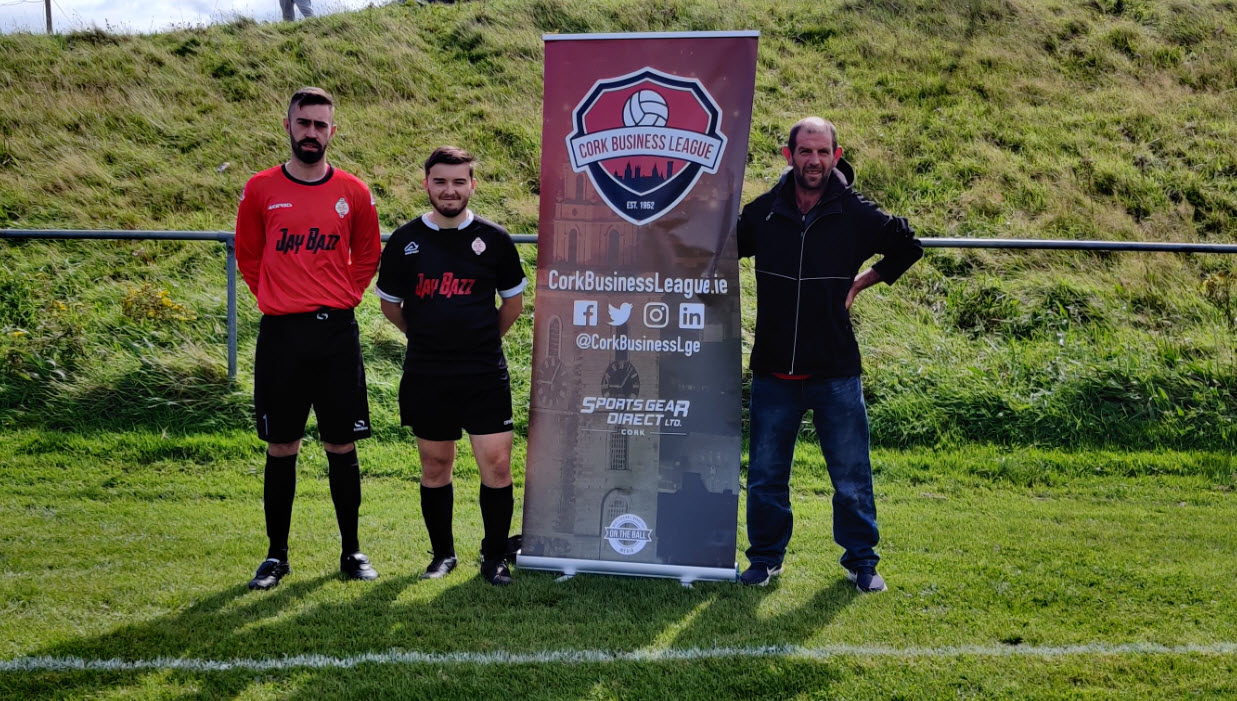 Bazz are a Cut Above the Rest! CBL Weekend Round-up
✍? Finbarr Buckley
? Jay Bazz FC goalkeeper Mark Sheedy, pictured alongside club captain Rory Murphy and manager Declan Cronin before last Saturday's CBL Shield group game against fellow newcomers District 11.
Sports Gear Direct Shield – Group D
Jay Bazz 2  – 0 District 11
Declan Cronin's Jay Bazz took control of the group by notching up a second win at Mayfield Pk. last Saturday afternoon to leave the debutants needing only a point in their final group tie with Martin Harvey Solicitors to qualify for the knock-out stages at the first attempt. Christopher Cronin's 35th-minute goal separated the teams at half-time with Adam Hegarty adding a second five minutes into the second 45. Adam Geraghty and Alex O'Driscoll excelled for the winners with Daniel Kelleher, Aaron Walsh, Tim Hegarty, Sean Rall and new signing Eoghan O'Connor playing well for the visitors.
Marlboro Trust 3 – 1 Martin Harvey Solicitors
Marlboro Trust bounced back from the previous week's reversal to Jay Bazz to keep alive their hopes of qualifying from the group. Steven O'Reilly opened the scoring for Trust in the first minute only for Ian Harrington to equalize two minutes later. Daniel del Blanco bagged his second in a week to restore the home team's lead leaving Kevin O'Sullivan to seal the points with his side's third in the 65th minute.
Sports Gear Direct Shield – Group A
Abtran 5 – 2  Dell EMC
Abtran put the disappointment of the previous weekend's defeat firmly behind them by hitting Dell EMC for five. New signing Rico O'Driscoll scored a fine opener after fifteen minutes paving the way for Michael O'Connor to head a second and Eoghan O'Sullivan a third from a penalty after his skillful run in was ended by Paul O'Hea's foul on the striker. Ian Kent's neat control with his right and volley with his left netted Abtran's fourth before Mark Foley reduced the deficit to 4-1. O'Driscoll added his second and his side's fifthin the 74th minute with Foley bringing the curtain down on the scoring with his second of the night. The impressive Daniel O'Brien laid on two of the winner's goals and along with O'Driscoll, O'Sullivan and Kent were Abrtan's outstanding contributors. O'Hea, Dylan O'Sullivan and Kevin O'Connor kept EMC ticking throughout the ninety.
Doolan's Cow 7-1  OBS
Finalists for the last three seasons, Doolan's eased to a comfortable win over luckless OBS courtesy of goals from Jamie Murphy (3) and two each from James Cotter, Tony O'Reilly, Stephen McCarthy and Liam Horgan.
Sports Gear Direct Shield – Group B
Healy O'Connor Solicitors 3 – 3 Jason O'Neill Electrical 3 (JON won 3-2 on pens.)
HOC boss Shane Healy must have been left wondering what his side had to do to gain a first win after scoring three for the second week in a row and still ending up with nothing to show. A bout of pressure led to Darren McCarthy nudging the visitors in front on fifteen minutes before Paudie O'Connor doubled the lead from the penalty spot after he was taken down himself. Craig Butler whipped in a cross which was headed in by McCarthy for number three. An injury led to JON losing their shape which allowed HOC to duly capitalize with Mark O'Sullivan reducing the deficit on the stroke of half-time. O'Sullivan and Justin Banks netted again for the visitors who sensed victory but in the shoot-out, Luke couldn't beat Luke Madden held his nerve to save the decisive penalty after the two Healy brothers kept HOC in contention.
The Weigh Inn 1 – 3 Co. Council
Council's winning start to the season continued with another impressive win after trailing one-nil at half-time to a dominant Weigh Inn eleven. Two quickfire goals from Mario Fosca and a Jordon Hughes screamer inside a two-minute spell turned the tie in Council's favour paving the way for David McCarthy, after excellent approach work by Karol Pryzbylski, to grab a third late on. Kieran O'Regan and Richie Murphy shone for the winners.
Sports Gear Direct Shield – Group C
Cork Hospitals 2 – 1 Satellite Taxis
Cork Hospitals ended holder's Satellite interest in this season's competition with the decisive goals coming from Sean Kent and George Marculescu. Tadhg Whelan, Danny O'Driscoll, Kelvin Lynch and John Cosgrove were influential throughout for the hosts.
Sports Gear Direct Shield – Group E
UCC United 5 – 1 Harp Celtic
Celtic didn't have the rub of the green against premier opponents UCC United going three behind to goals from Gokan Dumlupiner, Wassim Magnin and Mo El Shouky before Lee Cooke pulled one back for the visitors. Davie O'Mahony's charges pushed on in the second 45 but were undone by late goals from Ransell D'Souza and El Shouky which at the finish put an unfair reflection on the scoreline. El Shouky, Magnin and Eric Montgomery were the pick for UCC while the young midfield duo of Gordon Bulman and Jack O'Brien never stopping running for the visitors.